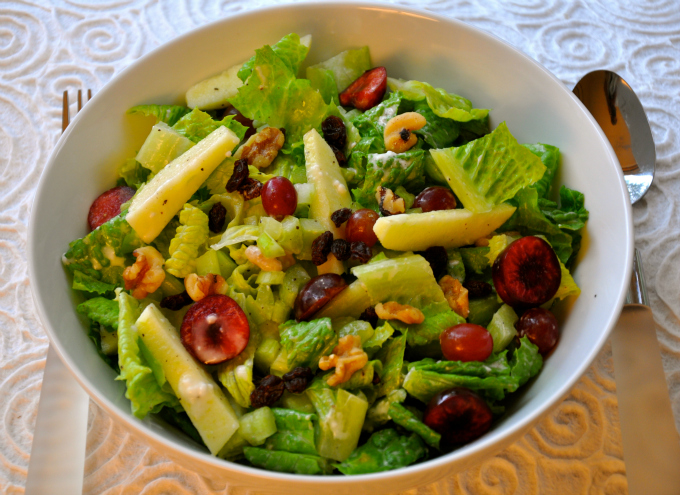 Vegan Waldorf Salad
If you are not familiar with a Waldorf Salad, it was a signature dish at the Waldorf Hotel in New York City. Cole Porter liked it so much that he sang about it in the 1934 tune "You're the Top." A Waldorf Salad is generally made with fresh apples, lettuce, celery, walnuts and topped with mayonnaise dressing. In my plant-based version, I added some tart cherries, golden raisins and dressed it with a light vegan mayonnaise dressing creating the perfect vegan Waldorf Salad. It was so yummy and you can't go wrong with a plant-based, low-calorie, high protein and vitamin-packed lunch to get you through your day. Hope you enjoy this vegan waldorf salad recipe as much as I did. Make sure you sign up for all of Ordinary Vegan's free recipes and please join our facebook community! It is over 170,000 strong and full of fun and compassionate people just like you.

Vegan Waldorf Salad
This salad would also taste delicious with pears. I had some cherries so I tossed them in. Anything goes but the one important element is the crispiness of the celery and the tartness of your apples.
Ingredients
Salad
1 head romaine lettuce, chopped
1 cup celery, chopped
2 cups apples, sliced
1 cup seedless grapes, halved
½ cup raisins (or more to taste)
½ cup walnuts (or nuts / seeds of your choice)
Dressing
4 tablespoons vegan mayonnaise (I like Earth Balance)
2 tablespoons apple cider vinegar
2 tablespoons fresh lemon juice
1 teaspoon maple syrup
salt & pepper to taste
Instructions
Combine lettuce, celery, apples, grapes, raisins and walnuts in a large bowl.
Whisk together vegan mayo, apple cider vinegar, lemon juice and maple syrup.
Add mayo mixture to salad a little at a time, tossing to coat being careful not to overdress. I used about half the dressing.
Add salt & fresh ground black pepper to taste and serve.