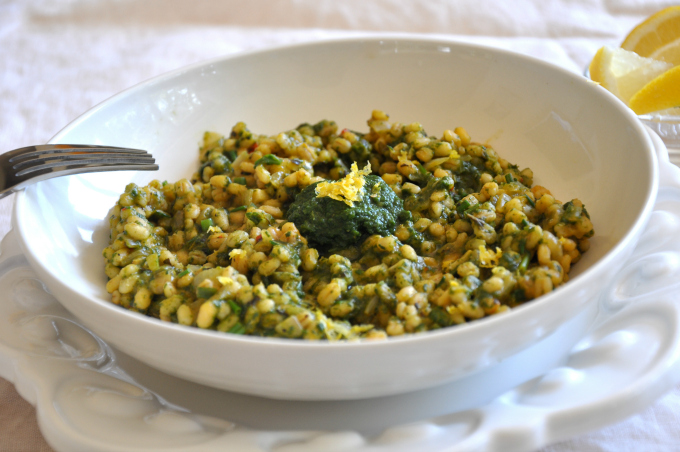 Today I made this vegan risotto with toasted barley and seriously could not stop eating it.
Barley has become one of my favorite plant-based grains. It has a delicious nutty flavor and a chewy, pasta-like consistency.
It is also an excellent healthy replacement for traditional white Arborio rice in risotto because it mimics the creaminess and richness.
As far as nutrition goes, barley is a superfood because it is high in both soluble and insoluble fiber which is critical to good health. Soluble fiber helps the body metabolize fats, cholesterol and carbohydrates and lowers blood cholesterol levels.
Insoluble fiber promotes a healthy digestive tract and reduces the risk of many chronic diseases.
Now top that barley with some spinach sauce and mix in some nutritional yeast and we now have a superfood triple threat main vegan meal.
Don't miss any of Ordinary Vegan's recipes by signing up here. 
Just getting started on a plant-based diet? Here is a free downloadable list of delicious vegan protein.
If you are a pasta fan, you will probably also enjoy my pasta frittata with corn and mushrooms or creamy polenta with cabbage and greens.
Hope you enjoy this vegan risotto recipe as much as we did. Wishing you a peaceful and compassionate week.
Vegan Risotto With Barley & Savory Spinach Sauce
Vegan Toasted Barley Risotto With Savory Spinach Sauce
Ingredients
Risotto
1 onion, chopped
1 garlic clove, chopped
1 teaspoon extra-virgin olive oil
3 teaspoons fresh thyme, chopped
3 cups low-sodium vegetable broth (or more if needed)
1 cup pearl barley (uncooked)
1 teaspoon dried basil
1 bay leaf
juice from ½ lemon
2 teaspoons grated lemon zest
⅛ cup nutritional yeast
¼ cup chopped chives
¼ teaspoon salt
¼ teaspoon fresh ground pepper
Spinach Sauce
3 cups fresh spinach
1 cup of flat leaf parsley, stems removed
1 garic clove, chopped
Juice from ½ small lemon (about 1 tablespoon or more to taste)
2-3 tablespoons vegetable broth
pinch of salt and ground black pepper
Instructions
Pre-heat oven to 350 degrees F. Place barley on a baking sheet and toast in oven for 10 minutes. Remove and set aside.
Zest one lemon and set aside.
Heat olive oil in a large saucepan. Add onion, salt and pepper and cook, stirring often until the onion is soft and translucent. Add the garlic. Cook for another minute. If the onion is sticking, add a little vegetable broth instead of more oil.
Add barley, thyme, bay leaf and 2 cups of vegetable broth and bring to boil.
Reduce heat and simmer, stirring often, until broth is almost absorbed. Check for doneness. Add another ½ cup broth if needed. Bring to simmer. When broth is absorbed, check for doneness. If needed add another ¼ cup to ½ cup broth until the barley is cooked but still has a little bite and the mixture is creamy. This could take 40-50 minutes. When done remove bay leaf and stir in the lemon juice and zest and leave covered.
Spinach Sauce
In a large saucepan, bring 2 cups of salted water to a boil. Add spinach and parsley and cook until leaves are bright green and wilted, about 1 minute. Drain
Add spinach, parsley, 2 tablespoons vegetable broth, 1 chopped garlic clove and juice of ½ lemon to a food processor. Puree until smooth, adding more vegetable broth if needed for desired consistency. Add a pinch of salt and pepper and taste for seasonings.
Add nutritional yeast, chives, lemon zest and ½ lemon squeezed of juice into barley mixture. Combine.
Mix in spinach puree. Season with more salt and pepper if needed. Garnish with lemon zest.