If you are stuck inside like thousands of Americans this week because of snow, sleet and below average temperatures, this Smoky Ancho Chile Sauce Pinto Bean Soup is especially for you.
Snow day and every day, soup always hits the spot.
What I especially love about this ancho chile sauce soup is that it is quick and comforting. Also, most of the ingredients should be in your pantry.
You may be saying I don't keep dried ancho chiles in my pantry, but you should. The ancho chile sauce is the flavor bomb that sets this soup apart from your everyday soup.
I keep my dried ancho chiles refrigerated, and anytime I need some extra flavor, I rehydrate the chile in boiling water, puree and add the mixture to my soups and sauces.
This ancho chile sauce not only tastes delicious, it also adds a deep color and flavor and just a tiny bit of warming heat.
Hope you enjoy this smoky ancho chili sauce soup as much as we did. If you love the flavors of Mexico, you will probably enjoy my Spicy Mexicali Soup, Mexican Chili and Vegan Red Chili Posole with Chickpeas recipes.
Don't miss any of Ordinary Vegan's recipes by signing up here..
Just getting started on a plant-based diet? Here is a free downloadable list of delicious vegan protein and don't miss my #1 podcast – "Getting Started On A Vegan Diet."
To discover more delicious plant-based recipes and learn more about plant nutrition, don't miss the Ordinary Vegan podcast! Listen to them here on this website or on iTunes.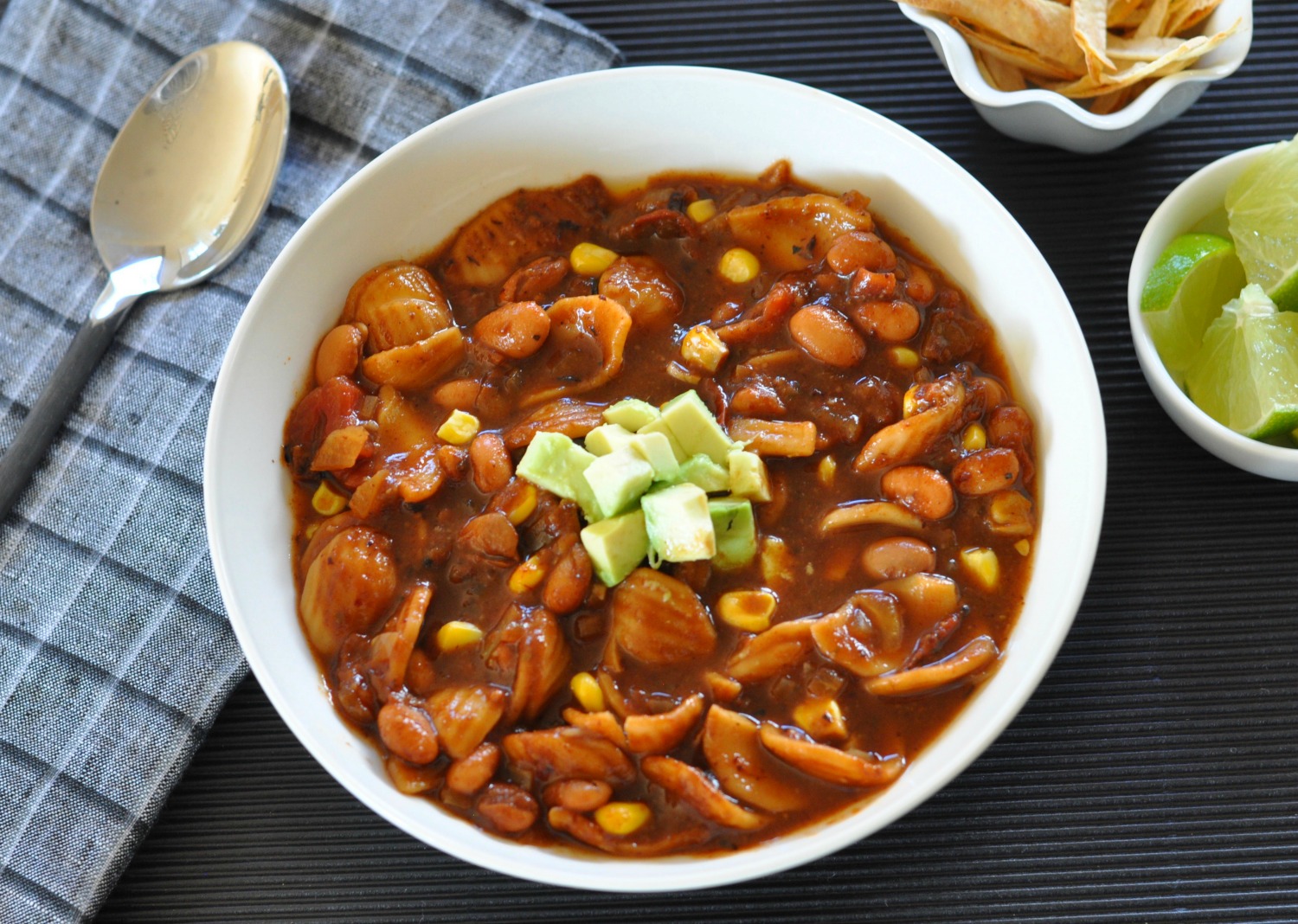 Smoky Ancho Chile Sauce Pinto Bean Soup with Orecchiette Pasta
Smoky Ancho Chile Pinto Bean Soup with Orecchiette Pasta
All the toppings are optional but each add there only little flavor bomb. I especially like the crunch of the baked tortilla chips.
Ingredients
1 dried ancho chile
½ cup vegetable broth for sautéing
2-3 cups vegetable broth for soup (or more) depending on how soupy you want it
1 onion, chopped
3 garlic cloves, chopped
2 tsp cumin
1 tsp dried oregano
½ teaspoon salt
fresh ground black pepper
1 15-ounce can pinto beans
1 15-ounce can fire-roasted crushed t tomatoes
½ cup frozen corn
½ cup Orecchiette pasta
optional toppings
1 avocado, peeled, pitted and chopped
Fresh cilantro
1 lime
Baked tortilla strips
Instructions
Destem and deseed the ancho chili and place in a medium bowl. Cover with 3 cups of boiling water and set aside.
Heat ½ cup of vegetable broth in a large soup pot. Add the chopped onion, garlic, cumin, dried oregano, salt and pepper and cook until the onion is soft and translucent.
Add the pinto beans, crushed tomatoes, corn, and pasta.Stir well
Meanwhile, transfer the rehydrated ancho chili and 2 cups of the chile cooking water to a food processor. Process until smooth.
Add to the soup pot with 2 cups of vegetable broth. Cook until the pasta is al dente approximately 15 minutes.
Top with chopped avocado, baked tortilla strips, fresh cilantro and a squeeze of lime if desired.
*To prepare baked tortilla chips - preheat oven to 375 degrees F - cut 3-4 tortillas into strips and arrange them single layer down on a cookie sheet lined in parchment paper. Bake until crisp but not to brown, checking often. This should take about 5-8 minutes.
I