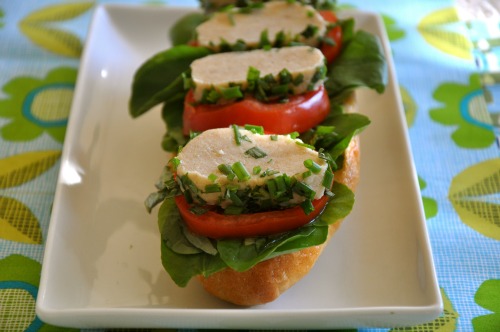 Cashew Cheese, Tomatoes, Basil & Watercress
I wanted to try something new and challenging this week. So, in an effort to expand my vegan cheese repertoire, I made a cashew cheese recipe from Tal Ronnin's new book The Conscious Cook. 
I won't say this vegan cheese isn't  some work because it was, but I will say it was worth it.
By the way, The Conscious Cook cookbook is for anyone who likes to cook – vegan or non-vegan. The recipes are delicious and familiar even without the animal protein. The photographs are also beautiful.
Tal Ronnen now has a restaurant in Los Angeles called Crossroads and they serve this cashew cheese for lunch and dinner. Hope you enjoy this cashew cheese as much I did.
Don't miss any of Ordinary Vegan's recipes by signing up here..
Ordinary Vegan now has a podcast on plant-based nutrition and vegan recipes. You can listen here on this website or in iTunes.
Join our health and wellness community on Facebook. There are over 315,000 strong, vibrant community members waiting to embrace you.
Thanks for stopping by and hope you have a peaceful and compassionate day.

Caprese Salad with Cashew Cheese, Tomatoes, Basil & Watercress
This is from Tal Rennin's fabulous cookbook - The Conscious Cook.
Author:
Tal Ronnen The Conscious Cook cookbook
Ingredients
For the cashew cheese:
2 cups whole raw cashews
1 teaspoon New Chapter All-Flora probiotic (use the powder from 6 capsule) (available at Whole Foods, online or health food stores)
1 tablespoon onion powder
½ teaspoon white pepper
1 tablespoon nutritional yeast flakes
1 teaspoon sea salt
Pinch of freshly grated nutmeg
2 tablespoons chopped fresh tarragon
2 tablespoons chopped fresh chives
Fresh basil
Freshly ground black pepper
Basil oil for drizzling
2 tablespoons of olive oil
1 tablespoon of chopped basil
Combine olive oil and basil - grinding the basil to infuse the oil
To assemble:
1 cup watercress
2 french baguettes, split lengths and cut in half crosswise.
3.4 large roma tomatoes, sliced ¼ inch thick
Sea Salt & Freshly ground black pepper
Instructions
Make the cashew cheese: Put the cashews in a bowl and add cold water to cover them. Cover the bowl and refrigerate for 12 to 14 hours.
In a cup, combine the probiotic powder with 2 tablespoons water and stir until smooth. Place the nuts in a blender with the probiotic mixture. Belnd on high for several minutes, sopping to scrape the sides with a rubber spatula, until very smooth. Line a fine-mesh sieve with three layers of rinsed and squeezed cheesecloth, leaving plenty of overhang, and set over a bowl. Transfer the nut mixture to the sieve and fold the excess cheesecloth over the top, twisting to ensure it is tight. Place heavy cans on top of the cheese and set in a warm place for 14 to 16 ours to culture. Transfer the cheese to a medium bowl.
Stir in the onion powder, white pepper, nutritional yeast, salt, and nutmeg. Scoop the cheese culture into the center of a sheet of parchment paper. Roll into a 2-inch diameter log and refrigerate for several hours or overnight until firm.
Combine the herbs and pepper to taste on a plate, then unwrap the cheese log and roll in the mixture to coat. Cut into ¼ inch slices.
Assemble the sandwiches: arrange the watercress over the bottom halves of the baguettes. Drizzle the basil oil mixture over the top. Top with the tomato slices, and season with salt and pepper to taste. Arrange the cheese slices over the tomatoes and cover with the top halves of the baguettes. Serve immediately.