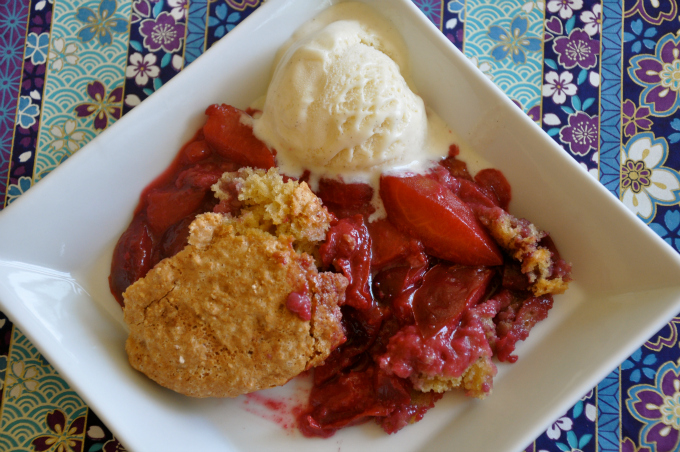 Vegan Plum Cobbler and Ice Cream
Do you make promises that you can't keep?
I have been so disappointed in people who have made promises to me and broke them.  Some of those broken promises have actually shattered my heart.
Last week I blogged about my vegan journey and how important it was for me not to break the vow I made to myself about eating animals. So I started blogging to make myself accountable, and it worked.
Today I would like to invite members of our community to share their stories of promises they made,  and how they were able to realize them.
I believe improving our ability to keep promises is a skill that can be learned, and I know our Ordinary Vegan community can inspire that.
Please share your stories in the comments below.
Now on to food and a yummy vegan plum cobbler.
I love plums. When summer arrives, I go plum crazy.
Plums are actually one of the healthiest foods in the world.
One medium-sized plum contains 113mg of potassium, a mineral that helps manage high blood pressure and reduce stroke risk. They also have high amounts of Vitamin C. Plums are delicious eaten as is, but I also enjoy them in salads or as a desert like this super easy plant-strong plum cobbler.
Hope you enjoy this plum cobbler as much as we did. If you have a sweet tooth, you may enjoy these berry dumplings in a clay pot and vegan ice cream with chocolate flakes.
Don't miss any of Ordinary Vegan's recipes by signing up here..
Ordinary Vegan now has a podcast on plant-based nutrition and vegan recipes. You can listen here on this website or in iTunes.
Join our health and wellness community on Facebook. There are over 315,000 strong, vibrant community members waiting to embrace you.
Thanks for stopping by and hope you have a peaceful and compassionate day.

Plum Cobbler
Ingredients
2 lb. fresh or frozen, thawed, pitted and halved plums
6 oz. firm organic silken tofu, drained
1 Tablespoon cider vinegar
1 cup sugar
1½ teaspoons vanilla extract
½ teaspoon almond extract
1 cup all-purpose flour
2 Tablespoons cornstarch
1½ teaspoons baking powder
½ teaspoon baking soda
¼ teaspoon salt
Instructions
Preheat oven to 350 degrees F. Coat deep-dish glass or ceramic pie pan or 9-inch square glass or enamel baking dish with a little oil. Add all the fruit.
Blend tofu in food processor or blender for 2 minutes, or until smooth, scraping down sides. Add vinegar and ¼ cup water, and blend until smooth. Add sugar vanilla, almond extract: puree 1 minute, or until sugar dissolves. Add dry ingredients, and blend 2 minutes or until smooth and thick batter forms.
Spread batter over fruit in baking dish. Bake 30 to 40 minutes, or until top is golden-brown and toothpick inserted in center comes out clean. Let stand 15 minutes before serving.
Serve with your favorite vegan ice cream.
Nutrition Information
Serving size:
1 cup
Calories:
230
Fat:
1 gram
Trans fat:
0 gram
Sugar:
36 grams
Fiber:
2 grams
Protein:
4 grams