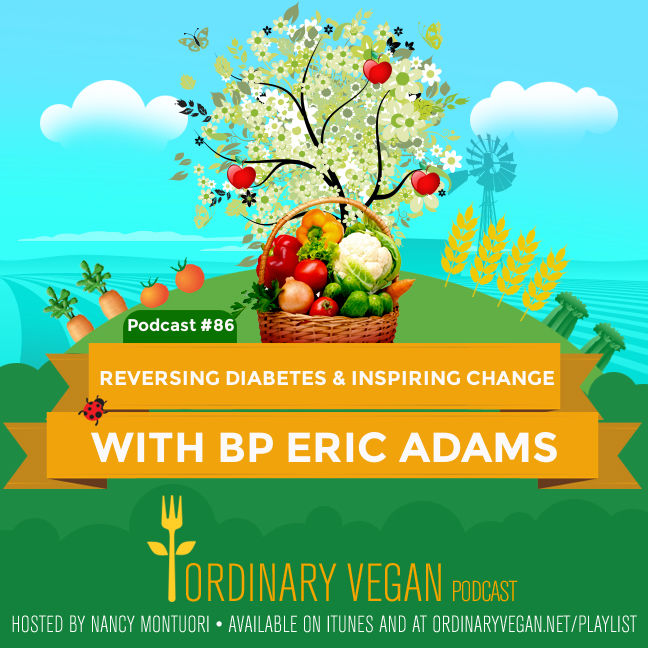 Today I sit down with Brooklyn Borough President, Eric Adams. Eric is in the running to be the next mayor of New York City and he is using his platform to spark real change and spread the plant-based message.
Here is some background. At 15 years old, Eric Adams was beaten by police. The traumatizing incident inspired him to become a police officer to help reform New York City policing from the inside. He co-founded 100 Blacks in Law Enforcement Who Care, and after 22 years on the force, retired as a captain.
Eric served in the New York Senate for seven years and was elected Brooklyn Borough President in 2013. He is now serving his second term.
In 2016 when Eric was out of the country, he experienced stomach pains and feared it was colon cancer. 
When he returned to America, he went to the doctor and found out that his colon was fine, but that he had an ulcer and was in the late stages of type-2 diabetes. This caused him to lose sight in his left eye and was slowly losing it in his right eye, making him legally blind. He even experienced nerve damage in his hands and feet from diabetes. 
Eric went and spoke to multiple doctors like Dr. Esselstyn, who told him to stop eating processed foods, dairy, and meat. After three weeks of following their recommendations, Eric's vision cleared up from diabetes. After three months, his diabetes went into remission, and his ulcer went away. He dropped 35 pounds and realized the power of food and how fast your body responds to you giving it the proper nutrients it needs to function.
But this conversation isn't just about Eric's transformation, it is also about how he is using his position to encourage New York to explore plant-based eating.
Be prepared to be inspired by Eric Adams.
You can pre-order Eric Adams new book "Healthy At Last: A Plant-based Approach to Preventing Diabetes and Other Chronic Illnesses" on Amazon.
Thank you for joining me today.
For recipes and inspiration, follow me on Instagram and Facebook. Join our list, so you never miss a podcast or recipe.
Additionally, you can find my new book "The Easy 5 Ingredient Vegan Cookbook" HERE.
You can purchase my vegan, organic line of CBD products on my website.  CBD Oil from hemp  has shown substantial promise in helping people build an immune system that is fortress strong. I hope it can help you.
Thank you to The Barnard Medical Center for sponsoring this week's podcast. For more information and to set up your first appointment, call 202 527 7500 or visit their website. You can download their 21-day vegan kickstart app here.
Also, please share this podcast so our community can grow. And if you have time, please leave a review on Apple Podcasts or Spotify. The more reviews we receive, the better chance of spreading the compassion one plant-based meal at a time.
Please stay strong and stay well!
DISCLOSURE: This post may contain affiliate links, meaning I get a commission if you decide to make a purchase through m links, at no cost to you. Please read my disclosure for more info.