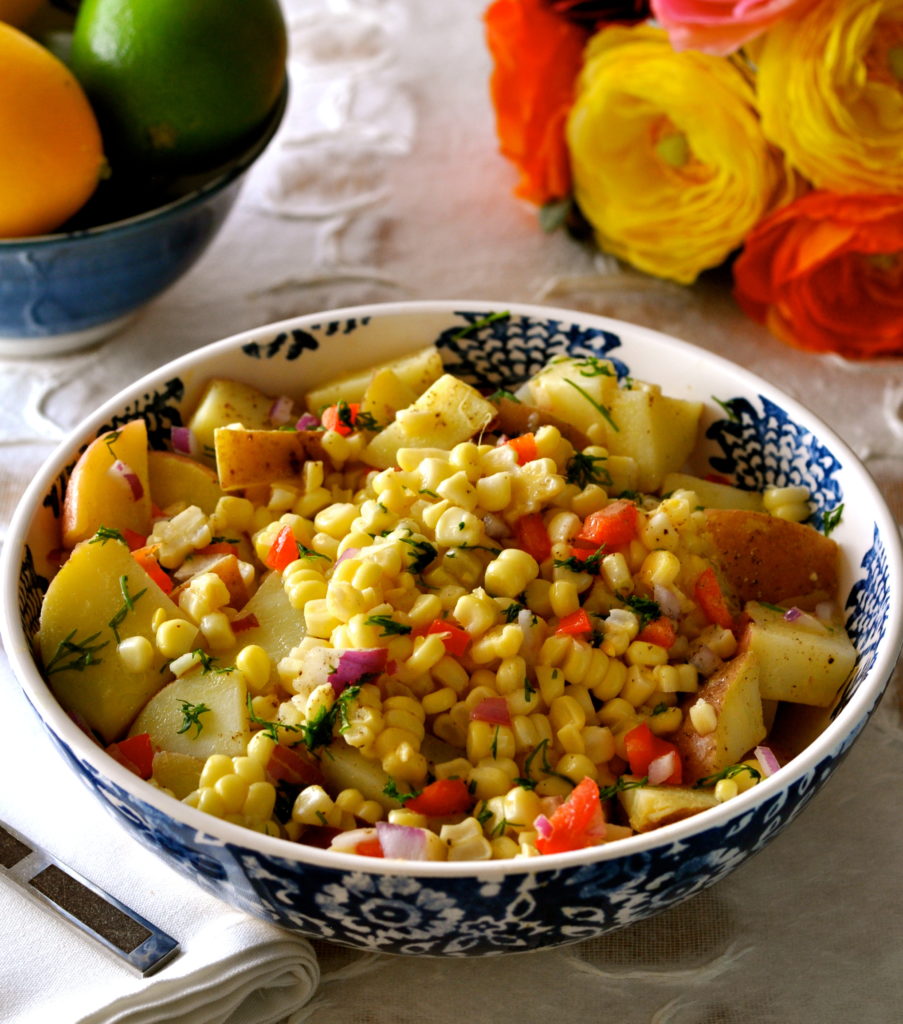 I can't believe summer is only a few week's away, and I am so ready for some easy, healthy summer salad recipes.
Summer is too precious to waste indoors and for anyone who enjoys food and cooking, summer offers the finest produce. The key is to keep it simple and just enjoy the fresh, fragrant flavors of these seasonal ingredients.
That is what I tried to do with these summer salad recipes. Each salad has it's own unique flavor profile, and every dressing is light and oil-free. There is no reason to smother those beautiful flavors with lots of oil, fat and calories.
I don't know about you, but I love potato salad on a hot summer day. This potato salad is loaded with organic corn, red pepper, red onion, dill and lightly coated with a dijon vinaigrette dressing. How many ways can you say yum!!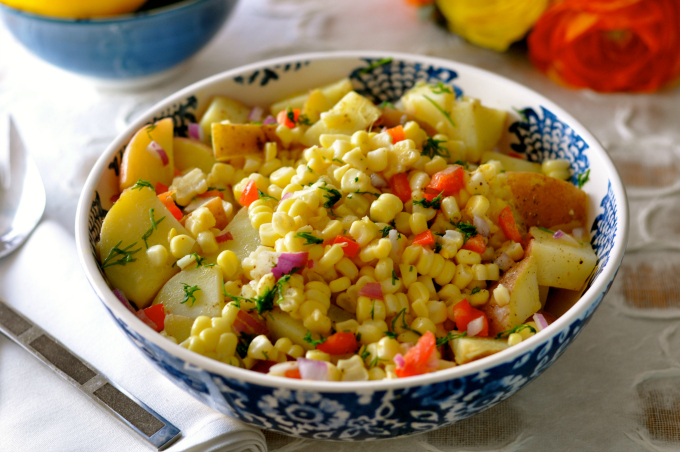 Healthy Summer Salad Recipes #1 – Vegan Potato and Corn Salad with Oil-Free Mustard Vinaigrette
My next healthy summer salad recipe is a simple arugula salad accompanied with sweet roasted carrots.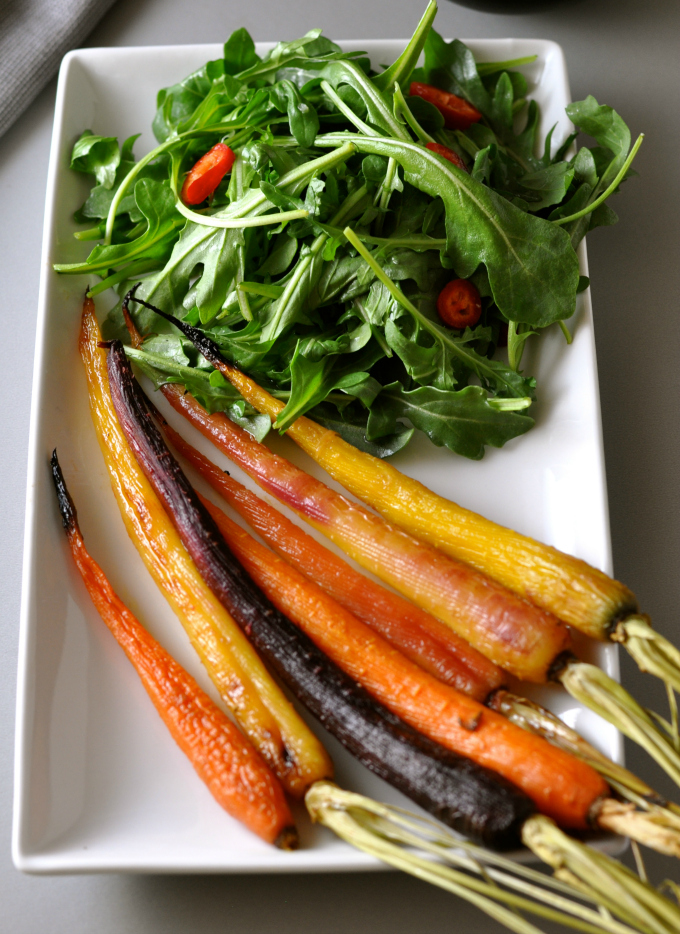 Healthy Summer Salad Recipes #2 – Roasted and Glazed Carrots with Arugula Salad
I love the intense flavors roasting brings out in vegetables, but you could also throw these carrots on the grill. Just remember you don't have to load on the oil. I made a glaze of lime juice and maple syrup and slathered it on before roasting and those roasted carrots were outstanding. The arugula salad was tossed with a light lime oil-free vinaigrette.
The last recipe I would like to share is this gorgeous summer heirloom tomato topped with an oil-free miso pistachio sauce.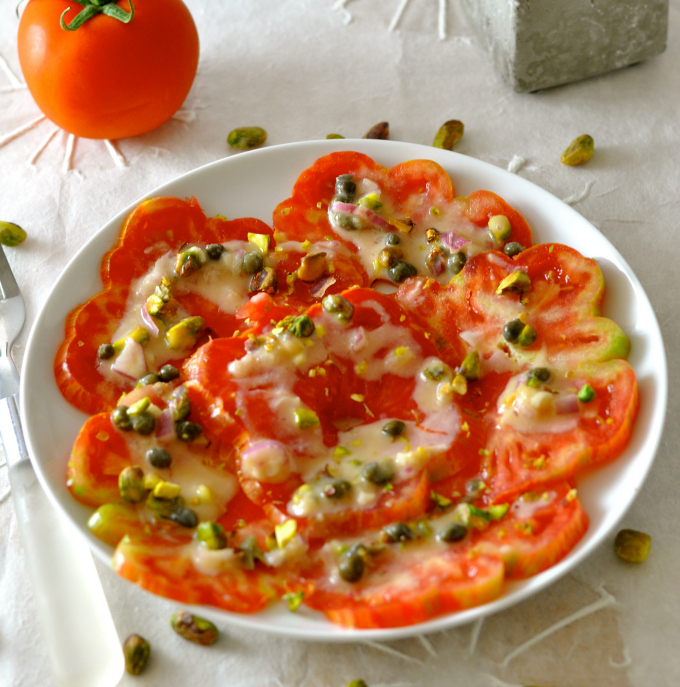 Summer Salad Recipes #3 – Heirloom Tomatoes Topped With A Pistachio Dressing
White miso replaced the oil in this recipe, and I must say it was outstanding. It really complimented the earthy, almost smokey sweetness of the heirlooms.
Hope you enjoy these healthy summer salad recipes as much as I did.  If you love salads as much as I do, I think you will enjoy my Summer Salad with my favorite secret ingredient and my Vegan Macaroni Salad.
I would also like to mention that June is National Dairy Month. I have seen lots of advertising about the health benefits of cow's milk which unfortunately isn't the truth. Please read my blog from February 15, 2016, on why the best milk to drink isn't from a cow.
Non-dairy milk has all the health benefits of cow's milk except you won't be digesting any hormones or antibiotics.
Thanks for joining us today.  If you want to receive all of Ordinary Vegan's free recipes, please sign up here.  Also, my podcasts are available on iTunes, or you can listen to them right here on my website. No fancy equipment needed, just some speakers.
Join our health and wellness community on Facebook. There are over 315,000 strong, vibrant community members waiting to embrace you.
Many people in the wellness world are turning to cannabidiol, commonly referred to as CBD oil, for its powerful anti-inflammatory and anti-anxiety effects. You can now purchase safe and effective vegan CBD Oil on Ordinary Vegan. Link here.
I believe CBD oil can help many people living with anxiety disorders or chronic pain and my mission is to provide you with the highest quality CBD oil from hemp on the market. My number one goal is to keep you as healthy and as happy as possible. Learn more about how CBD Oil from Hemp can help you.

Potato & Corn Summer Salad with Oil-Free Mustard Vinaigrette
Light, refreshing and oil-free, perfect for a hot summer night!
Ingredients
potato corn salad
1¼ pound of red potatoes, cut into 1 inch dice (unpeeled)
1 red bell pepper, chopped (approximately ½ cup)
1 small red onion, chopped (approximately ½ cup)
4 ears of corn
¼ teaspoon salt
ground black pepper
3-4 tablespoons of fresh dill, chopped (or parsley)
Vinaigrette
2 tablespoon dijon mustard
2 tablespoons apple cider vinegar
1 tablespoon maple syrup
¼ cup water
¼ teaspoon salt
¼ teaspoon ground black pepper
Instructions
Add your diced red potatoes to a big pot of boiling water. Lower the heat and cook until the potatoes are still firm but tender, 8-12 minutes. Keep checking so they don't get mushy.
Drain, rinse with cool water.
Bring a large pot of water to a boil. Drop in your corn. Cover and turn off heat. Leave the corn for 5-7 minutes in the hot water. Cool and remove kernels* note below
In a large bowl, combine the potatoes, bell peppers, corn, onion, salt and ground black pepper.
Meanwhile make the vinaigrette by placing all the ingredients in a small food processor and process for about 10 seconds or until it is combined.
Pour the dressing over the potato mixture. Add the dill, combine well and serve.
*The best technique to remove kernels is to place an ear of corn vertically in a large bowl. Using a small, sharp knife, slice the corn off the cob from the top to the bottom. Turn ear and continue.**
Roasted Carrots & Arugula Salad
Make the most out of summer with this light, refreshing and oil-free salad with fresh roasted carrots.
Ingredients
1 bunch carrots
1 tablespoon maple syrup
1 tablespoon lime juice
pinch of salt and ground black pepper
a large bunch of arugula
Vinaigrette
4 tablespoons fresh lime juice
4 tablespoons rice vinegar
1 tablespoon water
1½ teaspoons maple syrup
¼ teaspoon salt
Fresh ground black pepper
1 red Fresno chili, finely chopped (optional) adds heat
Instructions
Heat the oven to 400 degrees F.
Whisk together the 1 tablespoon maple syrup and 1 tablespoon lime juice. With a small pastry brush brush the carrots with the mixture, coating both sides.
Place the carrots into oven for approximately 20 minutes or until soft and caramelized.
Whisk together the vinaigrette ingredients. Taste for seasoning. If too tart, you can add more water or a little more maple syrup. Toss half of the dressing with the arugula, taste and add more as needed. Taste for seasoning.
Place a mound of arugula salad on a plate with roasted carrots.
Tomato Salad with Miso Vinaigrette
This is a lovely no-oil dressing contains miso, capers, pistachio and shallots.
Ingredients
2 heirloom tomatoes, sliced
pinch of salt (or more to taste)
fresh ground black pepper
Pistachio Vinaigrette
⅓ cup roasted pistachios, coarsely chopped
¼ cup mild white miso
2 tablespoons capers
¼ cup shallots, finely chopped
2 tablespoons Champagne vinegar
2 teaspoons maple syrup
2 tablespoons water
Instructions
Whisk together the miso, capers, shallots, champagne vinegar, maple syrup, salt and a little fresh ground black pepper. Add the chopped pistachios. Refrigerate until using.
Arrange the tomato slices on plates. Stir the pistachio sauce and spoon over the tomatoes.
Add the pinch of salt and a few twists of fresh ground black pepper.