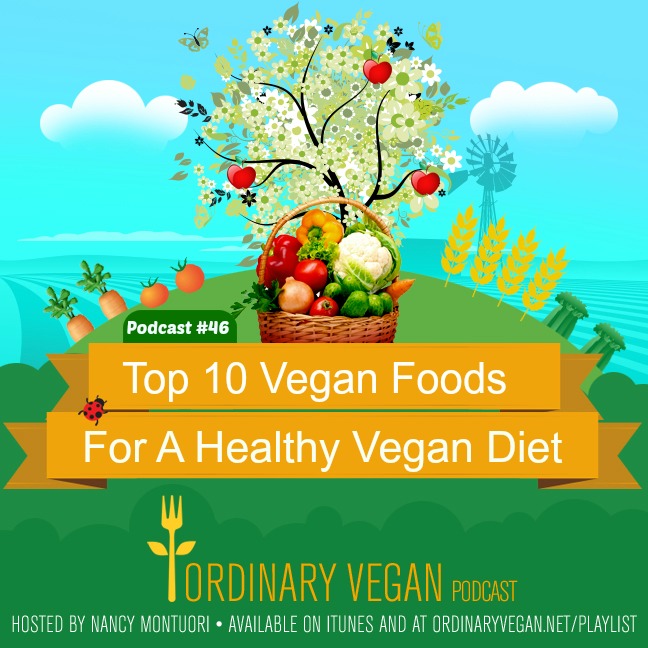 Not all vegan diets are created equal, and the healthiest and easiest approach to a vegan diet is to include these top 10 vegan foods to your diet everyday. 
The amount of faux meats and processed vegan-friendly products has exploded in the past two years. Subsequently, if you are a full-time or part-time vegan who regularly consumes processed vegan foods, these foods can be as unhealthy as animal products.
For the most part, eating healthy isn't difficult when you stick to a whole foods approach.
In today's podcast, I discuss the 10 ten vegan foods you should include in your diet every day.
So even if you are already on a vegan diet, sometimes you need to get back to the basics and eat well-planned vegan foods to make sure you don't miss out on essential nutrients.
Once you get the hang of it, it becomes second nature.
In brief, no matter where you are on your vegan journey, eating a whole-food, plant-based diet centered on whole, unrefined vegan foods, will drastically improve your health and you will feel better than you have ever felt.
I also hope you join us on the 21-day Healthy Vegan Eating Challenge. You can download a daily nutritional checklist to help guide you.
Furthermore, you can join our private Facebook Group for updates and support. 
Top 10 Vegan Foods For A Healthy Vegan Diet – download your daily checklist here.
Thanks for being here and I hope today's podcast helps you live a long and healthy life. 
You will find today's recipe for the Creamy Farro Salad with White Beans and Kale Topped with Ginger Miso Dressing at the bottom of this post.
Last but not least, many people in the wellness world are turning to cannabidiol, commonly referred to as CBD Oil from Hemp for its powerful natural anti-inflammatory properties for regulating muscle pain and stress response.
You can now purchase a safe and effective vegan CBD Oil from Ordinary Vegan. My mission is to provide you with the highest quality CBD Oil from Hemp on the market. I hope it can help you.
Don't hesitate to email me with any questions – questions @ ordinaryvegan.net. Learn more about CBD Oil from hemp here.
You can support the Ordinary Vegan Podcast at Patreon.

Creamy Farro Salad with White Beans & Kale
Switch up the grain, beans and greens to your favorites.
Ingredients
¾ cup dried farro, rinsed
¼ cup pine nuts
1 pound Tuscan kale, stems and veins discarded, cut into ½ inch ribbons
1 tablespoon lemon juice
1 teaspoon olive oil (omit if you are oil-free)
1 15-ounce can cooked, drained, rinsed cannellini beans
2 tablespoons hemp seeds
¼ teaspoon salt
¼ teaspoon ground black pepper
Ginger Miso Dressing
¼ cup water
2 inches of peeled, chopped fresh ginger
3 tablespoons Tahini
2 tablespoons Maple Syrup
2 tablespoons apple cider vinegar
1 tablespoon low-sodium soy sauce or Tamari
Salt & Ground black pepper to taste
Instructions
In a medium saucepan bring 2 cups of of water to a boil. Add the farro and cook until al dente, approximately 20 to 25 minutes. Don't overcook. It should still have a little bite. Drain and spread on a lined baking sheet to cool.
Meanwhile toast ¼ cup of pine nuts over moderate heat, tossing occasionally, until golden, about 5 minutes being careful not to burn.
In a large bowl whisk 2 tablespoons lemon juice and 1 teaspoon of olive oil. Season the mixture with the salt and pepper. Add the Tuscan kale and toss well. Use your hands to make sure all the kale is covered with lemon juice. Let stand for about 15 minutes.
Meanwhile in a food processor add all the Ginger Miso Dressing ingredients. Blend all the ingredients until smooth. Taste and season with salt and ground black pepper if needed.
Add the farro and cooked cannellini beans, and pine nuts to the kale and toss. Lightly dress with ginger miso dressing. Top with hemp seeds. Season with fresh ground black pepper. Taste and add salt if necessary.