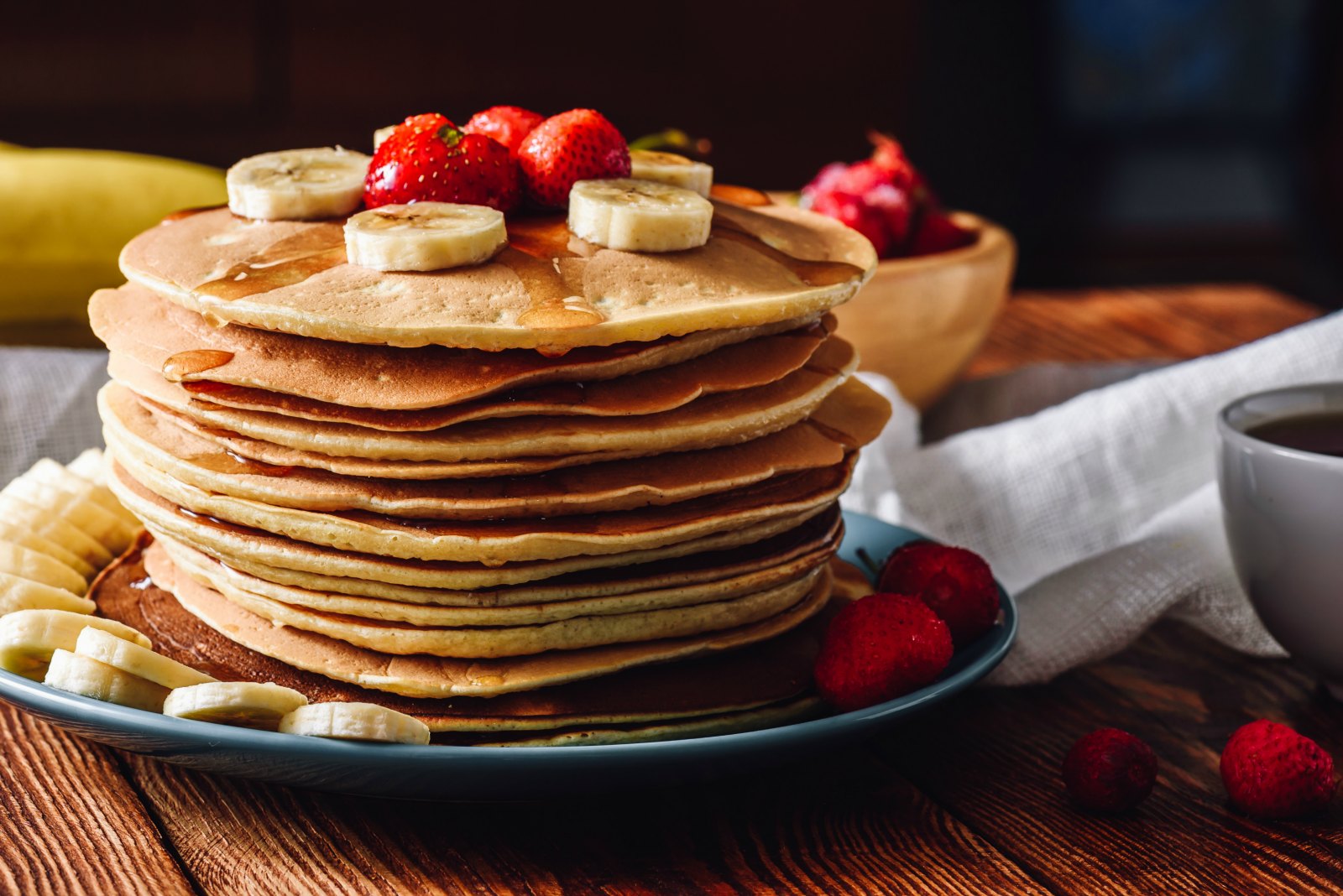 How can something so simple taste so good? These vegan banana pancakes prove that you can eat something quick, satisfying and healthy for breakfast.
Non-contaminated rolled oats are also gluten-free and full of significant health benefits. They are high in fiber which helps you stay full faster and longer. Oats are an excellent source of antioxidants and can help regulate blood sugar.  If that wasn't enough, rolled oats have vitamins, minerals and 26 grams of protein per cup!
For variety, stir in healthy additions to your batter like ground flax, berries or seeds. Top with some unsweetened coconut for crunch and maple syrup for sweetness.
Hope you enjoy these vegan banana pancakes as much as we did. You can also find the recipe for overnight oats below.
If you agree that oats are a healthy, delicious ingredient, you will probably enjoy these Vegan Energy Bars with Oats, Apples and Flaxseed,  Oil-Free Heart Healthy Granola Bars and Baked Oatmeal with Raspberries.
Don't miss any of Ordinary Vegan's recipes by signing up here..
Ordinary Vegan now has a podcast on plant-based nutrition and vegan recipes. You can listen here on this website or in iTunes.
Join our health and wellness community on Facebook. There are over 315,000 strong, vibrant community members waiting to embrace you.
Finally, in 2018, after two years of research, I launched my first product – Ordinary Vegan plant-based CBD Oil from Hemp. My fact-finding, research and testimonials from our vegan community proved to me that this natural food supplement could help people.
You can learn more about vegan CBD oil from hemp here. Please don't hesitate to reach out to me with any questions you may have at questions@23.235.200.4.
Thanks for stopping by and hope you have a peaceful and compassionate day.
Four Ingredient Vegan Banana Pancakes
Four Ingredient Vegan Banana Pancakes
The easiest and healthiest pancakes you can eat!
Ingredients
¾ cup of rolled oats
¼ cup of oat flour (or whole-wheat)
1¼ cup of unsweetened, unflavored nut milk (I like almond)
1 large ripe banana, sliced
Instructions
Blend all the ingredients together in a food processor or blender. Heat a light oiled frying pan over medium high heat. Pour approximately ¼ cup of batter into the griddle. Brown on both sides and serve hot.
Garnish with sliced bananas, fruit, nuts, seeds, maple syrup or some unsweetened toasted coconut.
Overnight Oats
Ingredients
½ cup of rolled oats
1 cup of unsweetened nut milk (I like almond)
2 tablespoons of seeds, hemp or ground flax seeds or a combination
1 teaspoon of cinnamon
1 teaspoon of maple syrup
Instructions
Add all the ingredients to a mason jar. Put lid on and shake it up. Place in the refrigerator overnight.
Garnish with nuts, fruits and a drizzle of maple syrup.