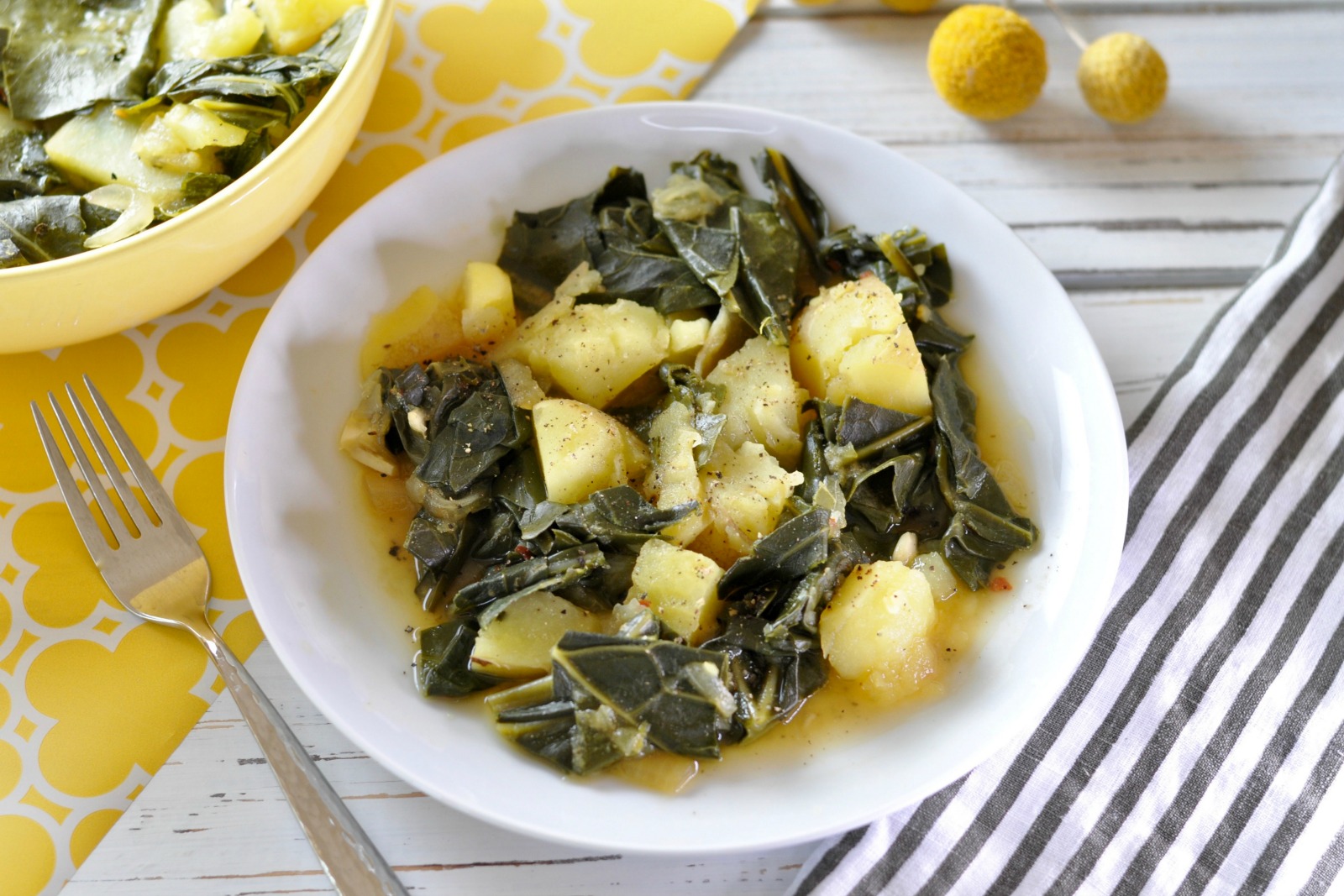 This healthy vegan collard greens creation really took me by surprise. Why? Because I had no idea that I liked collard greens.
Collard greens are a cruciferous vegetable like broccoli, cabbage and kale. Most people think of collard greens as a part of southern US cooking and many don't know how to cook them properly. I certainly fell into that category.
Collard greens are considered one of the healthiest foods in the world for numerous reasons. First,  they are a very good source of vitamin B1, vitamin B6 and iron. They are also a good source of vitamin E, copper, protein, magnesium, phosphorus, vitamin B5, folate, omega-3 fatty acids, niacin, vitamin B1 and potassium.
If I still can't convince you to try these dark, beautiful, leafy greens, you can certainly substitute this vegan collard greens recipe with cabbage, spinach or kale.
Want to learn other ways to enjoy your leafy greens? Try these yummy recipes;  Hemp Seeds, Cannellini Beans & Greens, Kale & Quinoa Salad with Vegan Green Goddess Dressing and Kale Marinara with Chickpeas.
If you try this recipe, please let me know!  Leave a comment, rate it, and don't forget to tag a photo #ordianryvegan on Instagram so I can see what you came up with.
Don't miss any of Ordinary Vegan's recipes by signing up here.
Ordinary Vegan has a podcast on plant-based nutrition and vegan recipes. You can listen here on this website or in iTunes. This podcast is dedicated to helping people live a long and healthy life.
You can also join our health and wellness community on Facebook. There are over 316,000 strong, vibrant community members waiting to embrace you.
Finally, in 2018, after two years of research, I launched my first product – Ordinary Vegan plant-based CBD Oil from Hemp. My fact-finding, research and testimonials from our vegan community proved to me that this natural food supplement could help people.
You can learn more about vegan CBD oil from hemp here. Please don't hesitate to reach out to me with any questions you may have at questions@ordinaryvegan.net.
Thanks for stopping by and hope you have a peaceful and compassionate day.
Healthy Vegan Collard Greens with Potatoes & Nutritional Yeast
Collard Greens
Adapted from New York Times.
Ingredients
1 large bunch collard greens, stemmed and washed thoroughly
¾ pounds yellow fleshed potatoes like Yukon gold (peeled or unpeeled)
½ cup vegetable broth
1 small onion, thinly sliced
2-4 garlic cloves, chopped
½ teaspoon salt
Fresh ground black pepper
¼ teaspoon red chili flakes (optional)
¼ cup nutritional yeast
Instructions
Bring a large pot of water to a boil. Fill a bowl with ice water. When the pot of water comes. to a boil, add a generous pinch of salt and add the collard greens. Blanch for four minutes, and transfer to the ice water with a slotted spoon. Save the water the greens were cooked in. Drain and squeeze out the extra water from the greens and chop coarsely. Set aside.
Heat ½ cup of vegetable broth over medium heat in a dutch oven. Add the onion and cook until softened, approximately 3 minutes. Add the salt, ground black pepper, garlic and red pepper flakes. Add more vegetable broth if sticking.
Continue to saute for another 2 minutes.
Stir in the collard greens. Mix together. Add 1 cup of the cooking water and set another cup of cooking liquid aside. Bring to a simmer, cover partially and simmer over low heat for 45 minutes adding more cooking liquid as needed. You always want it simmering in the cooking liquid.
While the greens are cooking, bring the left over collard green water to a boil. Scrub the potatoes (skin on or off works). Cut them in quarters and add to the pot of boiling collard green water. Bring to a boil, lower the heat and simmer until tender 15-22 minutes. Uncover the greens add the nutritional yeast and then the potatoes. Combine and using a fork or wooden spoon, crush the potatoes into the greens keeping it chunky, Taste for seasoning.