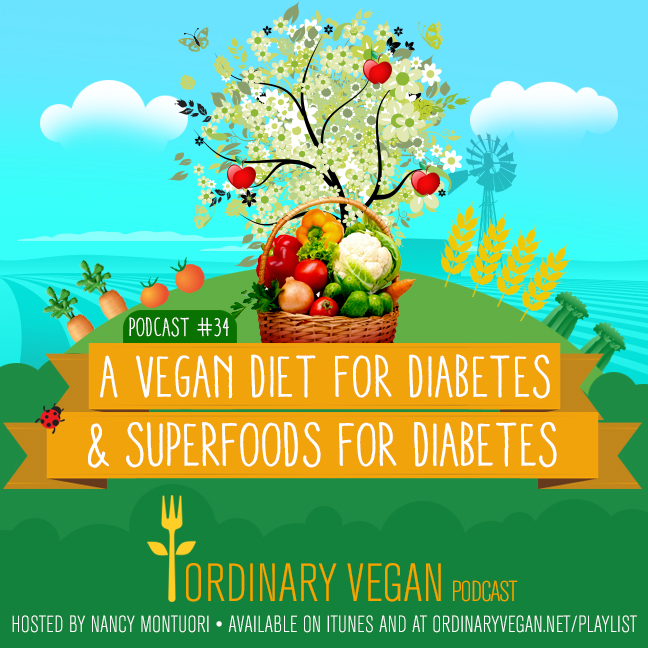 Researchers have found that adopting a vegan diet for diabetes has the potential to prevent and even reverse type 2 diabetes. A healthy plant-based diet could also help improve symptoms for anyone suffering from the many types of this disease.
And one of the best ways to manage diabetes is to learn as much as you can about your condition.
Diabetes is now a disease that affects 371 million people worldwide, and according to the International Diabetes Federation, 187 million of them do not even know they have the disease.
People who have diabetes can have numerous challenges.  Including not knowing what to eat and conflicting nutrition information.
If you don't have diabetes, please note that the US National Library of Medicines predicts that the prevalence of diabetes will increase by 54% between 2015 and 2030,  so many people are at risk. It is never too early to protect your body from becoming pre-diabetic.
Symptoms of prediabetes are easy to miss. This stage is referred to as the "grey area." Without drastic lifestyle changes, people with prediabetes will progress to full-blown diabetes.  The scary thing about this type of diabetes is that it may have no signs or symptoms, and you won't find out unless you have a blood test.
Type 2 diabetes is the most common diabetes, and over 85% of people with diabetes suffer from type 2.  This type is considered a lifestyle disease and associated with the way a person lives. The main factors contributing to lifestyle diseases include diet, nutrition, lack of exercise,  and drug or alcohol abuse.
With that said, it doesn't mean it's your fault that you have this disease. We were duped by food advertising, food pyramids, food trends and misguided information about diet and food.
In today's podcast, I will share what's new in diabetic research and what it means to you. You will learn how to make nutrition therapy a part of your treatment plan. Including a list of superfoods that may help you prevent and even reverse your type 2 and prediabetes. We will also explore if a vegan diet for diabetes is the right diet for everyone.
Join me in Ordinary Vegan's kitchen and prepare a rainbow chard superfood recipe for people with diabetes.  Recipe below.
You can find Dr. John McDougall's and Dr. Neal Barnard's books on diabetes here.
Thanks so much for listening and for being part of our healthy community.
If you have a chance, please leave a rating and review on iTunes and please subscribe. iTunes works in mysterious ways, but the more ratings and reviews the podcast gets, the better the visibility the podcast receives.
Don't miss any of Ordinary Vegan's recipes by signing up here.
You can also join our health and wellness community on Facebook. There are over 317,000 active, vibrant community members waiting to embrace you.
Finally, many people in the wellness world are turning to cannabidiol, commonly referred to as CBD, for its powerful anti-inflammatory and anti-anxiety effects. You can now purchase safe and effective plant-based CBD Oil made from Hemp on Ordinary Vegan. Link here.
A Vegan Diet For Diabetes Superfood Recipe
Swiss Chard with Raisins & Pine Nuts
Swiss chard contains an antioxidant known as alpha-lipoid acid that has been shown to lower glucose levels, increase insulin sensitivity, and prevent oxidative stress-induced changes in patients with diabetes.
Ingredients
2 lbs Swiss chard, stemmed, washed, stems diced and set aside
½ of vegetable broth (or more if needed)
2 garlic cloves, minced
3 tablespoons of raisins
3 tablespoons of pine nuts
Salt and ground black pepper to taste
Optional: Top with a little balsamic vinegar
Instructions
Place 3 tablespoons of raisins in bowl and pour hot water over to cover. Soak for 10 minutes and drain.
Fill a bowl with ice water. Bring a large pot of water to a boil and add the chard. Cook for 2-3 minutes and t transfer the chard to the bowl of ice water and let sit a minute. Drain and squeeze out as much water as possible and chop coarsely.
Heat ½ cup of vegetable broth in a large skillet. Add chard stems and cook 3 to 5 minutes or until tender. Add the pine nuts and cook stirring another minute. Add the garlic and cook another minute or two. Add more vegetable broth if sticking.
Add the chopped greens and raisins and toss together. Season to taste with a little salt and ground black pepper and serve.
Sources Cited:
https://www.ncbi.nlm.nih.gov/pmc/articles/PMC5278808/
http://www.thelancet.com/journals/landia/article/PIIS2213-8587(18)30051-2/fulltext?elsca1=tlpr
https://www.diabetes.co.uk/news/2018/mar/type-2-diabetes-diagnosis-before-40-increases-early-death-risk,-study-reveals-96490957.html
http://care.diabetesjournals.org/content/29/8/1777.full
https://www.cambridge.org/core/services/aop-cambridge-core/content/view/CA456C1DECFA93B083A153FE85076848/S0007114513002298a.pdf/div-class-title-dietary-intake-of-carbohydrates-and-risk-of-type-2-diabetes-the-european-prospective-investigation-into
https://www.ncbi.nlm.nih.gov/pmc/articles/PMC5426415/
https://www.ncbi.nlm.nih.gov/pubmed/3985239
https://www.drmcdougall.com/misc/2009nl/dec/diabetes.htm
http://www.clevelandclinicwellness.com/Features/Pages/Chia-Seeds.aspx#
https://www.ncbi.nlm.nih.gov/pmc/articles/PMC5187532/
https://www.ncbi.nlm.nih.gov/pmc/articles/PMC3139238/