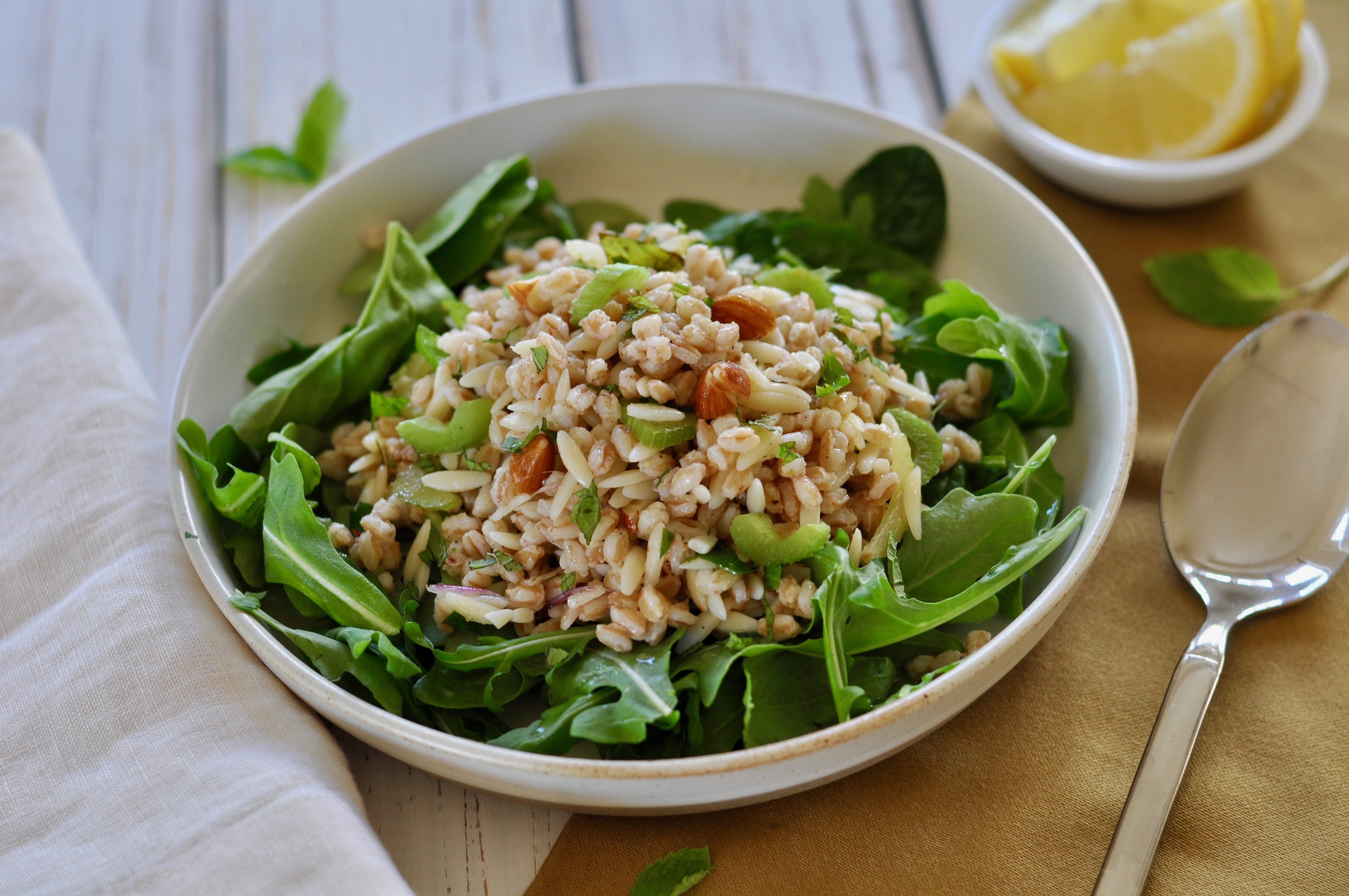 If you're not sure if you like farro, this Vegan Farro Pasta Salad with Orzo, Almonds, and Mint will definitely put you over the top.
Where do I begin? Lets start with protein. Farro is one of the best sources of plant-based protein coming in at 15  grams per cooked cup.
This hearty, nutty-tasting whole grain is also high in fiber and nutrients like magnesium and iron.
It is hands down my favorite resistant starch.
Resistant starch is a type of fiber found in some starchy foods. While most starch gets broken down into glucose, resistant starch resists digestion and can't be broken down. This not only leads to a healthier gut, it also keeps you full longer and faster.
Another thing I love about this Vegan Farro Pasta Salad is the addition of orzo, a small rice-shaped pasta.
The approximate ratio of farro to orzo in this Vegan Farro Pasta Salad is 4 to 1. So you are getting that pasta salad experience and taste without eating too much white pasta.
The grains and pasta are enhanced by the cheery notes of the lemon dressing. I don't often use a lot of oil, but today's recipe calls for olive oil. You could substitute all lemon juice if you are on an oil-free diet, but the olive oil adds a lot of richness.
Hope you enjoy this vegan farro pasta salad as much as we did. This recipe was inspired by a farro goat cheese pasta salad from the New York Times.
Vegan Farro Pasta Salad with Orzo, Almonds and Mint
By the way, farro also makes a yummy breakfast like this Warm Farro with Pistachios, Dried Sweet Cherries and Maple Syrup or topped on a salad like this Kale Salad with Farro, Pecans, and Dried Cherries.
Ordinary Vegan's #1 priority is helping you live a long, healthy, pain-free, and anxiety-free life. Ordinary Vegan's CBD from Hemp line is helping so many. If you have any questions about the health benefits of CBD or how it can help you, don't hesitate to reach out to me at questions@23.235.200.4.

Vegan Farro Pasta Salad with Orzo, Almonds and Mint with Lemon Dressing
Recipe type:
Side or Main
Cuisine:
American / Italian
Ingredients
Pasta Salad
1 cup of farro
2 bay leaves
1 cup orzo
¾ cup thinly sliced onions
¾ cup thinly sliced celery
¾ cup sliced almonds
¾ cup diced dried apricots (optional but adds a sweet element)
½ cup chopped mint leaves
½ cup chopped parsley leaves
Ground black pepper
Juice from one lemon
(options - ½ cup sun-dried tomatoes)
Dressing
Juice from two large lemons
½ teaspoon salt
½ teaspoon ground black pepper
¼ teaspoon red pepper flakes (or more to taste)
½ cup extra virgin olive oil plus 2½ tablespoons
Instructions
Cook the farro according to directions with 2 bay leaves being careful not to overcook. You want your farro to have a little bite. Remove the bay leaves.
Cook the orzo according to directions being careful not to overcook.
Whisk together the dressing ingredients. Set aside.
When the orzo and farro have cooled, combine together.
Add the remaining ingredients. Start tossing with the dressing, a little at a time until dressed to your liking. Squeeze the fresh juice of a lemon on top and lightly toss.
Taste and add more ingredients if needed.
Serve over fresh spinach leaves or arugula that has been lightly dressed with fresh lemon juice, salt, and ground black pepper.
Garnish with lemon wedges.