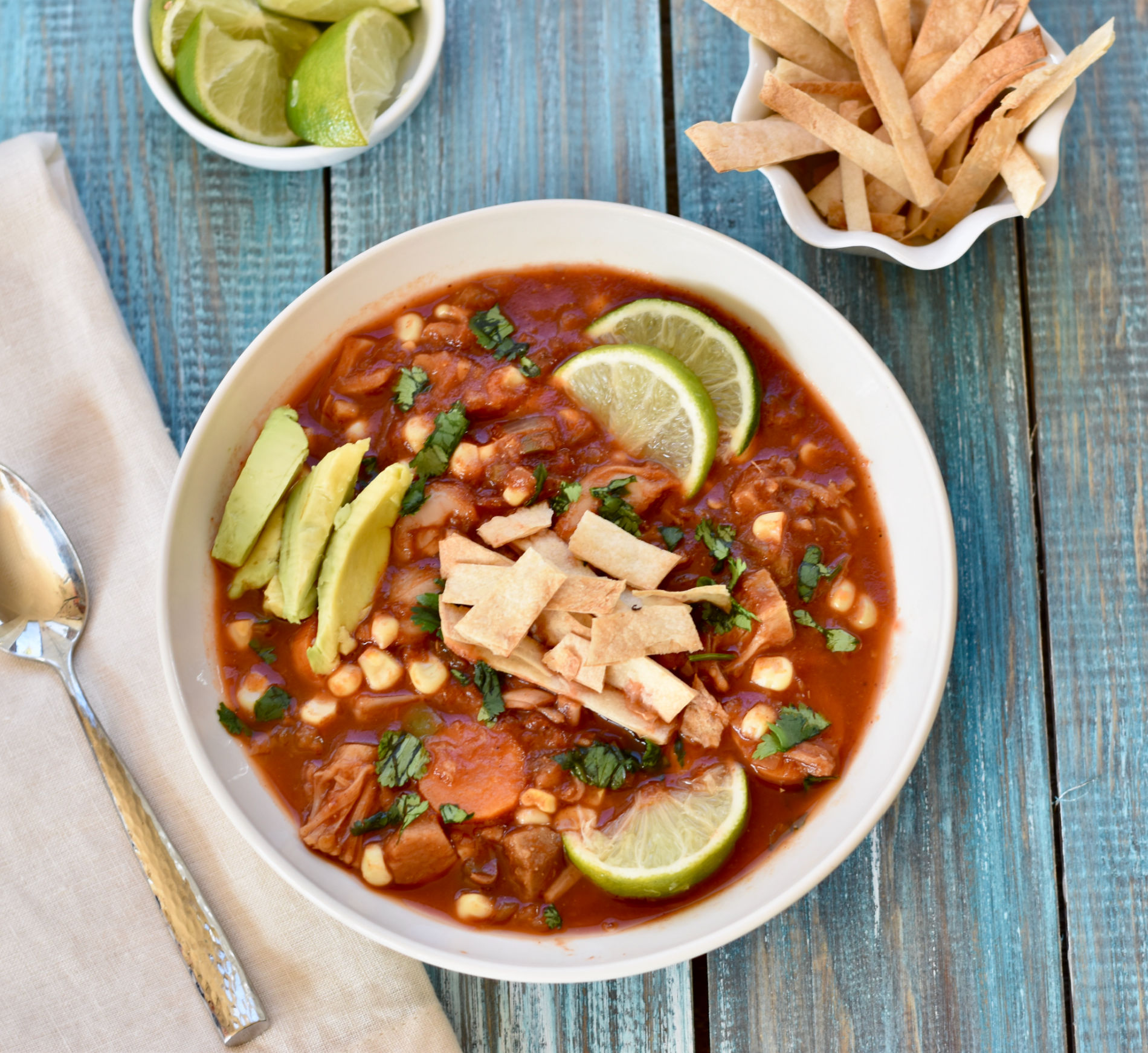 Today's vegan tortilla soup is enhanced with a healthy vegan meat replacement called jackfruit. If you've never heard of jackfruit, know that, despite the name, it's not sweet like traditional fruits. When canned and brined, it's perfect for savory dishes.
So what is this strange fruit, and how do we eat it?
Jackfruit is a tropical fruit that grows in South Asia. It's the largest tree fruit in the world, and one fruit can reach up to 100 pounds. Unlike animal sources of protein, jackfruit contains no saturated fat or cholesterol. It is also low in calories and contains 3 grams of protein and fiber per serving.
There are two types of jackfruit commonly sold in cans. One is unripe green young jackfruit in brine and the other is ripe jackfruit in syrup.  It's actually the unripe jackfruit in brine that is used in most savory recipes and what you'll find on grocery store shelves. You can use the riper version in syrup for sweet dishes.
Not only does the jackfruit amp up the protein in this vegan tortilla soup, it's also tasty and satiating.
Additionally, jackfruit is chewy and mild and can soak up the flavor of any savory dish you are cooking. It also has the texture of shredded chicken, making it perfect for absorbing just about any flavor or sauce. I recommend rinsing it well and shredding it with a fork before cooking.
This spicy vegan jackfruit tortilla soup recipe calls for baking the jackfruit with spices first to infuse it with flavor and dry it out a little for texture. I wanted to make it as flavorable as possible.
Additionally, this vegan tortilla soup would taste good without the jackfruit and black beans would make an excellent replacement.
I hope you enjoy this vegan tortilla soup as much as we did. Here are some more fun and delicious jackfruit recipes.
Sign up here ,so you don't miss any of Ordinary Vegan's recipes. If you make any of my recipes, please share a photo on Instagram or Facebook with the hashtag #ordinaryvegan, so that I can see all the deliciousness.
Many people in the wellness world are turning to cannabidiol, commonly referred to as CBD oil from Hemp. According to the American Sleep Association, "CBD may decrease anxiety and pain, which can interfere with restful sleep." You can purchase safe, effective, organic CBD Oil on Ordinary Vegan Link here.
Ordinary Vegan also released a cookbook in 2020 called "The Easy 5 Ingredient Vegan Cookbook" and it's available here.
Thanks for stopping by!

Spicy Vegan Jackfruit Tortilla Soup with Avocado & Baked Tortilla Strips
Ingredients
Jackfruit
1 15 ounce can jackfruit ( in brine only) rinsed and shredded
½ tablespoon smoked paprika
½ tablespoon chili powder
1 teaspoon cumin
¼ teaspoon cayenne
¼ teaspoon salt
Soup
½ cup vegetable broth for sautéing
1 onion, chopped
3 garlic cloves, minced
1 teaspoon cumin
1 teaspoon chili powder
2 tablespoons Jalapeño, chopped (or more if you like it very spicy)
1 large carrot, sliced
1 cup of fresh corn (or frozen)
1 14 ounce crushed tomatoes
2 cups vegetable broth or water
1 7-ounce can diced green chilis
¼ cup fresh chopped cilantro (and some for garnish)
1 lime juiced for soup and lime wedges for serving
Instructions
Jackfruit
Pre-heat oven to 425 degrees F. In a small bowl, combine the paprika, chili powder, cumin, cayenne and salt. In a larger bowl add the shredded jackfruit. Sprinkle the jackfruit with the spice mixture and combine well.
Place the jackfruit in a single layer on a baking sheet lined in parchment paper. Bake for 20 minutes. Set aside.
Soup
In a large stock pot, heat the ½ cup of vegetable broth. Add the onions and cook until soft and translucent about 4-5 minutes. Add the garlic, chili powder, cumin and an jalapeño. Saute for another minute.
Stir in the baked jackfruit, crushed tomatoes, canned chilis, 2 cups of water (or veggie broth), and carrots. Bring to a simmer and cook for 15 minutes. Add the corn and cook for another 5 to 10 minutes.
Take off the heat and add the chopped cilantro and fresh lime juice.
Garnish with baked tortilla chips (recipe follows), chopped fresh cilantro and avocado.
Tortilla strips
Preheat oven to 425 degrees. Stack 2 tortillas and slice in half. Cut crosswise into ½-inch strips and place on a baking sheet lined with parchment paper. Season with a little salt and fresh ground pepper. Spread in a single layer and bake until golden brown and crisp, turning halfway through, 8 to 10 minutes. Let cool.