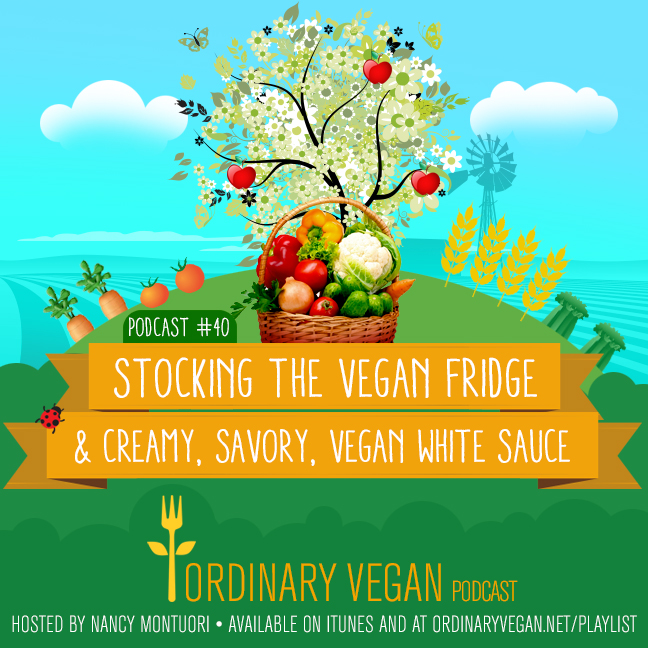 For those of you who are new to eating vegan, shopping for food can be daunting. Today we take a look at what staples go into a vegan refrigerator, and we prepare a very versatile, rich, savory, creamy vegan white sauce. It is the perfect replacement for a traditional cream-based sauce and has many uses.
Filling your refrigerator with healthy, whole plant-based food makes cooking delicious vegan dishes a pleasure and not a chore. And planning ahead not only saves time and money, but it also allows a lot of flexibility and variation in your weekly meals.
In This Podcast We Learn:
How To Maximize Flavors with Cooking Methods
The Benefits of Batch Cooking
Which Foods Belong In The Refrigerator – Which Don't
How To Make a Fruit Paste As a Healthy Alternative to Refined Sugar
Must-Have Vegan Condiments
How To Prepare a Creamy Vegan White Sauce
You can find the creamy vegan white sauce recipe below and the vegan fruit paste.
If you found this podcast information helpful today, please share on social media and consider writing a review on iTunes.
The more reviews we receive, the more visibility and higher ranking iTunes give our podcasts.
Learn more about stocking a vegan kitchen in Podcast #36: Vegan Cooking: Essential Ingredients For The Vegan Pantry.
Please join our healthy and supportive community on Facebook – We are over 315,000 strong and growing.
If you have any questions for Ordinary Vegan, email me at questions@23.235.200.4. 
Please sign up here to receive all of Ordinary Vegan's free delicious plant-based recipes.
Last but not least. In 2018, after two years of research, I launched my first product – Ordinary Vegan plant-based CBD Oil from Hemp. My fact-finding, research and testimonials from our vegan community proved to me that this natural food supplement could help people.
You can learn more about vegan CBD oil from hemp here. Please don't hesitate to reach out to me with any questions you may have at questions@23.235.200.4.
Thanks so much for joining us today. I hope this podcast and all my podcasts help you live a long and healthy life.
Vegan White Sauce Recipe
Vegan White Sauce
A rich, savory, creamy vegan white sauce to replace the traditional béchamel. You can store this in the refrigerator for 3-5 days or in the freezer up to 3 months.
Ingredients
2 cups cashews, soaked 3-4 hours and strained
½ cup of vegetable broth for sautéing
1¼ cups vegetable broth for sauce
1 small onion, chopped
2-3 cloves garlic, chopped
½ cup dry white wine
2½ tablespoons of nutritional yeast
pinch of nutmeg (1/8 teaspoon)
1 teaspoon salt
Fresh Ground Black Pepper
Instructions
Prepare Cashews
Soak 2 cups of cashews in 5 cups of warm water for 3 to 4 hours to soften. Strain.
Prepare
Heat ½ cup of vegetable broth over medium heat. Add the chopped onion and saute until soft and translucent adding more vegetable stock if sticking.
Add the chopped garlic and cook for another 2 minutes.
Transfer the cooked onions and garlic into a food processor or blender. Add the cashews, vegetable broth, white wine, nutritional yeast, nutmeg, pepper and salt.
Blend on high speed until smooth, adding more liquid if you want a thinner consistency.
Vegan Fruit Paste
Vegan Fruit Paste
Fruit Paste is a healthy alternative to refined sugar. Fruit paste can be added to marinades and salad dressings as your sweet component. You can also add them to stir-fry or your morning oatmeal.
Ingredients
½ cup dried, pitted fruit like dates, dried mangos, dried apricots or figs
1 cup of water
Instructions
Let the dried fruit soak in 1 cup of water in the refrigerator for at least 2 hours.
Add the mixture to a blender and blend until smooth adding more water if needed.