Before we discuss this golden brown and crispy, easy baked tofu, I want to address the subject of soy.
Soy gets a bad rap. Tofu, soy milk, edamame, miso, and tempeh are high in nutrients including protein, fiber, iron, magnesium, and potassium.
The most significant confusion about soy is that many people think it contains estrogen.
Soy does not contain estrogen. Estrogen is a hormone found in animals, and it does not occur in plants. Instead, soy contains phytoestrogens and these mimic some of the actions of estrogen. However, they are not estrogen.
Older women, particularly, should benefit by having soy in their diet because of the phytoestrogens.
Phytoestrogens can help offset common menopause symptoms by replacing lost estrogen. Other studies show that phytoestrogens could help prevent bone loss in aging women. You can learn more about soy and menopause in Podcast #32 – Foods To Eat During Menopause.
Soy is also the cornerstone of a traditional Asian diet. Asian populations have historically had lower rates of chronic disease.
My opinion is moderation is key.
Enjoy soy products occasionally and reap the health benefits especially if you experiencing menopause or perimenopause.
To be on the safe side, women who are pregnant, nursing, or attempting to become pregnant should use soy foods with caution. Some experts warn that consuming too much soy during pregnancy may alter the hormonal balance in the body.
For men and boys, the phytoestrogens in soy do not appear to have any effect on hormone levels and have not shown to affect sexual development or fertility.
Last but not least, its good to mention that a vegan diet of beans, vegetables, grains, and fruits does not have to include soy products to be nutritionally complete.
Now let's talk about this crispy, easy baked tofu with a gluten-free coconut Panko breadcrumb crust.
I love crunchy food because I believe it is more satiating. So I always try to find ways to add crunch without frying. Now you could crisp up this easy baked tofu in a frying pan with oil if you so desire, but it is still crunchy baked.
My choice for crunch was unsweetened coconut flakes and gluten-free Panko breadcrumbs, but you could also bake these with a nut and breadcrumb mixture. Anything goes because the batter really helps it stick.
Hope you enjoy this easy baked tofu with Coconut Panko Crust. If you love crunchy tofu as much as I do, you may enjoy these Crunchy Grilled Tofu Kebobs covered in the seeds or life, Crispy Asian Tofu or my  Nicoise Salad with Crispy Tofu.
Don't miss any of Ordinary Vegan's recipes by signing up here.
Ordinary Vegan now has a podcast on plant-based nutrition and vegan recipes. You can listen here on this website or in iTunes.
Join our health and wellness community on Facebook. There are over 315,000 strong, vibrant community members waiting to embrace you.
In 2018, after two years of research, I launched my first product – Ordinary Vegan plant-based CBD Oil from Hemp. My fact-finding, research and testimonials from our vegan community proved to me that this natural food supplement could help people.
You can learn more about vegan CBD oil from hemp here. Please don't hesitate to reach out to me with any questions you may have at questions@23.235.200.4.
Thanks for stopping by and hope you have a peaceful and compassionate day.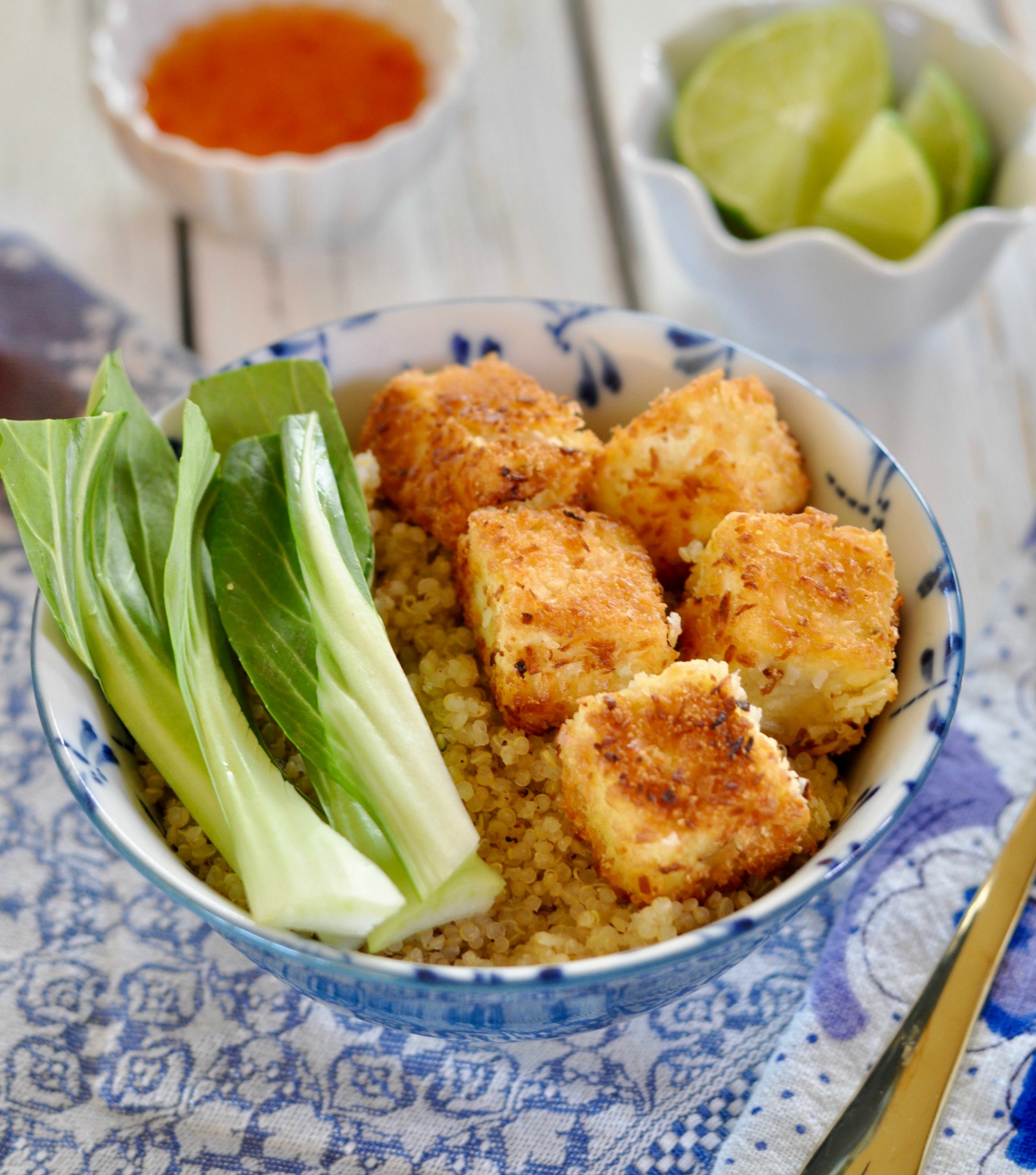 Easy Baked Tofu with Gluten-Free Coconut Panko Breadcrumb Crust
Easy Baked Tofu with Gluten-Free Coconut Panko Breadcrumb Crust
You can also pan fry these in oil. Panko breadcrumbs are gluten-free but you can use any breadcrumbs you like.
Ingredients
14 ounces organic extra-firm tofu
2 tablespoons of garbanzo bean flour
2 tablespoons organic cornstarch
¼ teaspoon baking powder
½ teaspoon salt
Fresh ground black pepper
4 tablespoons water
½ cup Panko breadcrumbs
¾ cup unsweetened shredded coconut (or you could use sweetened)
Lime wedges for serving
Instructions
Heat the oven. to 400 degrees F - Line a baking sheet with parchment paper.
Press the tofu with a clean kitchen towel to remove the water. Cut the tofu into 2 inch squares.
Prepare the batter by combining the flour, cornstarch, baking powder, salt and water in a mixing bowl. The texture will be on the thicker side like a pancake batter. If too thick, add more water.
Put the panko breadcrumbs, salt, fresh ground black pepper and shredded coconut onto a large plate and combine well.
Coat each piece of tofu in the batter, removing excess. Add to the coconut panko breadcrumbs and cover completely. Transfer to baking sheet.
Bake approximately 25-30 minutes or until golden brown.
Serve with lime wedges and your favorite chili sauce.