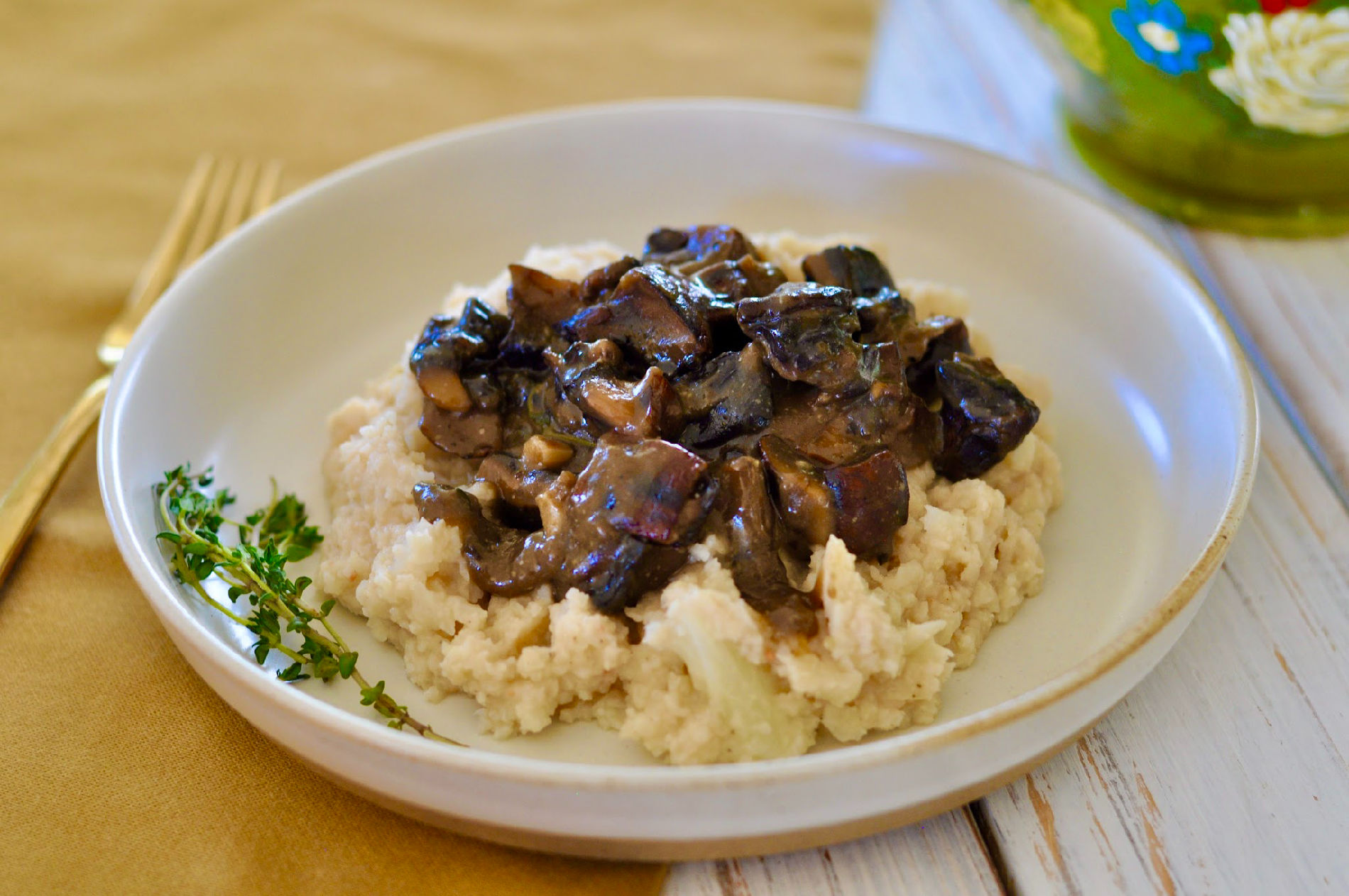 When it comes to quarantine comfort food, nothing fits the bill like this mashed cauliflower and white beans.  To make it even more comforting, I topped it with a portobello mushroom gravy.
Also, the combination of mashed cauliflower and white beans couldn't be a healthier choice. They are high in protein, high in fiber, and low in calories. Not only that, it's very satiating.
I know it hasn't been easy for anyone to food shop these days.
Saturday, I decided to be brave, mask up, and try going to my local farmer's market. When I arrived, I was so happy to see how well organized it was. People were social distancing and they weren't letting many people in at the same time. They also had a 20 minute shopping limit.
That provided me with more than enough time to buy the cauliflower for the mashed cauliflower, mushrooms, and lots of immunity-boosting greens. And as a special treat, some fresh flowers.
After I left, I realized that this might be the new normal. Not a happy thought, and for a second, I wanted to cry.  But I will learn to adjust.
A motto that I now live by daily is to be grateful for what I have. My family is well, I'm well, there is food on the table, and shelter over my head. And as long as the Ordinary Vegan community is well, I can't ask for more than that.
In a time of crisis, the impulse is to give in to fear and panic. Pema Chodron says, "this moment is the perfect teacher." So instead of giving into fear, every day, I am writing down everything I am learning during this crisis. For example, what good friends I have and how vulnerable I feel.
That's how I am coping. If you have any coping tips, please share.
Thanks for being here.  Hope you enjoy this mashed cauliflower and white beans as much as I did. If you love cauliflower, you will probably enjoy  my Vegan Cauliflower Stew with Pickled Cauliflower, Parsnip & Potatoes, Roasted Cauliflower with Garlic, Parsley and Red Wine Vinegar, and Cauliflower Tacos with Crispy Coconut Crust.
You can find my new book "The Easy 5-Ingredient Vegan Cookbook" on Amazon and my pure vegan CBD Oil from Hemp on my website.
Mashed Cauliflower & White Beans Topped with Portobello Mushrooms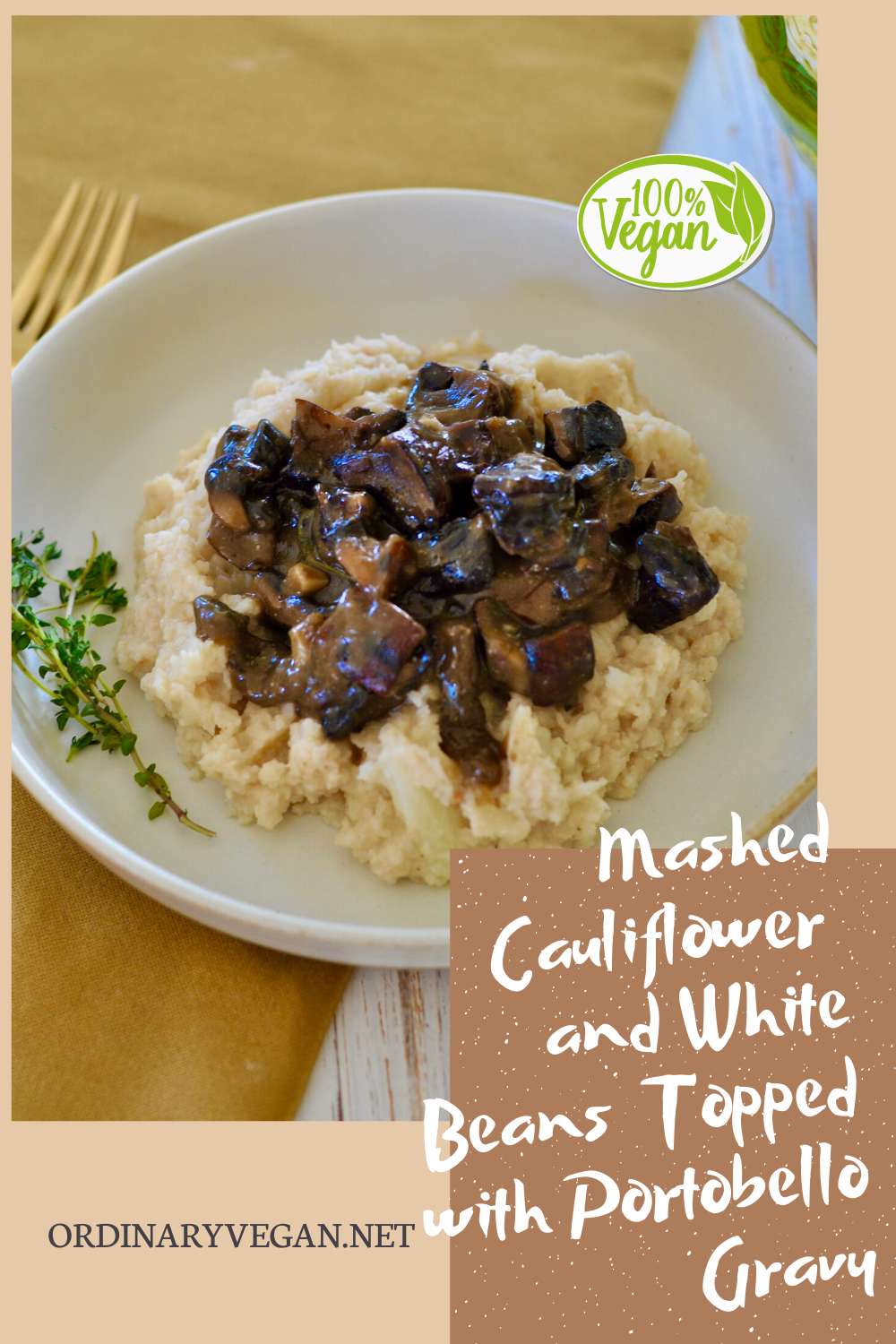 Cauliflower & White Bean Mash with Grilled Portobello Gravy
A low-fat, low calorie, high protein satiating meal. Serve with a side salad or leafy green. You can also omit grilling the portobello mushroom and just saute them. I think the grilling brings out an additional smoky sweetness to the mushrooms. You could also substitute the portobellos with white or cremini.
Ingredients
Cauliflower Mash
4 cups chopped cauliflower
1 15-ounce can cooked Cannellini Beans, drained and rinsed
2 garlic cloves, chopped
¼ unsweetened almond milk (or more)
¼ teaspoon salt
Fresh ground black pepper
Portobello Gravy
4 large Portobello mushrooms, stems and gills removed and wiped clean
2 garlic cloves, chopped
2 teaspoons fresh thyme (or ¾ teaspoon dried)
1½ tablespoons soy sauce
⅓ cup vegetable broth for sautéing plus 1 cup for gravy
1 tablespoon cornstarch
1 tablespoon white miso
Instructions
Cauliflower White Bean Mash
Place the chopped cauliflower into a medium saucepan. Cover with water. Place on stove over medium heat. Bring to a boil and then simmer until the cauliflower is soft. Approximately 15 minutes.
Drain the cauliflower and place in food processor. Add the cooked beans, garlic, plant milk, salt and fresh ground pepper. Process until you have creamy texture, adding more plant milk if necessary. I like mine a little on the chunky side. Set aside and keep warm.
Portobello Gravy
Heat a grill or a heavy bottom pan over medium heat. Brush the pan and mushroom caps with oil. When hot, place the mushrooms on the pan, partially cover and cook for 4 to 5 minutes on each side. Transfer to a cutting board. Cut into large bite sized pieces.
In a medium saute pan, over medium heat, add ⅓ cup vegetable broth. Add the garlic, cook for about 1 minute.
Add the chopped portobello mushrooms, thyme and soy sauce.
Whisk cornstarch, vegetable broth and miso in a small bowl. Stir into the sauce and simmer, stirring often, until slightly thickened, about 10 minutes. Add more vegetable broth if it is too thick. Taste and season with ground black pepper. Serve over cauliflower white bean mash.