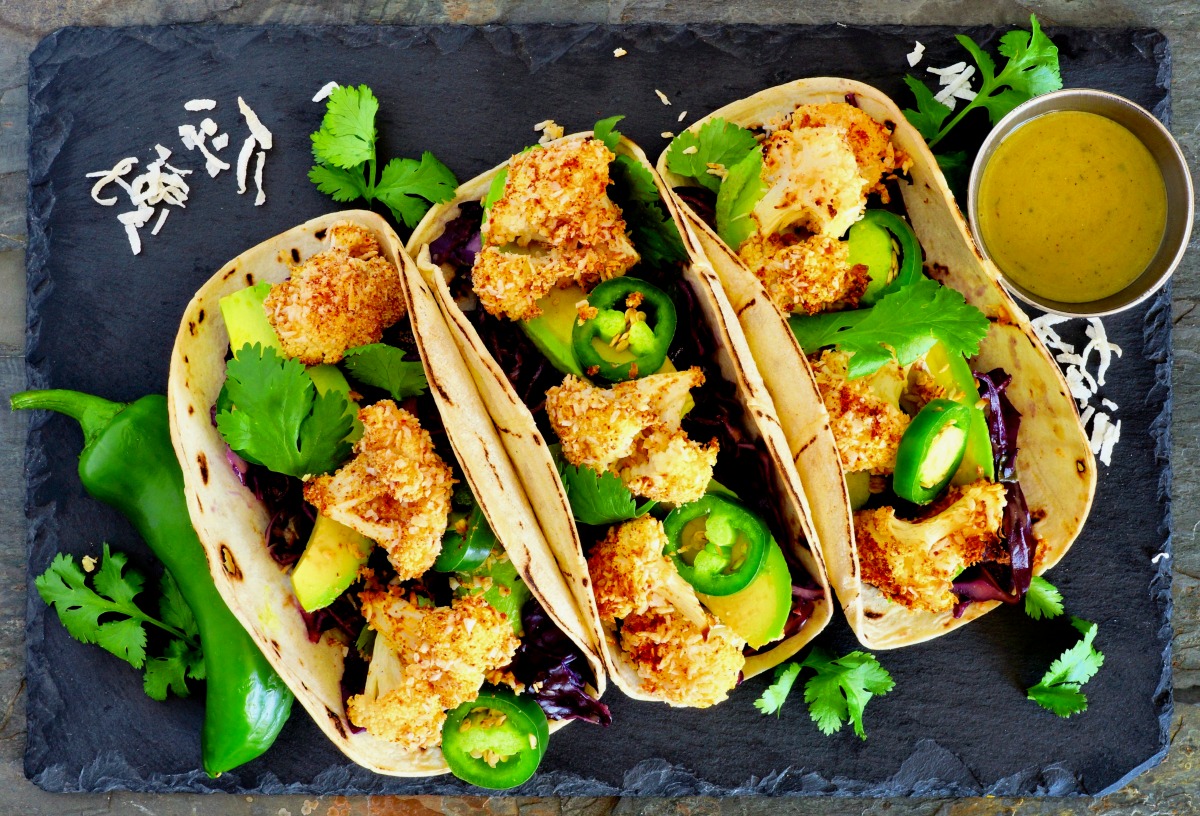 These healthy, gluten-free vegan cauliflower tacos explode with crunchy texture and flavor. And not only do you save calories and saturated fat, you are also consuming one of the healthiest foods on the planet.
Cauliflower contains many nutrients. They are high in fiber and an excellent source of antioxidants.
Not only are these vegan cauliflower tacos healthy, they are also delicious! They were so yummy, I couldn't stop eating them. If you are feeding more than two people, I recommend doubling the recipe.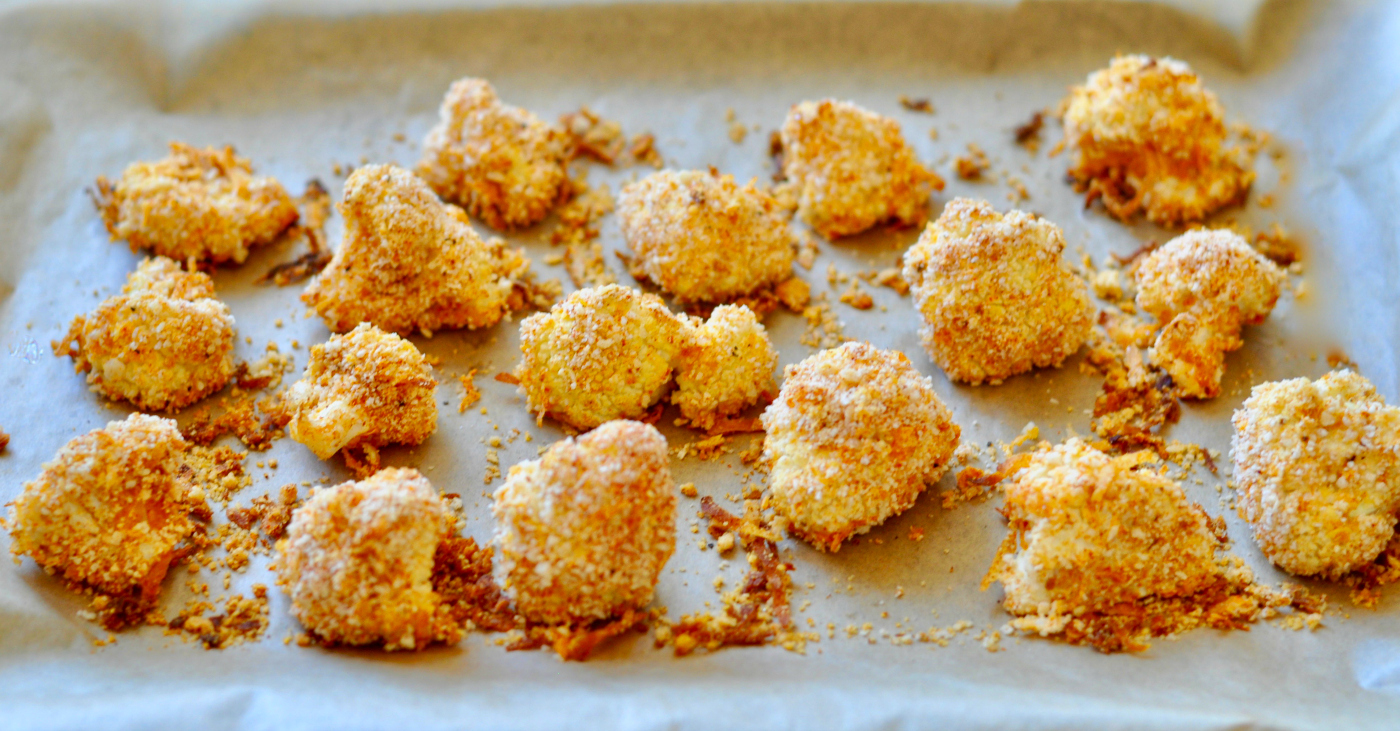 Another thing I love about these vegan cauliflower tacos is how crispy they become in the oven. You get a deep-fried texture without the oil and fat. Also, keep a close eye on them for the last ten minutes of baking, so they don't burn. They should be soft and golden brown.
The sweet mustard sauce can be smeared onto your tortilla, and then you can stuff them with any of your favorite taco ingredients. I like crispy red cabbage for crunch, jalapeños, and salsa.
Thanks for joining me today and I hope you enjoy these vegan cauliflower tacos as much as we did.
If you love cauliflower as much as I do, I know you will enjoy my Vegan Mac & Cheese with Cauliflower Bechamel, Creamy Green Cauliflower Soup with Parsley Sauce and my Vegan Cauliflower Pasta with Garlic Bread Crumbs & Pine Nuts.
If you try this recipe, please let me know!  Leave a comment, rate it, and don't forget to tag a photo #ordinaryvegan on Instagram. 
Don't miss any of Ordinary Vegan's FREE recipes by signing up here.
If you want to learn more about plant-based nutrition and how to get started on a vegan diet, Ordinary Vegan has a podcast. You can listen here on this website or in iTunes.  You can also search for Ordinary Vegan on Spotify.
Join our health and wellness community on Facebook. There are over 315,000 strong, vibrant community members waiting to embrace you.
In 2018, after two years of research, I launched my first product – Ordinary Vegan plant-based CBD Oil from Hemp. My fact-finding, research and testimonials from our vegan community proved to me that this natural food supplement could help people.
You can learn more about vegan CBD oil from hemp here. Please don't hesitate to reach out to me with any questions at questions@ordinaryvegan.net
Vegan Cauliflower Tacos with Crispy Coconut Crust & Sweet Mustard Sauce
Vegan Cauliflower Tacos with Crispy Coconut Crust
You can buy chipotle in adobo sauce canned.
Ingredients
Crispy cauliflower
1 medium cauliflower, cut into florets
2 tablespoons organic cornstarch
¼ teaspoon baking soda
¼ teaspoon salt
1 teaspoon chipotle sauce in adobo (optional but adds another delicious layer of flavor)
¼ cup of unflavored, unsweetened plant milk (I like unflavored almond)
¼ cup Panko breadcrumbs (for gluten-free)
¼ cup unsweetened shredded coconut
¾ teaspoon paprika
¼ teaspoon cumin
¼ teaspoon turmeric (optional)
Light Sprinkling of cayenne pepper (optional - adds heat) about ⅛ teaspoon
½ teaspoon salt
Fresh ground black pepper
4 tortillas
Optional toppings - sliced avocado, sliced jalapeno peppers, shredded red cabbage & salsa
Sweet Mustard Sauce
⅛ cup vegan mayonnaise
⅛ cup Dijon mustard
⅛ cup Maple Syrup
1 teaspoon yellow mustard
Instructions
Preheat oven to 375 degrees F. Line a baking sheet with parchment paper.
In a medium bowl whisk together the plant milk, cornstarch, baking soda, chipotle sauce, and salt.
In a large bowl whisk together the breadcrumbs, shredded coconut, paprika, cumin, turmeric, salt, cayenne if using and some fresh ground black pepper.
Take a cauliflower floret and place it in the plant milk mixture, flipping it over to make sure all sides are covered.
Next, place that piece of cauliflower in the breadcrumb mixture, pressing it down and flipping it over to make sure it's coated evenly on both sides.
Transfer the breaded piece of cauliflower to the lined baking sheet. Repeat with all remaining florets of cauliflower.
Bake the breaded cauliflower for approximately 30 minutes or until they are golden brown and crispy. Keep an eye on them the last ten minutes so they don't burn.
Serve on a warm tortilla smeared with sweet mustard sauce. Toppings can include avocado, purple cabbage, sliced jalapeño and salsa.
Sweet Mustard Sauce
Whisk together all the ingredients.