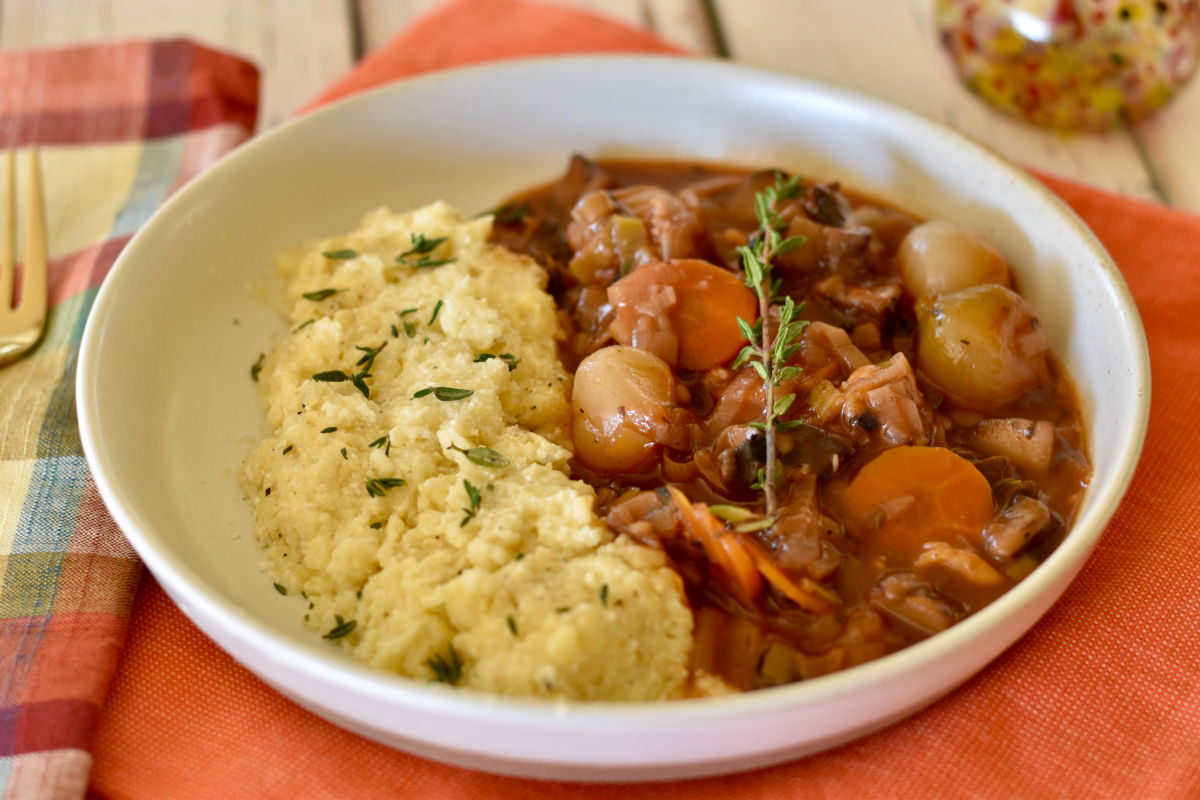 This vegan bourguignon is a vegetarian variation of the classic dish beef bourguignon.
The word bourguignon (pronounced boor-gee-nyawn) refers to a recipe prepared in the style of the French region of Bourgogne.
Bourguignon is a stew of slowly simmered ingredients in a hearty red wine along with pearl onions and carrots. In this vegan version, thick pieces of portobello mushrooms replace the meat. Often you'll also see it prepared with peas and a sprinkle of parsley to color.
I highly recommend using a good dry red Pinot Noir wine in this vegan bourguignon because it makes all the difference in the finished dish. The red wine's function is to intensify, enhance, and accent the flavor and the aroma of the food. If you don't want to use wine, you can leave it out and use vegetable stock. However, I can't guarantee the flavor. Dry red wine is the main ingredient.
Furthermore, you can transform your vegan bourguignon into a hearty meal with a side of mashed potatoes or creamy cashew polenta. Some like to serve it over thick noodles.
However you eat it, I think you're going to enjoy this recipe.
If you love mushrooms, you might want to try my delicious Vegan Mushroom Gravy or Grilled Portobello over Cauliflower Mash.
Please sign up so you don't miss any of Ordinary Vegan's recipes.
If you make this recipe, tag and follow @ordinaryvegan on Instagram or Facebook and hashtag it #ordinaryvegan so we can see all the deliciousness.
Lastly, many people in the wellness world are turning to cannabidiol, commonly referred to as CBD oil from Hemp.  According to the American Sleep Association, CBD may decrease anxiety and pain, which can both interfere with restful sleep. By reducing certain symptoms, it's possible that sleep may improve. You can now purchase safe and effective vegan, organic CBD Oil from Ordinary Vegan.

Vegan Bourguignon with Portobello Mushrooms
Serve over polenta or grits with cashew cream. Or mashed potatoes or noodles.
Ingredients
2 teaspoons olive oil or vegan butter (you can substitute vegetable broth, but the fat makes ithe mushrooms more brown and crusty)
2 lbs portobello mushrooms (or cremini), 1 inch hearty pieces (save stems for vegetable broth)
⅓ cup of vegetable broth for sautéing & 1½ cups for broth
2 cups peeled small pearl onions
1 small onion, chopped
2 carrots, sliced
3 garlic cloves, minced
4 tablespoons tomato sauce (or two tablespoons tomato paste)
1½ tablespoons all-purpose flour (or gluten-free flour)
1½ cups dry red wine
1½ tablespoons tamari
2 thyme branches (or ½ teaspoon dried thyme)
1 bay leaf
Salt and ground black pepper
Instructions
Heat the two teaspoons of olive oil in a medium dutch oven. Add the mushrooms and cook until they are brown and seared. About 3-4 minutes. Remove them from the pan.
Heat the ⅓ cup of vegetable broth in the same pan. Add the chopped onion and carrots and cook until the onion has softened. About 4-5 minutes. Add more vegetable broth if sticking. Add the garlic and cook one minute more.
Add the wine, scraping any stuck bits off the bottom, turn the heat up and reduce the wine by half.
Stir in the tomato sauce (or paste), 1½ cups of vegetable broth, tamari, pearl onions, thyme, bay leaf, and the mushrooms and all their juices. Bring to a mild boil and reduce to a simmer.
Simmer for 20 minutes or until carrots are tender.
Whisk together the flour and 2 tablespoons of water. Whisk the flour mixture into the mushroom mixture. Simmer for an additional 10 minutes.
Remove the thyme branches (if using) and bay leaf. Taste for additional salt and pepper. Serve over mashed potatoes, large flat noodles or cashew polenta. (recipe below)
Cashew Cream Polenta
Ingredients
4½ cups water
1 cup yellow stone-ground corn grits (not instant
1 teaspoon salt
½ cup cashew cream*
¼ cup minced parsley
Instructions
Add 4½ cups of water to a medium saucepan. Add salt and bring to a boil over high heat.
Gradually whisk in the stone-ground corn grits until no lumps remain.
Continue stirring and reduce the heat to low. Cook, stirring frequently, for about 30 minutes. Add the cashew cream and cook another 10 minutes or until the grits are very thick. As the grits thicken, they can scorch easily, so be sure to stir often. If the grits absorb all the water before they are done, add more hot water as needed.
Add parley at the end of cooking.
* To make cashew cream: Soak 1 cup of raw cashews in enough water to cover for at least four hours or overnight in the refrigerator. Drain soaked cashews. Place cashew and ½ cup of fresh water in a blender and blend on high until creamy and fluffy.