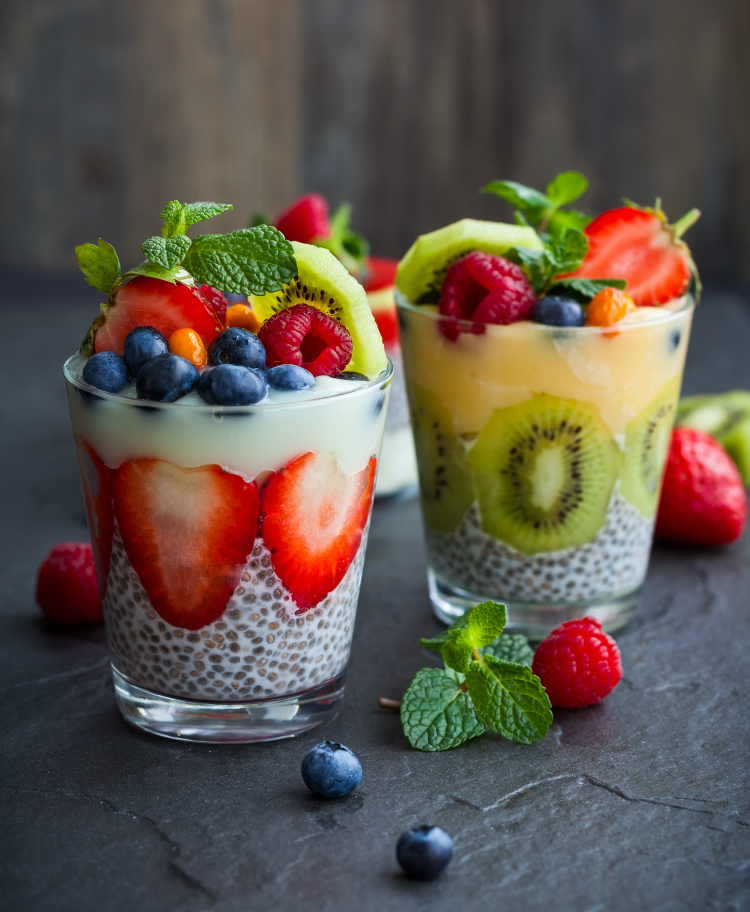 Whether you're obsessed with vegan chia pudding or just hearing about it for the first time, it is a wonderful way to start the day.
The best part is you can make it the night before by simply combining chia seeds, dairy free yogurt, almond milk, vanilla and a little maple syrup.  Scoop it in a pretty bowl and top with a bit more of your favorite nondairy yogurt and fruit. It's as simple as that.
In today's recipe I used a plain almond milk yogurt with the chia seeds and topped it with a little peach flavored almond milk yogurt for variety.
I have been doing a lot of experimenting with Silk's almond milk yogurt alternative. I often use the plain variety as a substitute for mayonnaise and the flavored variety in the morning topped with hemp seeds, fruit, and nuts.
Silk's Almondmilk Yogurt Alternative variety comes in many delicious flavors including plain, vanilla, strawberry, and peach. They contain between 5-6 grams of protein and are a good source of Vitamin D and calcium. They are also certified non-GMO.
Silk also never uses high fructose corn syrup or artificial colors. Use this handy store locator to find Silk almondmilk yogurt alternative. You can also visit Silk and sign up for free store coupons.

Silk Almondmilk Yogurt Alternatives
The best news is, combining this healthy almond yogurt alternative with chia seeds packs a nutritional wallop.
If you are not familiar with chia seeds, chia is an edible seed that comes from the plant Salvia hispanica, a member of the mint family. Chia seeds are very rich in omega-3 fatty acids. Omega-3 fatty acids are incredibly important for your brain and body.
Chia Seeds are also rich in fiber, calcium magnesium, manganese, copper, iron, niacin, and zinc.
When added to a creamy substance or liquid like dairy free yogurt or nondairy milk, chia seeds expand and form a gel. Chia seeds also expand in your stomach which can slow digestion and help you feel full longer.
Hope you enjoy this recipe as much as we did. Don't miss any of Ordinary Vegan's free recipes by signing up here.
If you are interested in recipes, receiving coupons and news about Silk products, follow them on Instagram, Twitter, Facebook, and Pinterest.
I would like to thank Silk for sponsoring this blog post and helping me in my quest to spread the plant-based message.
Vegan Chia Pudding Bowls with Dairy Free Yogurt & Almond Milk
Vegan Chia Pudding Bowl
This delicious vegan chia pudding sensation is simply made by soaking your chia seeds overnight in non-dairy yogurt and almond milk. Perfect for breakfast.
Cuisine:
breakfast or snack
Ingredients
¾ cup almond milk
1 cup of non-dairy yogurt
¼ cup chia seeds
1 teaspoon vanilla
2 tablespoons maple syrup
2 cups of assorted berries
Fresh mint for garnish (optional)
Instructions
In a medium bowl, whisk the almond milk, yogurt, maple syrup and vanilla together. Stir in the chia seeds. Cover and refrigerate overnight.
Spoon the pudding into a bowl and top with the berry mixture. Drizzle with maple syrup. Garnish with mint if using.
This is a sponsored conversation written by me on behalf of Silk. The opinions and text are all mine.