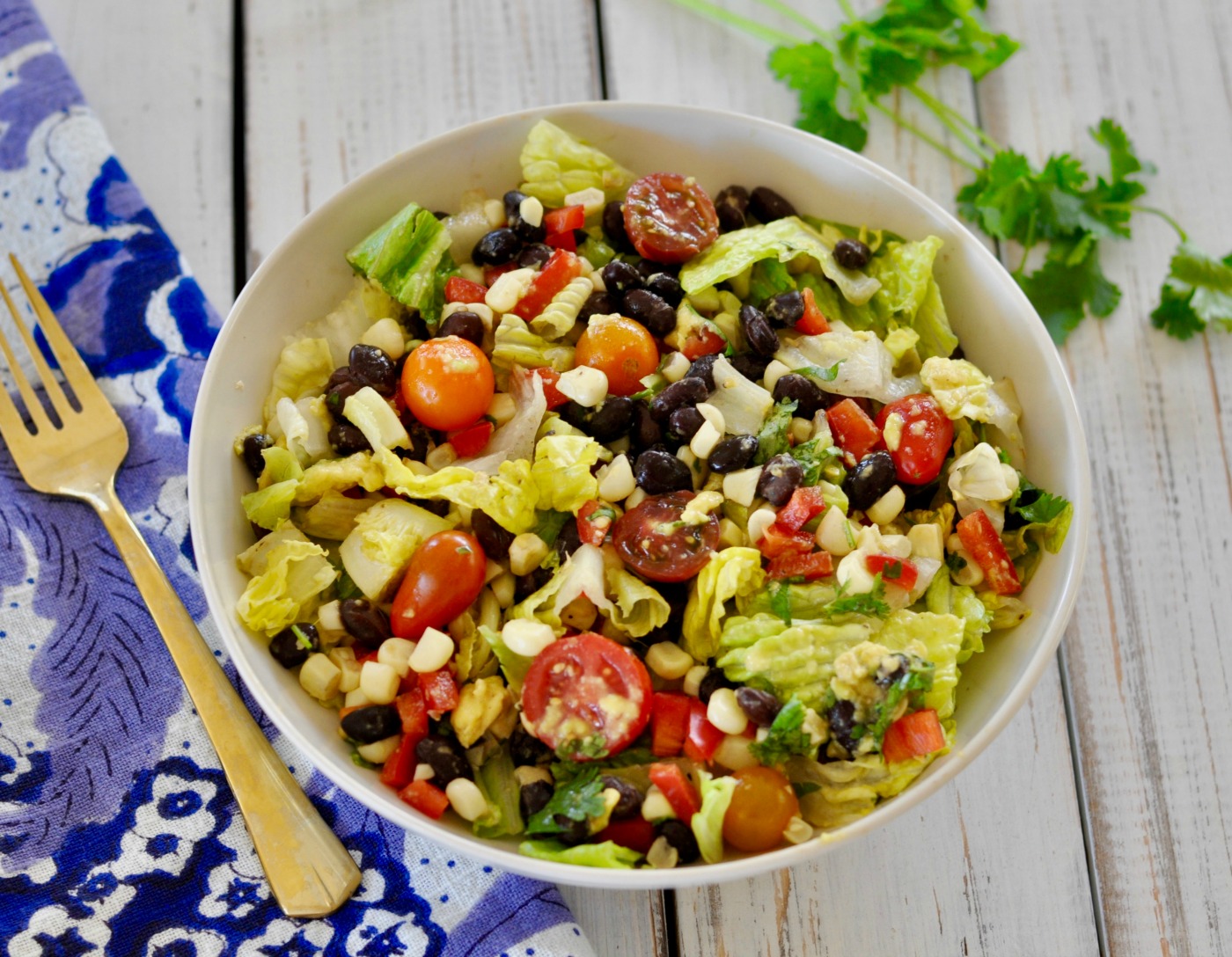 Take advantage of summer's seasonal sweet organic corn with this easy, healthy, vegan corn salad with black beans and oil-free avocado dressing.
Many people underestimate the health benefits of corn. For starters, sweet corn contains lutein and zeaxanthin, two phytochemicals that promote healthy vision.
Besides helping with weight loss, the insoluble fiber in corn feeds good bacteria in your gut, which aids in digestion and helps keep you regular.
This fresh vegan corn salad recipe also features black beans.
Black beans, classified as legumes, are prized for their high protein and fiber content. They also contain other key nutrients like iron, calcium, magnesium, manganese, and zinc.
Last but not least, this vegan corn salad is topped with a creamy, oil-free avocado dressing. Add a dollop or two to any salad for an easy, satisfying, nutrient-rich punch.
If you love sweet organic corn as much as I do, you should enjoy these Vegan Corn Fritters with Zucchini and Easy Corn Chowder with Potatoes, Red Pepper & Dill recipes.
I am sure you are hearing a lot about all-natural CBD oil made from hemp.
Ordinary Vegan provides the highest quality CBD oil available. Please remember that not all CBD oils are created equal, and it is crucial to find a safe and reliable CBD brand like Ordinary Vegan.
To learn more about CBD oil, please visit our FAQ page. Hope my CBD oil can help you.
Don't forget to sign up so you don't miss a recipe. Please follow me on Instagram and if you prepare any of my recipes, please hashtag #ordinaryvegan.
Hope you enjoy this vegan corn salad!  Have a wonderful day!
Vegan Corn Salad with Black Beans & Oil-Free Avocado Lime Dressing
Black Bean & Corn Salad with Oil-Free Avocado-Lime Dressing
Ingredients
Dressing
1 cup of ripe avocado, mashed
¼ cup fresh chopped cilantro
3-4 tablespoons lime juice
1 teaspoon of maple syrup
Salad
2 cans cooked black beans
1 cup of cooked corn kernels (fresh or frozen)
1 cup grape tomatoes, halved
1 small red pepper, chopped
4 cups shredded romaine lettuce
Instructions
In a food processor add the avocado, cilantro, lime juice and maple syrup and process until blended. Add more water or lime juice for the right consistency and not too runny.
Season with a little salt and fresh ground black pepper. Taste and adjust seasonings adding more lime juice if needed.
In a large bowl toss together the beans, cooked corn kernels, bell pepper, tomatoes and lettuce. Drizzle with a little of the dressing and toss to coat. Adding more salad dressing as needed.