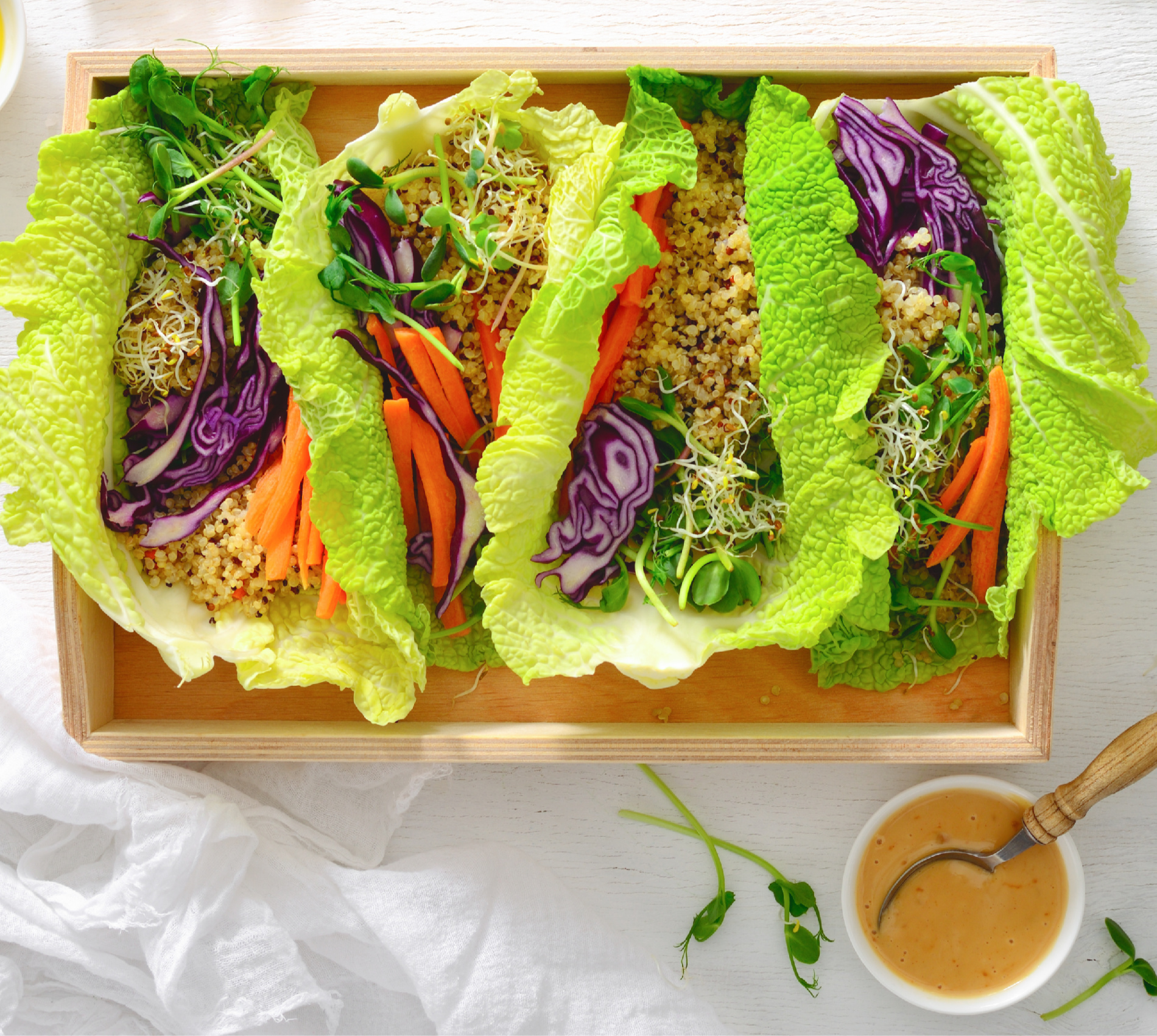 I love keeping it simple and delicious in the summer, and these vegan lettuce wraps fit the bill!
Especially when topped with this healthy, light Asian inspired peanut sauce.
Always remember, anything goes when preparing the lettuce wraps. Begin with a grain like quinoa, barley or farro. Then add lots of crunchy vegetables like purple cabbage, sprouts and carrots.
For added richness, place some avocado slices on top.
Often, I will combine the grains with black beans and corn and top it with salsa for a more Mexican vegan lettuce wrap. But never forget the crunch. The best way to feel satiated on a vegan diet is always to have texture and crunch.
By the way, you don't need the grains to be warm. Room temp is fine.
My goal is to inspire you to step away from the stove this summer. And summer is the perfect time to enjoy fresh fruit and vegetables raw or lightly cooked.
For example, when you see those gorgeous ripe red tomatoes, take them home, chop them up and lightly saute with garlic and basil. Serve over your favorite grain or zoodles . Add a side of steamed greens topped with hemp seeds.
Or buy a bunch of your favorite vegetables and roast them over a barbecue or in the oven.
Pair vegetable friends meaning vegetables that roast at the same time. Harder vegetables like root vegetables, take approximately 30 minutes. Zucchini, squash and bell peppers roast in about 10-20 minutes. Thin veggies like asparagus and green beans only take about 10-15 minutes. Serve them with a grain and some marinated tofu for a hearty meal.
Enjoy salads. Salads don't have to be boring, especially in the summer like this Summer Salad with Grated Vegetables and Oil-Free Dressing. And if you are missing the traditional summer salads like macaroni or potato salad, no worries! Here are three Healthy Oil-Free Summer Salad recipes.
Vegan Lettuce Wraps with Quinoa, Red Cabbage, Bean Sprouts, Cilantro, Avocado & Healthy Peanut Sauce
At any rate, I think you are getting the point. Enjoy your summer! Enjoy your life! Don't be a slave to the kitchen.
Hope you enjoy these vegan lettuce wraps as much as we did.
Don't miss any of Ordinary Vegan recipes by signing up here.
I am committed to keeping you healthy, pain-free, and anxiety-free. You can find all my vegan, organically grown, pure, CBD products here. CBD has shown a remarkable ability in helping people with overall wellness. Have questions? All your questions answered here.
Most people don't understand precisely how and why pure CBD oil from hemp works. Learn how The Endocannabinoid System (ECS) affects virtually every system of our body, and how it may help you.
If you have any questions, don't hesitate to reach out to me at questions@23.235.200.4.
Thanks for being here.

Peanut Dipping Sauce
Ingredients
1 tablespoon of minced fresh ginger
1 teaspoon minced garlic
1 tablespoon Mirin (sweet rice wine)
1½ tablespoons of low-sodium Tamari or soy sauce
1 tablespoon rice vinegar
1½ teaspoons red wine vinegar
1 tablespoon maple syrup
¼ teaspoon of dried basil
1 tablespoon of peanut butter (chunky works best but smooth is fine)
Fresh ground black pepper
(Optional - extra tablespoon of water to thin it)
Instructions
In a blender or food processor, combine all the ingredients and blend until smooth. Add a little water if you want it a thinner consistency.
Cover and refrigerate until ready to use. Lasts up to one week refrigerated.
Vegan Lettuce Wraps with Healthy Delicious Peanut Sauce
Anything goes when assembling these vegan lettuce wraps. Choose a hearty lettuce to hold the topping. Fill it with your favorite grain and crunchy vegetables. Top with peanut sauce.
Ingredients
8 butter leaves (or iceberg lettuce or cabbage leaves) Something hearty
1½ cups of cooked quinoa (or your favorite grain)
¼ cup carrot strips
¼ cup cucumber strips
½ cup bean sprouts
½ cup chopped red cabbage
¼ cup chopped cilantro
Instructions
Assemble the lettuce leaves on a plate. Top with approximately ¼ cup of quinoa. Add your favorite crunchy vegetables on top. Top with peanut sauce.