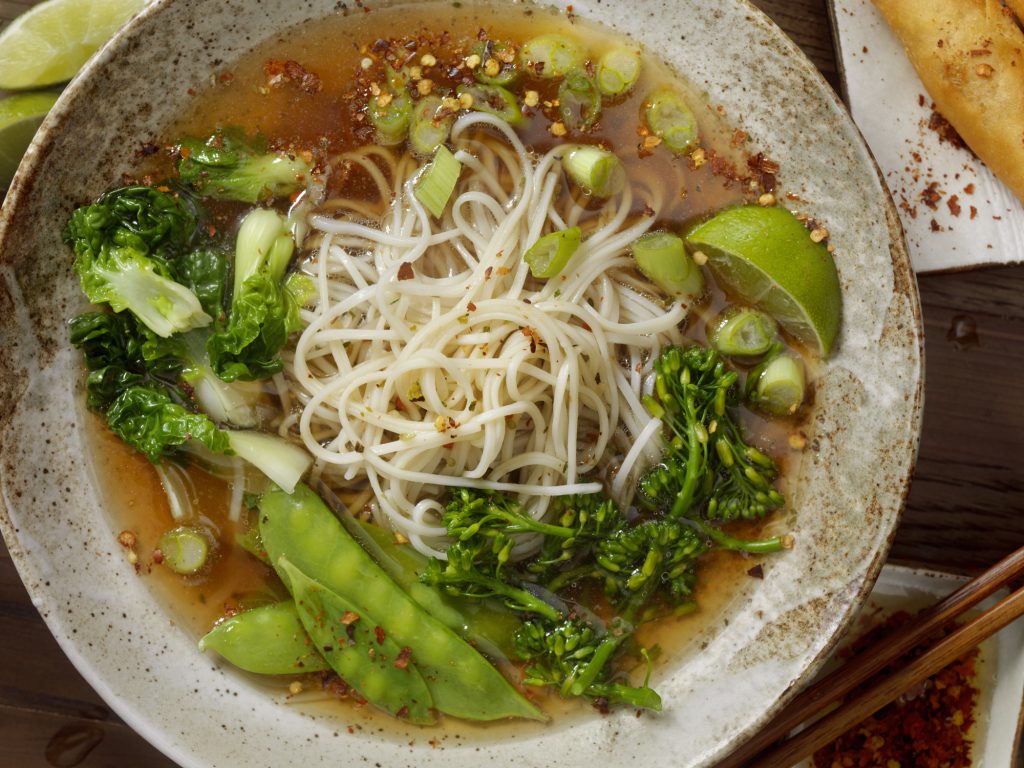 Today I celebrated the Chinese Lunar New Year with an Asian inspired vegan miso soup with noodles, broccoli, snow peas & bok choy.
The Chinese New Year officially begins on January 25 and ends on February 8. Without a doubt, noodle dishes are a staple of the Chinese New Year celebration. They represent and promise longevity.
Personally, I have never met a noodle I didn't like.  Asian noodles differ from common pasta because of the broader range of flours and starches in the ingredients.
I used zero carbohydrate high-protein chickpea noodles for this vegan miso soup, and they were outstanding.
You can also use tofu noodles, soba noodles, ramen noodles, and the list goes on and on. Any noodle is fine for this recipe; just make sure you read the cooking instructions.
The slightly sweet, salty, and savory miso flavor bomb is what makes this vegan miso soup stand out. As a chef, I am in constant pursuit of new flavor bombs that take a dish from good to so, so, tasty, and this is one of my favorites. Miso is worth the investment and can add a savory flavor to anything you cook.
Hot Chili Peppers Are Your Friend!
You can also add as much heat as you desire.
I only used one Fresno chili in this recipe, but if you like heat, add more. Or perhaps add some samba leek or red chili paste. Thanks to a class of compounds called capsaicinoids in hot peppers, there are extra health benefits to hot peppers. Capsaicinoids can increase metabolism, relieve topical pain, and even reduce insulin spikes in diabetes.
Hope you enjoy this Asian inspired noodle dish as much as we did. If you enjoy noodles, you will probably enjoy my Sesame Noodles with Spicy Chili Oil and Scallions,  Asian Noodle Salad with Tofu or my Vegan Pad Thai.
Vegan Miso Soup with Noodles, Broccoli, Snow Peas & Bok Choy
Ordinary Vegan's #1 priority is helping you live a long, healthy, pain-free, and anxiety-free life. Ordinary Vegan's CBD from Hemp line is helping so many. If you have any questions about the health benefits of CBD or how it can help you, don't hesitate to reach out to me at questions@ordinaryvegan.net.
Don't miss any of Ordinary Vegan's delicious, nutritious vegan recipes by signing up here.

Vegan Miso Soup with Noodles, Broccoli, Snow Peas & Bok Choy
The miso's slightly sweet, salty and oh-so savory flavor bomb makes this vegan miso soup stand out from the rest. Big flavors in less than 20 minutes. I highly recommend cooking the vegetables according to instructions to keep the vegetables crunchy yet cooked through.
Ingredients
½ cup vegetable broth for sautéing plus 4 cups for soup broth
8-ounce package soba, soy, rice or spaghetti noodles (you may only need about half)
1 large shallot, thinly sliced
3 garlic cloves, chopped
1 small red fresno chili, chopped
3 tablespoons white miso
2 tablespoons soy sauce
1 tablespoon rice vinegar
½ lb brocoli florets
½ lb to ¾ lb bok choy, chopped
¼ lb snow peas, tough string on the edge of shell removed
Fresh ground black pepper
Salt to taste
lime wedges for serving
Chopped cilantro (optional)
A drizzle of sesame oil for garnish (optional)
Instructions
Heat ½ cup vegetable broth in a large, heavy-bottomed soup pot. Add the shallots and Fresno chili and cook for 3 minutes. Season with some fresh ground black pepper. Add the garlic and cook another minute.
Add 4 cups of vegetable broth to the soup pot and bring to a simmer.
In a small bowl add the miso, soy sauce and rice vinegar. Add some warm water and whisk to dissolve the miso.
Add the miso mixture to the vegetable broth.
Add the broccoli to the simmering broth and cook for 2 minutes. Next add the bok choy to the broth with broccoli and cook for two minutes. Next add the snow peas and cook for another 3 minuets. Test the vegetables and make sure they are all cooked through but still have a bite.
Serve with lime wedges for a bright kick and a sprinkle of fresh cilantro for freshness.
Drizzle with a tiny bit of sesame oil if you are not oil-free