"We must be willing to let go of the life we've planned, so as to have the life that is waiting for us."
~Joseph Campbell
Published: November 10, 2016
I love Joseph Campbell and especially that quote. It took me awhile to get it right but somehow I did.
Sometimes we are just too close to the action to understand how unhealthy it is for us.
This year has been transforming for me. I let go of something, and it felt so good. I feel grounded and understand my goals more clearly than ever before.
For me to achieve that, I questioned how I spent my time and energy, and what I enjoyed doing the most in 2015.
When I sat and thought it through, there was no question in my mind what I wanted to make happen in the new year. So here it goes.
My number one goal for 2016 is devoted to taking the plant-based message to another level.
I want to make a positive difference in people lives by encouraging people to be part of a healthy compassionate community. Nothing makes me happier then to see someone kick their food-related disease to the curb with a plant-based diet.
I want everyone to know that they don't have to be sick anymore. I want to inspire and empower people to live a long and healthy life. No matter how old you are, how sick you are or how pessimistic you are. We can do it together. I promise.
So my next plan of attack is a weekly Ordinary Vegan podcast. My podcast will begin this month and will be available in iTunes and on this website.
I will share all things plant-based including the latest health news, recipes, incentives and interviews with leaders of the plant-based revolution.
I also want to tell your stories, so please if you changed your health with a plant-based diet, please tell us your story in the comments below or message me. You can be an inspiration to others. Thanks for hearing me out.
I know this podcast is going to take a lot of time and energy to get it right, but somehow I will with your support.  Now, on to this week's delicious plant-based recipe.
It's that time of year so why not spoil your friends and family with this rich and savory vegan roast wellington stuffed with mushrooms, eggplant, quinoa, and lentils.
Yes, this vegan loaf is a lot of work but the results were delicious and impressive.
The step by step directions are in the recipe below but if you are still confused about rolling the pastry into the cylinder shape, I highly recommend watching my video on assembling this vegan Wellington HERE.  Often visuals are so much better than words.
Also, speaking of pastry dough, I couldn't find a frozen vegan pastry dough, but I did find a frozen vegan pie crust.
That worked just fine, or you can make a home-made pastry dough with vegan butter. Make sure it is at least 1/4 inch thick or a little more to hold the ingredients.
That is it for now.
Hope you enjoy this vegan roast as much as I did. Don't miss any of Ordinary Vegan's free recipes by signing up here.
If you would like to learn more about a vegan diet – listen to my weekly podcast. Hope you enjoy this vegan roast wellington as much as we did. Thanks and Happy Holidays everyone!!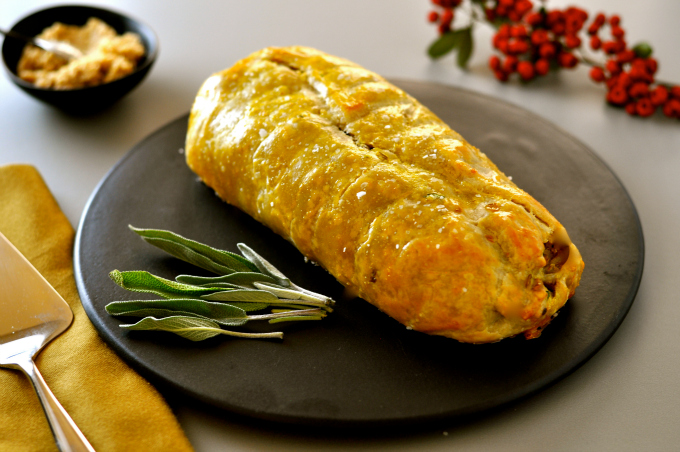 Vegan Roast Wellington
with Lentils, Quinoa, Mushrooms & Chestnuts

Vegan Roast Wellington Eggplant Slices
Don't worry about your eggplant slices looking pretty just try to make them thin and all the same size.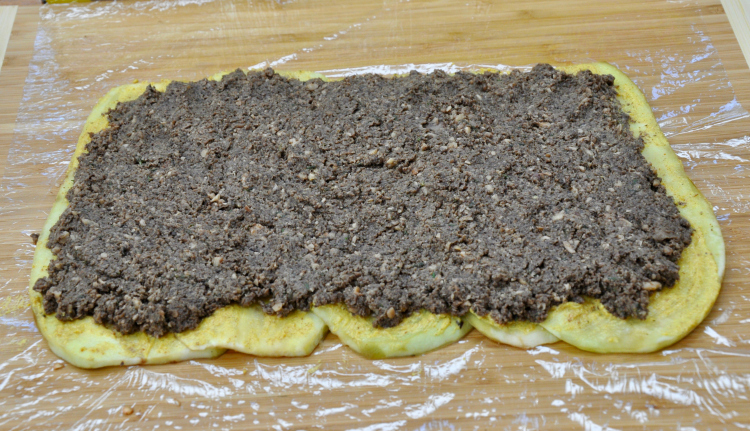 Vegan Roast Wellington Mushroom Mixture
I like to use my hands to pat down the mushroom mixture.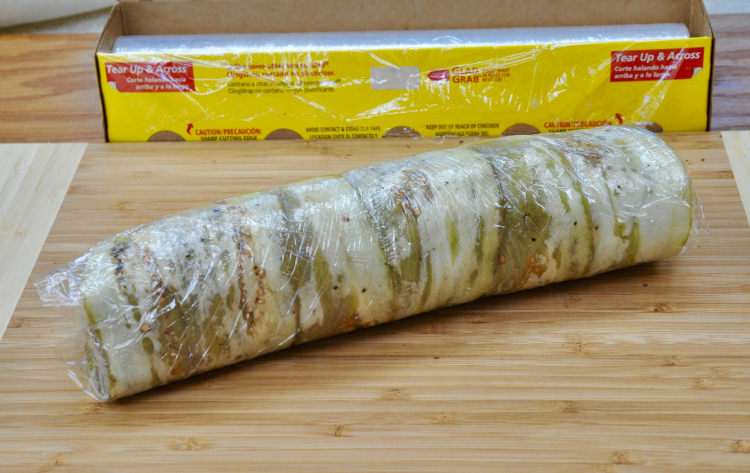 Vegan Roast Wellington Wrapped
Lay the loaf mixture on top and form into a cylinder and roll the plastic wrap slowly, tightly and carefully. Twist the ends. Place the cylinder in the refrigerator for at least 15 minutes to firm up.

Vegan Roast Wellington with Lentils, Mushrooms & Chestnuts
A vegan wellington recipe that is a labor of love but well worth it for special evening or holiday meal.
Ingredients
Duxelles (mushroom mixture)
10-12 ounces chopped white and cremini mushrooms
1 garlic clove, chopped
¼ cup walnuts
3-5 chestnuts, cooked, peeled and chopped
2 teaspoons of fresh thyme
salt & ground black pepper
loaf
2 cups cooked lentils
1 cup cooked quinoa
¼ cup vegetable broth for sautéing
1 cup onion, chopped
¾ cup celery, chopped
3 cloves garlic, chopped
1 cup bread crumbs
2 teaspoons of fresh chopped thyme
2 teaspoons of fresh chopped sage
1 teaspoon of fresh chopped rosemary
1 teaspoon of dried basil
2 tablespoons of fresh chopped parsley
½ teaspoon of dried oregano
½ teaspoon of salt
¼ teaspoon of ground black pepper
2 flax eggs (or Bob's Red Mill Egg Replacer)
1 tablespoon dijon mustard
1 tablespoon apple cider
Eggplant
1 large eggplant
1 tablespoon spicy brown mustard
Pastry
1 large frozen vegan pie crust (thawed) or fresh vegan pastry dough
2 tablespoons vegan butter
1 tablespoon vegetable oil
Instructions
Duxelles
Bring a small saucepan of water to a boil. Add chestnuts; cook until soft, about 20 minutes. Drain; let cool slightly. Peel and chop chestnuts.Set aside
Place the garlic, mushrooms and walnuts in a food processor. Pulse until finely chopped. Add the chopped chestnuts and thyme. Cook in a dry hot pan to intensify the flavors and remove the water from the mushrooms. This will take about 7-10 minutes. When all the water has been fried off, remove and refrigerate until assembly.
Loaf
Heat vegetable broth over medium-heat in a large non-stick saute pan.
Add onions and clery and cook until soft and translucent.
Add garlic, thyme, sage, basil, oregano and saute another minute or two. Add a little more vegetable broth if the vegetables are sticking. Remove from heat.
Meanwhile, make flax eggs by whisking together 2 tablespoons of ground flax seed with 5 tablespoons of water. Put in refrigerator for 10 minutes or more to thicken.
In a large bowl mash the lentils. Add the quinoa and combine. Add the onion mixture, bread crumbs, parsley, salt, pepper, flax egg mixture, dijon mustard and apple cider. Combine. Add more bread crumbs if needed to hold the loaf together. Taste for seasonings. Add more herbs or salt and pepper if needed. Set aside.
Eggplant
Peel the eggplant. Cut off the stem and slice a small piece off the base giving you a stable ground so it can stand upright. Using a very sharp knife, slice down lengthwise into long thin slices from the top to the bottom. As thin as possible. Place on a plate. Season with salt and pepper and lightly brush with olive oil. Set aside.
Now start assembling the wellington.
In the middle of a large piece of plastic wrap, lay and overlap the eggplant slices diagonally. Leave about an inch of space between the ends of plastic wrap or measure depending on size of pastry dough. Spread the mushroom filling evenly and thinly over the eggplant, a half inch from the ends.
Brush the mushroom filling with a little spicy brown mustard.
Next lay the loaf mixture over the mushroom and eggplant and form into a loaf / cylinder.
Very carefully, fold the front of the wrap over the mixture and begin to carefully roll like you are forming a tight burrito. Twist the ends. Place in the cylinder in the refrigerator for 15 minutes to firm up.
Assemble
Roll out you thawed pie dough a couple of rolls with the rolling pin. Lay the dough on a large piece of plastic wrap.
Remove the wrap carefully from the cylinder. Lay the cylinder in the middle of the dough and carefully roll the dough tightly until the two ends meet over the cylinder.Trim off any excess pastry dough. Twist the ends together to ensure the lentil mixture is completely sealed into the pastry.
Now to set it perfectly, roll the plastic wrap over the cylinder and roll it tight into a burrito shape, twisting the ends. Place in refrigerator for 15 minutes or overnight.
Pre-heat oven to 350 degrees F.
Remove the cylinder from the refrigerator. Carefully remove the plastic wrap. Combine the butter and oil and brush lightly over the entire cylinder.
Place on a baking sheet into the 350 degree oven for 25-30 minutes or until golden brown.
Let it rest for 15 minutes before cutting.