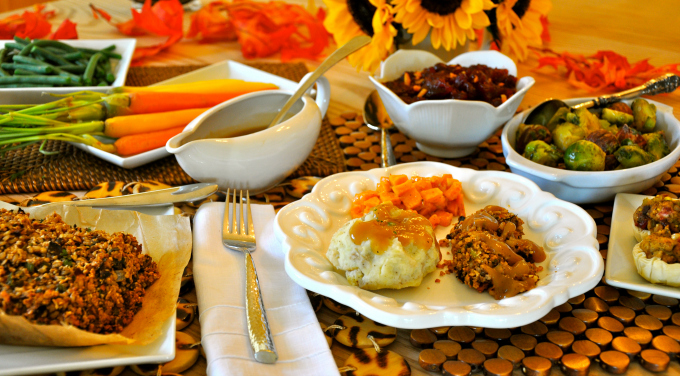 "A human being is a part of the whole called by us universe, a part limited in time and space. He experiences himself, his thoughts and feeling as something separated from the rest, a kind of optical delusion of his consciousness. This delusion is a kind of prison for us, restricting us to our personal desires and to affection for a few persons nearest to us. Our task must be to free ourselves from this prison by widening our circle of compassion to embrace all living creatures and the whole of nature in its beauty."
― Albert Einstein

Posted in 2015
I love this circle of compassion quote from Albert Einstein.
It was in response to a rabbi who asked him how to explain to his daughter her sister's death. I think Einstein was reminding us that our personal preoccupation with our lives and sorrow  will cheat us of the connection with the universe.
Einstein was also a big believer in a vegetarian diet for the survival of all life on earth.
I have had my challenges along the way but I am so happy to say that this is my fifth compassionate vegan Thanksgiving.
I don't experience any struggles with the holidays anymore because I know I can have the same delicious holiday meal as everyone else,  minus the meat and dairy. It is all about the flavors, not the protein.
This year I am attending a potluck,  and I am bringing all the food for a majority of carnivore guests.
I am convinced that once people taste these yummy vegan recipes, they will start adding more plant-based foods to their diets and eventually go the distance.
This vegan Thanksgiving will be a lot of work,  but I am on a grassroots mission to educate the world about the health benefits of plant-based cooking.
Not only is a vegan diet great for your health, it is also about widening your circle of compassion to include all living things.
So here it is my complete vegan Thanksgiving dinner menu. Hope you enjoy it. Happy holidays everyone!
Don't miss any of Ordinary Vegan's FREE recipes by subscribing here . Also, please join or community on Facebook. It is fun and full of wonderful, compassionate people just like  you.
Salad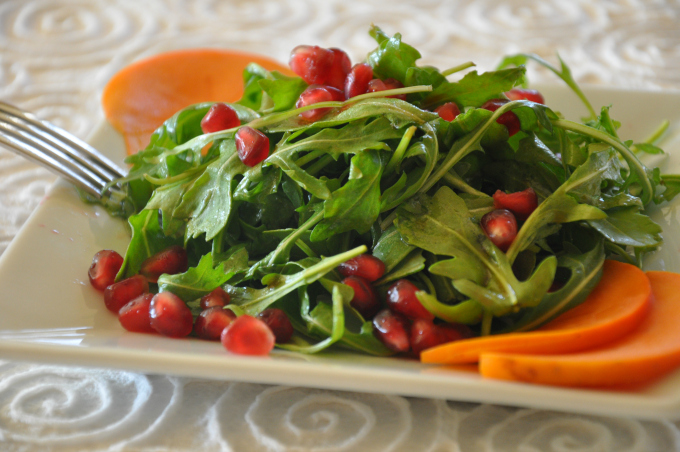 Vegan Thanksgiving – Tricolor Chakra Salad with Arugula, Pomegranates and Shaved Persimmons
There is always room for a bright, tangy and light salad on the Thanksgiving table. This salad is easy to throw together and has a hint of sweetness and a good crunch factor. Here is the link to the recipe.
Next up: Side Dishes:
Side dishes are where the cook gets to play and introduce bold flavors, textures and exciting combinations of ingredients. I decided I was going to throw out all the old standards, and have fun with it this year.  This is what I came up with.
ps I always like to include a couple of simple, crisply cooked unadultered vegetables that taste wonderful, even with nothing on them just like those beautiful carrots and green beans in the photograph.
Vegan Thanksgiving – Recipes For A Complete Holiday Dinner
Side Dish 1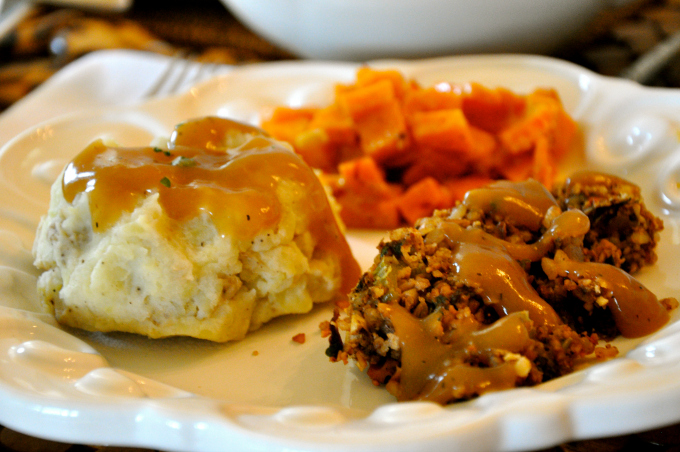 Vegan Thanksgiving – Sweet Potato Gratin with Coconut Milk
Rich, delicious and the chile in adobo sauce gives it a nice little kick.

Side Dish 2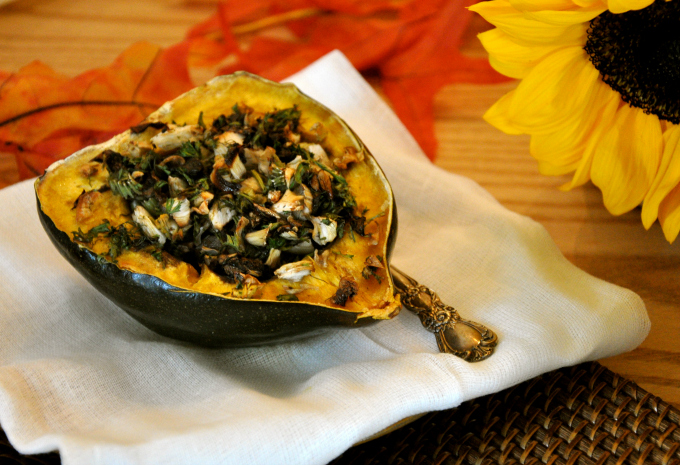 Vegan Thanksgiving – Stuffed Butternut Squash with Rice, Squash, Cranberries and Raisins
There are so many different ways to stuff squash, but this is one of my favorites.
I posted it last week and it is a meal in itself, but also a yummy side dish. Here is the recipe link.  The squash pictured was stuffed with sauteed kale, shallots and mushrooms and mixed with some left-over rice. Trust me, anything goes when you are stuffing a squash.
Side Dish 3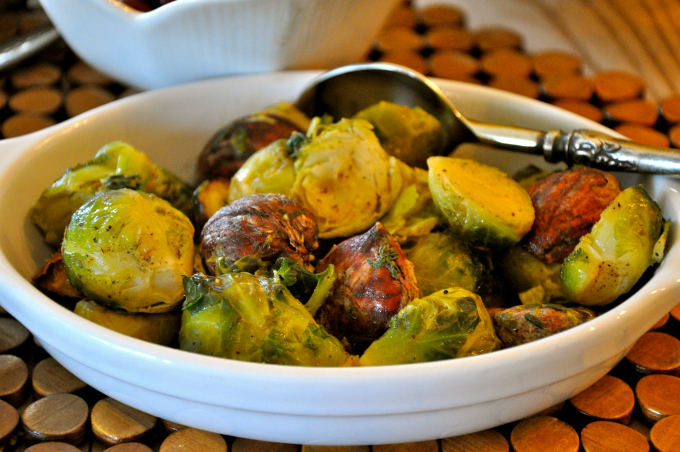 Vegan Thanksgiving – Brussels Sprouts and Chestnuts in Mustard Sauce
Every year I make the same brussels sprout recipe, but this year I decided to try something new. I choose these ingredients because I love the idea of crunchy chestnuts being served alongside brussels sprouts.
The mustard sauce adds a nice zest , and  this dish is a good reminder of how delicious chestnuts can be.
I did feel like it needed a little more bite, so next time I will add a little horseradish mustard instead of the grainy mustard.

Side Dish 4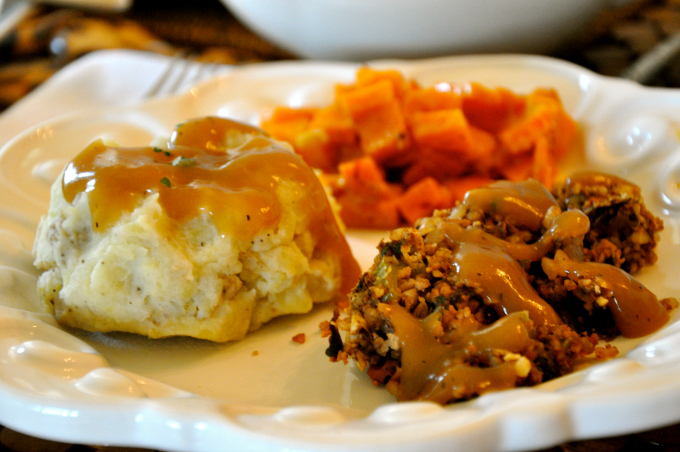 Vegan Thanksgiving – Mashed Potatoes with Nutritional Yeast
In my opinion, you don't have to do much to make delicious mashed potatoes. I like to use small gold potatoes and leave the skin on. I mash them with warmed, unsweetened almond milk and a couple of dashes of nutritional yeast, salt and pepper.  Delicious!
Side Dish 5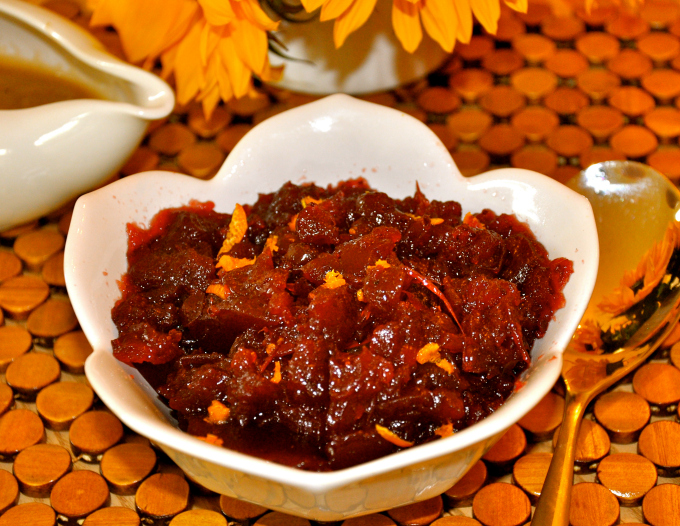 Vegan Thanksgiving – Cranberry Sauce with Tangerines
I love my cranberries paired with a bit of tangy citrus, and there is nothing better than tangerine juice.

Gravy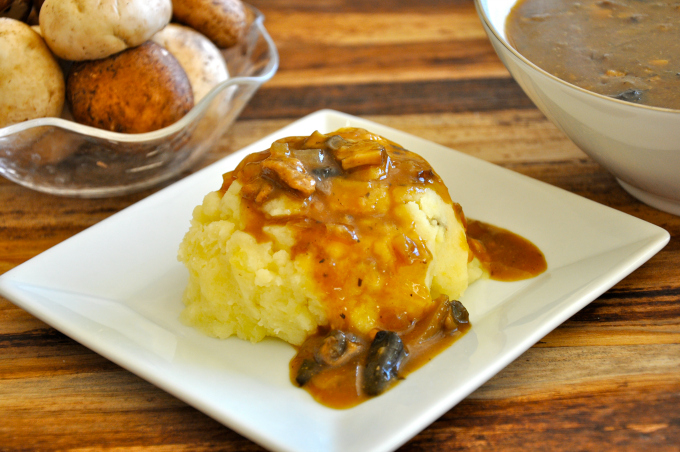 Vegan Thanksgiving – Rich & Delicious Mushroom Gravy
I have been making this mushroom gravy for a couple of years, and  it can't be beat. Rich, flavorful and absolutely delicious on your main course, mashed potatoes and stuffing. Here the recipe link
Stuffing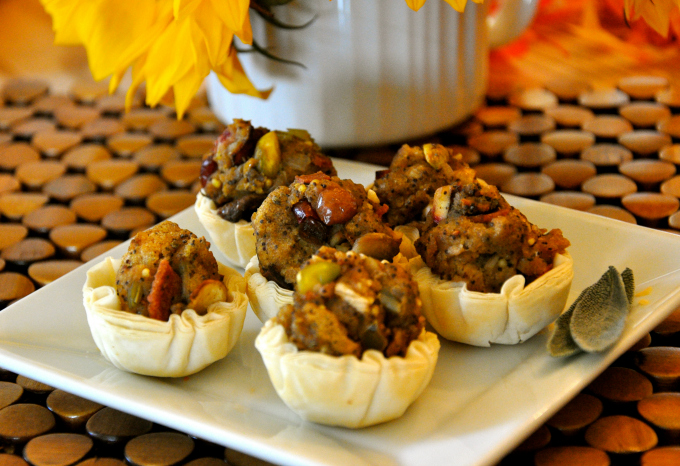 Vegan Thanksgiving – Bread Stuffing with Tempeh Bacon, Mushrooms, Cranberries, Pistachios and Jalapeno
I posted this recipe last week. So yummy. Here is the link to the recipe. Since my main dish is pretty rich, I decided to put my stuffing into individual phyllo (aka fillo) cups for a smaller and very sweet presentation. Buy prepared vegan phyllo cups, fill with cooked stuffing and cook until stuffing is hot. Or you can make your own with vegan phyllo dough pastry ususally found in the frozen food section.
Main Dish
Vegan Thanksgiving Nut Loaf
Even with all the side dishes,  I always like to make sure there is a front and center dish to replace the turkey.
This year I made this savory, meatless, nut loaf with all the flavors of Thanksgiving. It was delicious smothered in vegan gravy.

Thanks for stopping by. Sending you lots of vegan love and compassion! Please make sure you sign up so you don't miss any delicious plant-based recipes!