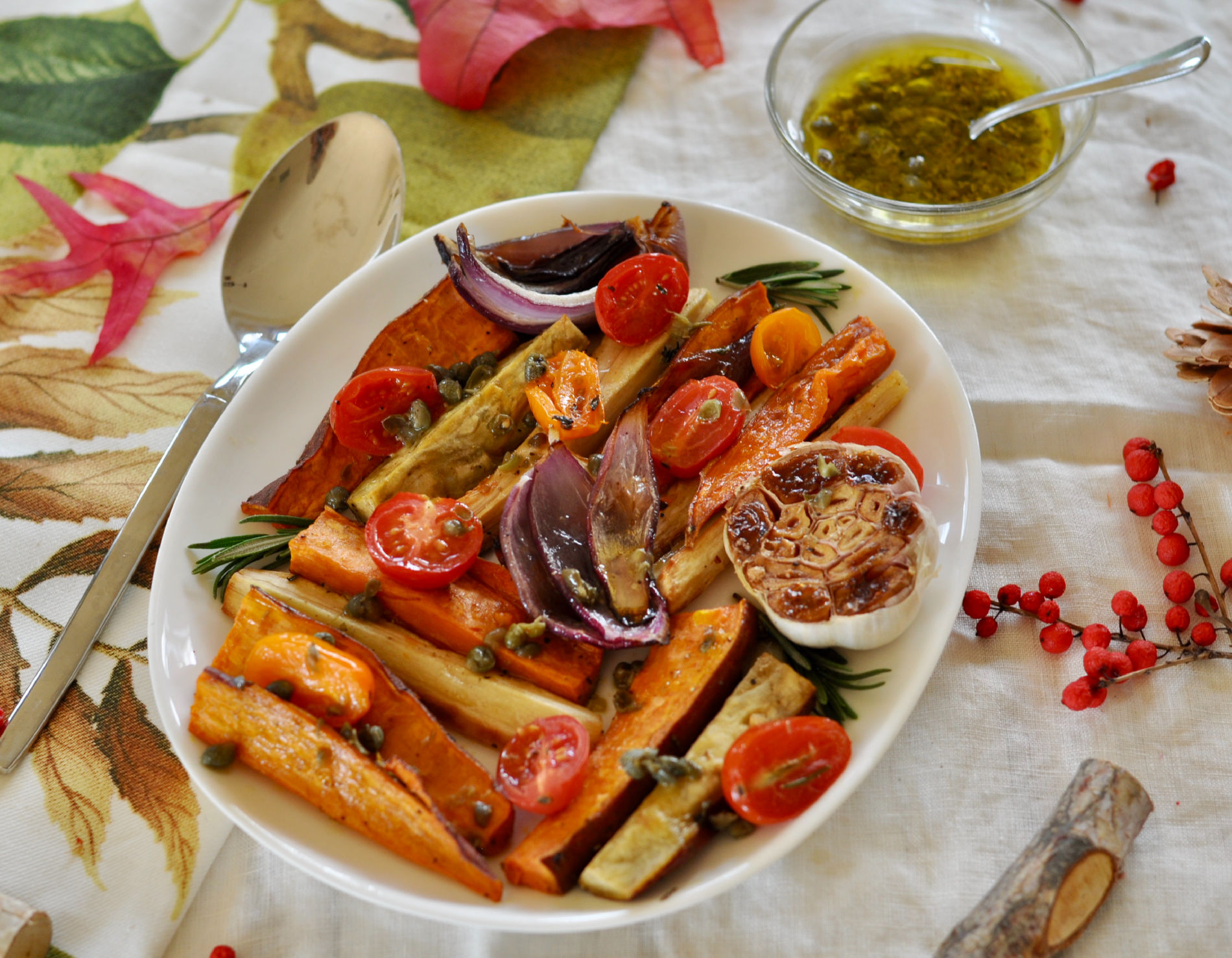 In my opinion, it doesn't get better than these roasted sweet potatoes.
If you are seeking a vegetable dish with minimal prep work and incredible flavors, this is it. Sweet, tangy, and bold tastes that will linger on your tongue long after the meal is over.
Also, you don't have to stick with my choice of vegetables. You could use any of your favorite veggies like fennel, parsnips, or carrots. But the one thing they will all have in common is the long roasting times that gives this dish a wonderful caramelized flavor.
This recipe is courtesy of Chef Yotam Ottolenghi and his cookbook "Plenty." Although the cookbook is not vegan, I often look at his flavor profiles for inspiration.
I am also obsessed with sweet potatoes. Baked, roasted, or stuffed, I try to consume at least two a week. Sweet potatoes are a staple of the Okinawan diet. The Okinawan region boasts one of the highest rates of people living beyond 100 in the world.
Furthermore, don't believe everything negative you hear about carbohydrates. The Okinawan diet is carb-heavy, with the daily intake set at a ratio of 10-1 in favor of carbs over protein.
One other highlight of these roasted sweet potatoes is the caper vinaigrette. Capers add a briny, vinegary, salty taste that goes so well with the caramelized flavors.
I hope you enjoy these roasted sweet potatoes as much as we did.
If you are just getting started on a vegan diet, I provide many helpful resources like this downloadable vegan protein list and a vegan nutrition daily checklist. Or listen to my vegan nutrition podcast on iTunes, Spotify , or here on my website. My number one goal is to help you live a long and healthy life that is kind to the planet and animals.
Don't miss any of Ordinary Vegan's recipes by signing up here.
Please follow me on Instagram, and if you create any of my recipes, please hashtag #ordinaryvegan so I can share them.
Last but not least, Ordinary Vegan has a line of all-natural CBD oil products made from American grown organic hemp.
Many people are turning to cannabidiol, commonly referred to as CBD oil, for its powerful anti-inflammatory and anti-anxiety effects. I believe this powerful plant can be a natural remedy for many conditions.
And my goal is to provide you with the safest and most reliable vegan CBD oil available.
No matter what your particular ailment might be, start the day with help from Ordinary Vegan's CBD Oil made from hemp.
If you have any questions about CBD Oil, don't hesitate to reach out to me at questions@23.235.200.4. Or visit our FAQ page.
Roasted Sweet Potatoes, Parsnips & Tomatoes with Caper Vinaigrette
Roasted Sweet Potatoes, Parsnips & Tomatoes with Caper Vinaigrette
If you are seeking a vegetable dish with minimal prep work and incredible flavors, this is it.
Ingredients
Vegetables
1 tablespoon olive oil
1 teaspoon salt
Fresh ground black pepper
2 medium sweet potatoes
4 parsnips
4 medium red onions
4 thyme sprigs
2 rosemary sprigs
1 head of garlic, halved horizontally
30 cherry tomatoes, halved
Vinaigrette
2 tablespoons lemon juice
4 tablespoons capers, chopped
½ tablespoon maple syrup
½ teaspoon dijon mustard
2 tablespoons olive oil
½ teaspoon salt
Fresh ground black pepper to taste
Instructions
Pre-heat the oven to 375 degrees F.
Peel and cut parsnips into 2 inch slices. Peel the onions and cut each into 6-inch wedges.
Place the parsnips, onions, thyme, rosemary, garlic, 1 teaspoon salt and fresh ground black pepper in a large bowl. Drizzle with ½ tablespoon of oil and mix well. Spread out in a large roasting pan or baking sheet lined in parchment paper. Roast for 20 minutes.
Meanwhile, trim both ends of the sweet potatoes. Cut them (in their skins) into 6 wedges each. Add the potatoes to the bowl and drizzle with ½ tablespoon of olive oil. Add the sweet potatoes to the pan with the parsnips and roast for another 40 to 50 minutes.
When all the vegetables are cooked, and have a golden color, stir in the halved tomatoes and roast for another 10 minutes.
Prepare the vinaigrette by whisking together the lemon juice, capers, maple syrup, mustard, 2 tablespoons of olive oil , ½ teaspoon salt and a little fresh ground black pepper.
Pour the dressing over the roasted vegetables as soon as you take them out of the oven. Stir well, taste and adjust seasoning. Serve.