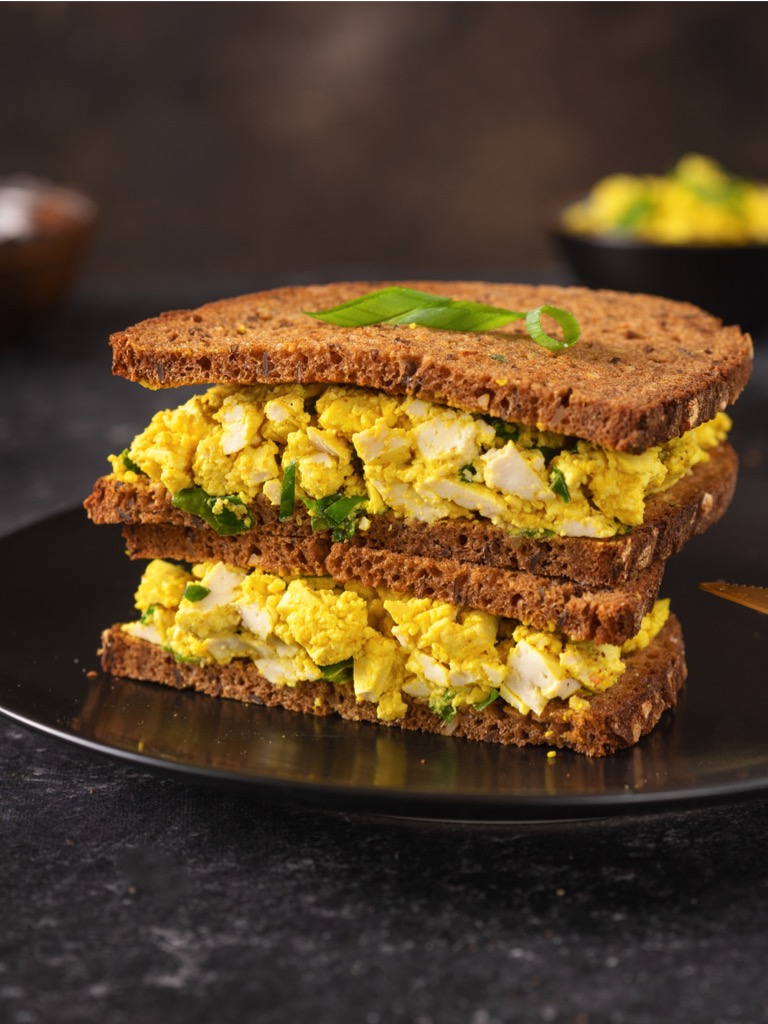 This bright and creamy vegan egg salad is just as good as the real thing! Made with tofu, turmeric, vegan mayo, and mustard, it's healthy and simple to prepare.
Tofu replaces the eggs, so it's packed with lots of plant-powered protein, but low in calories. Tofu also contains many nutrients like manganese and calcium. Manganese and calcium are essential for bone health.
If you are wondering why you should replace traditional egg salad with vegan egg salad, here are some reasons why.
Approximately 60% of the calories in eggs are from fat – much of which is saturated fat.
Eggs are loaded with cholesterol – about 200 milligrams for an average-sized egg. That is double the amount in a Big Mac.
Fat and cholesterol contribute to heart disease.
Consuming an egg a day may shorten your life. The Harvard Physician Health Study, suggests that consuming even just one egg a day is significantly associated with a shorter lifespan.
You can serve this vegan egg salad however you would like. I enjoy it most on bread with lettuce and tomato. But it also tastes delicious on top of a salad or stuffed in celery sticks with a few sliced olives on top. You could also stuff an avocado or tomato with this vegan egg salad.  Anything goes.
Also, you can give it a more eggy, sulfur flavor by adding a little black salt called Kala Namak.
Looking for more vegan sandwich ideas? Here are some other sandwiches that will brighten up your lunchtime.
Thanks for stopping by and I hope you enjoy this vegan egg salad as much as we did. For more easy vegan recipes, order my cookbook – "The Easy 5-Ingredient Vegan Cookbook."
Last but not least, Ordinary Vegan sells all-natural vegan CBD Oil from Hemp. My products are plant-based, Non-GMO, gluten-free, and tested to ensure the best quality CBD Oil available. According to the American Sleep Association, CBD from Hemp may decrease anxiety and pain, which can both interfere with restful sleep. Hope it can help you.

Vegan Egg Salad Sandwich Recipe
Ingredients
1 16-ounce block firm tofu, drained and pressed *
5-6 tablespoons vegan mayonnaise (store bought or homemade*)
1½ teaspoons of Dijon mustard or yellow mustard
¼ teaspoon turmeric (or more for yellow color)
¼ teaspoon salt or ¼ teaspoon black salt (Kala Namak) for a more eggy, sulfur flavor
Fresh ground black pepper
1 tablespoons chopped chives or thinly slice green onions (optional)
8 slices bread
Lettuce leaves for garnish
Instructions
Press the tofu: Wrap the block of tofu in paper towels or a clean kitchen towel. Place something heavy on top of it, like a cast iron pan or large canned good, and let it sit for 30 minutes.
While the tofu presses, in a medium bowl, whisk together the vegan mayonnaise, mustard, turmeric, salt and pepper.
Add the chopped tofu. Add the chopped chives or green onion if using. Serve on bread with lettuce.
*Creamy Cashew Mayonaise - 1 cup raw cashews that has been soaked in water overnight. Rinse the cashews and dispose of the soaking water. Place the cashews, 1 tablespoon lemon juice, ½ tablespoon apple cider vinegar, 1 teaspoon mustard, salt, fresh ground black pepper and ¼ cup water in a high-speed blender. Process until smooth and creamy. Add more water if needed for consistency. This mayonnaise will thicken up a bit as it chills in the refrigerator.
DISCLOSURE: This post may contain affiliate links, meaning I get a commission if you decide to make a purchase through my links, at no cost to you. Please read my disclosure for more info.