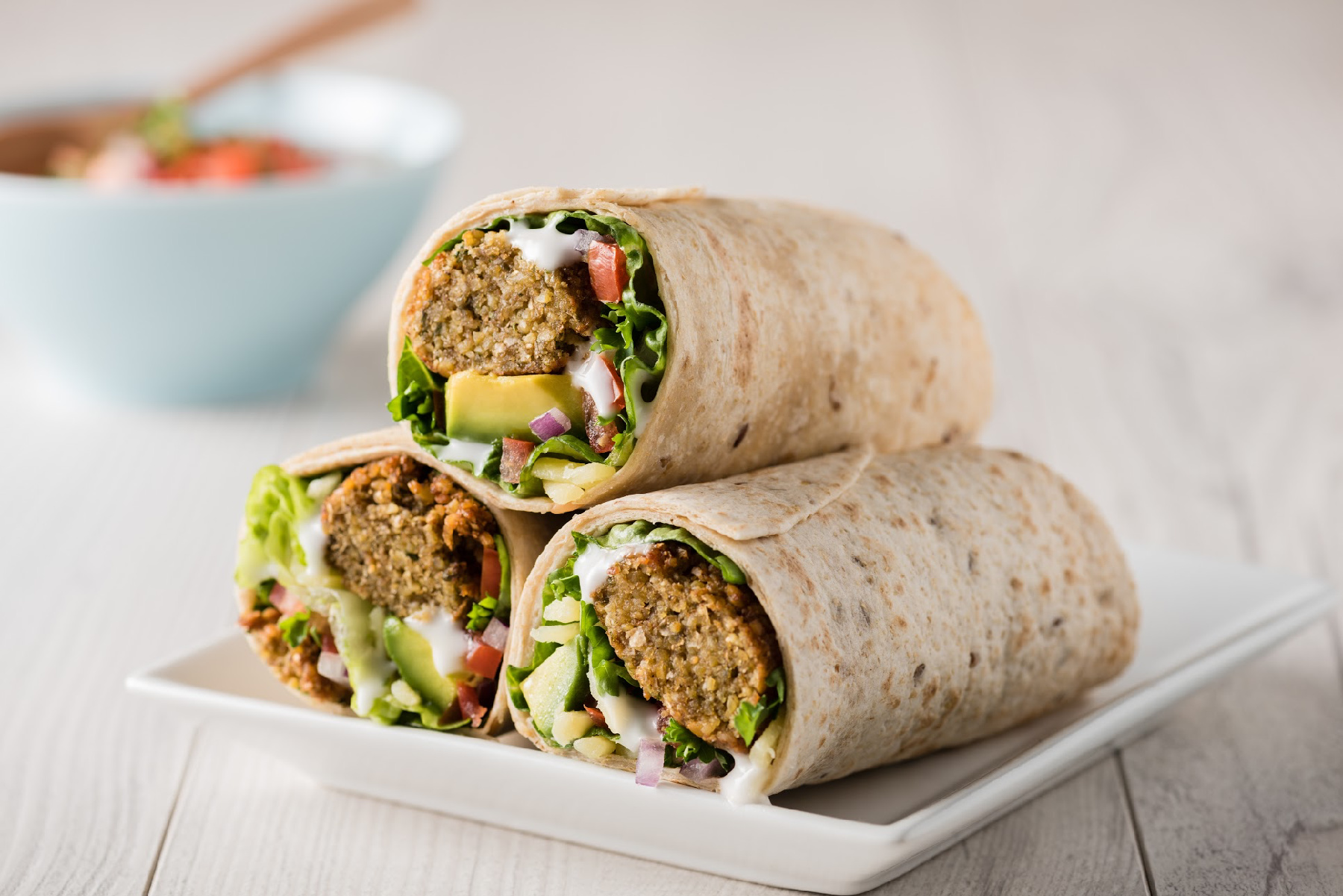 This high-protein vegan falafel recipe is easy to make and very satiating.
Falafels are a traditional Mediterranean dish that people have been enjoying for centuries. They are hearty and healthy vegan patties made of cooked chickpeas, garlic, cilantro, parsley, and dried herbs.
The most common way to eat them is in a pita with garnishes of tomatoes, cucumbers and onions. But I also like them on top of a salad or in a wrap.
Most vegan falafels are deep fried, but I always like to take a healthier approach so I bake them. They will get a little crisp especially if you oil the baking sheet a touch or brush them with oil.
Also, I would be remiss not to mention the extraordinary health benefits.
Hands down, chickpeas (also known as garbanzo beans) are one of the healthiest foods you can consume.
They are a great source of fiber and plant-based protein. Not only that, chickpeas contain essential nutrients like iron and folate. And minerals like manganese. Research has shown that anxiety is linked to manganese deficiencies, so if you are feeling anxious, eat some garbanzo beans.
You can find dry chickpeas in the bulk section of your grocery store or in the legume aisle. Store them in an airtight container for up to a year. Always remember, the longer they're stored, the more moisture they lose which increases their cooking time.
Canned chickpeas are just pre-cooked chickpeas. Drain them but save that aquafaba liquid. That chickpea liquid is a good egg replacer.  Also, rinse the pre-cooked beans to remove the excess salt.
That's it. Hope you enjoy this baked vegan falafel as much as we did.
Don't forget to add all your favorite sandwich enhancers to your wrap. I like veggies with a bite, so I include cucumber, red onion, and crispy lettuce. I also included a tangy lemon tahini dressing recipe for dipping or spreading.
Looking for more vegan sandwich ideas? Be sure to check out our Sun-dried Tomato & Chickpea Sandwich , Vegan Chickpea Salad Sandwich with Caesar Dressing and other Healthy High Protein Vegan Sandwich Ideas.
If you try this vegan falafel, let us know! Leave a comment, rate it, and don't forget to tag a photo #ordinaryvegan on Instagram.
We also have a large active, engaging, health and wellness community on Facebook.  Please join us for exclusive content.
Last but not least, I have my own line of CBD products made from hemp.
Ordinary Vegan's CBD is an all natural grown organic hemp tested for the highest purity and potency.
Pure CBD oil from hemp can help balance and enhance the endocannabinoid system (ECS). The ECS is involved in regulating a variety of physiological and cognitive processes including but not limited to pain-sensation, memory and mood.
When the ECS is not functioning correctly, adding cannabinoids (CBD) can help supplement the system and  get all those signals to work properly.
No matter what your particular ailment may be, start the day with help from Ordinary Vegan's all natural, pure CBD oil made from hemp. If you have any questions, don't hesitate to ask me at questions@23.235.200.4.
You can learn more about the Endocannabinoid System here and FAQ about CBD here.
Thanks for being part of our healthy community!
Vegan Falafel Baked Sandwich Wrap Recipe
Baked Falafel Sandwich Wrap
Ingredients
Falafel
1 (15-ounce) can chickpeas, rinsed and drained (save the chickpea liquid)
2 cloves garlic, chopped
1 tablespoon of chickpea liquid (aquafaba)
¼ onion, diced
1 teaspoon ground coriander
1½ teaspoons ground cumin
⅛ teaspoon cayenne pepper
2 tablespoons chopped fresh parsley
3 tablespoon chopped fresh cilantro
½ teaspoon baking soda
1 tablespoon of freshly squeezed lemon juice
1 teaspoon salt
Fresh Ground black pepper
1-2 teaspoons of Extra-Virgin olive-oil for browning
Lemon Tahini Dressing
1 tablespoon hot water
¼ cup tahini (sesame seed paste)
2 tablespoons minced shallot
3-4 tablespoons lemon juice
2 garlic cloves, chopped
2-3 tablespoons chopped fresh parsley
salt and ground black pepper to taste
Instructions
Pre-heat the oven to 350 degrees F
Put the chickpeas in a large bowl or food processor. Process or mash with a potato masher to break up the chickpeas.
Add the onion, garlic, aquafaba, coriander, cumin, cayenne pepper, baking soda, salt, pepper, parsley, cilantro and lemon juice. Pulse or mash to to make a thick paste.
Line a cookie sheet with parchment paper and spray or brush with a little olive oil to help them brown. You could also brush the tops of the patties with olive oil.
Scoop up golf ball size balls of the mixture and flatten them into 12 patties. I like to form them as flat as I can so the patty surface touches the pan as much as possible for browning.
Bake until the patties are slightly puffed and deep brown, about 20 minutes, turning them over halfway through cooking.
Lemon Tahini Dressing
Place the tahini, water, garlic, lemon juice, shallots into a bowl or food processor. Blend well and adding additional water and/or lemon juice to create a sauce with a smooth consistency. Add the parsley and combine. The amount of liquid you need depends upon how thick you want your sauce to be. This can be refrigerated up to a week.
Assemble your wrap. Spread lemon tahini sauce on a tortilla. Add your favorite sandwich enhancers. I like cucumber slices, red onion, avocado and crunchy lettuce or cabbage. You can also serve on small rolls,or pita pockets.