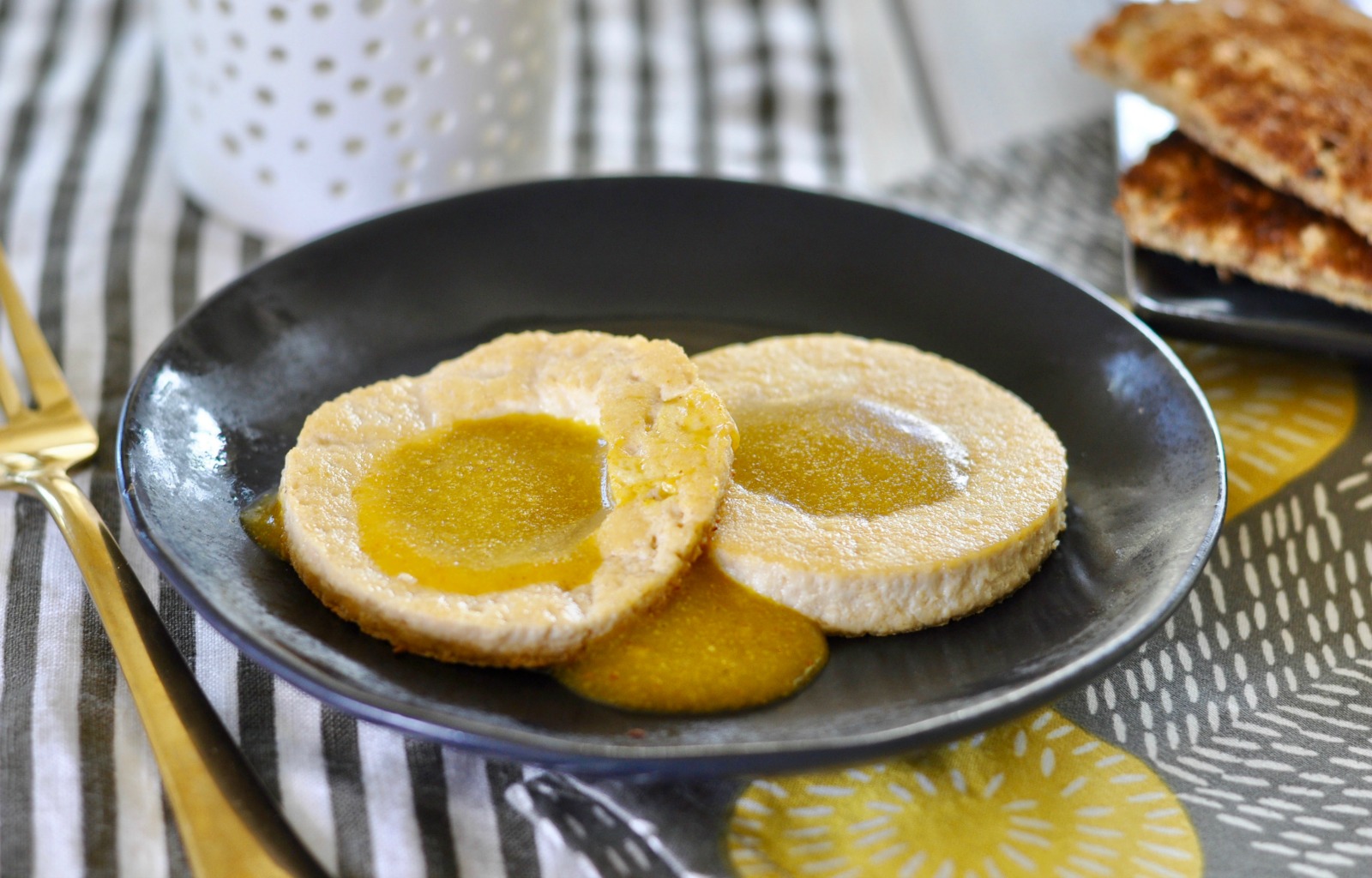 Do you miss fried eggs with runny yolks?  Now you can eat your heart out without the cholesterol or the animal cruelty with this Vegan Fried Egg with a Runny Vegan Egg Yolk.
A common question I often hear is "what's wrong with eggs?"
Did you know that one jumbo egg yolk contains around 240 milligrams of cholesterol and 6 grams of fat? Dietary cholesterol contributes to fatty buildups in the arteries. Fatty buildup raises the risk of heart attacks, strokes, low back pain, brain disease,  and even erectile dysfunction.
Also, humans have no biological need to consume cholesterol. We make more than enough in our bodies, and every 1 percent increase in the amount of cholesterol in your blood, there is a 2 percent increase in your risk of having a heart attack.
In 2008, the Harvard Physician's Health Study, which followed about 20,000 physicians for 20 years, found that those eating just a single egg a day or more had significantly higher total mortality risk. Meaning consuming only one egg a day was associated with living a shorter life.
How about egg whites?  Egg whites are a low-calorie, fat-free food, and they contain the bulk of the egg's protein. The problem with egg whites is the same problem with eggs. The production of eggs is inhumane. Chickens are bred to lay lots of eggs at an abnormal rate and spend most of their short lives in total confinement. This includes eggs whose labels say "free-range," "organic" and "cage-free" eggs. To be honest, there is no such thing as an ethical egg unless you raise your own chickens.
Another concern is that because eggshells are fragile and porous, and conditions on egg farms are crowded and unhealthy, eggs are the perfect host for salmonella – the leading cause of food poisoning in the United States.
So, with all this said, you don't have to miss eggs because there so many vegan options like this vegan egg yolk plopped inside of pan-seared delicate slices of tofu that mimic egg whites.
I experimented with many versions of this vegan egg yolk, but when it finally came together, I was hooked. This recipe was created at the end of February, and I have made it four times since then. Lets just say it is becoming an addiction.
There are lots of ways to enjoy this vegan egg yolk. Often, I will make a simple vegan fried egg sandwich on toast or vegan eggs Benedict. You can also use this vegan egg yolk as a simple morning dipping sauce with vegan buttered toast.
If you really want to be fancy, sprinkle it with some Kala Namak which is a Himalayan black salt that has a sulphuric egg flavor.
If you enjoy vegan egg alternative recipes like this, I highly recommend my Pasta Frittata with Corn and Mushrooms and my Tofu Scramble with Poblano Home Fries and Spicy Bloody Mary Sauce.
You can find my new favorite egg replacer here.
Thanks for joining me today and I hope you enjoy today's vegan fried egg with a runny vegan egg yolk.
If you try this recipe, please let me know!  Leave a comment, rate it, and don't forget to tag a photo #ordinaryvegan on Instagram.
Don't miss any of Ordinary Vegan's FREE recipes by signing up here.
If you want to learn more about plant-based nutrition and how to get started on a vegan diet, Ordinary Vegan has a podcast. You can listen here on this website or in iTunes.
Join our health and wellness community on Facebook. There are over 316,000 strong, vibrant community members waiting to embrace you.
In 2018, after two years of research, I launched my first product – Ordinary Vegan plant-based CBD Oil from Hemp. My fact-finding, research and testimonials from our vegan community proved to me that this natural food supplement could help people.
You can learn more about vegan CBD oil from hemp here. Please don't hesitate to reach out to me with any questions you may have at questions@23.235.200.4.
This recipe was inspired by recipes by Doug McNish & It Doesn't Taste Like Chicken.
Vegan Fried Egg with A Runny Vegan Egg Yolk
Vegan Egg Sandwich with a Sweet Delicious Center
If you really want that sulphuric "egg flavor", add a ¼ teaspoon of Kala Namak which is a Himalayan black salt. This recipe was inspired by Doug McNish & It Doesn't Taste Like Chicken
Ingredients
Vegan Egg
1 block of firm or extra-firm tofu, drained and wrapped in a dish towel to absorb excess water
1 tablespoon of vegan butter
salt and ground black pepper to taste.
Vegan Yolk
1 cup of water
4 teaspoons of cornstarch
2 tablespoons of unflavored soy or almond milk
1 tablespoon of nutritional yeast
¼ teaspoon of turmeric
¼ teaspoon of salt
Fresh ground black pepper
¼ teaspoon of Kala Namak Himalayan Black Salt (optional)
Instructions
Vegan Egg Yolk
Whisk all the ingredients together over medium high heat. Continue to whisk while it cooks for about 3 to 5 minutes or until the vegan yolk sauce thickens.
Taste for seasonings.
Vegan egg
Transfer the tofu to a work surface, turn the block on its side and slice lengthwise to create 4 even slabs. Cut each slab into a round using a 3-inch ring mold or cookie cutter. Save the remnants for another recipe.
Heat the vegan butter in a non-stick skillet over medium heat. When the skillet is hot, add the tofu slices and pan-sear until golden brown on both sides. Transfer to a serving place and cut a small circle in the middle with a shot glass or knife. Pour in the vegan yolk sauce into the hole. Season with salt and pepper and serve.