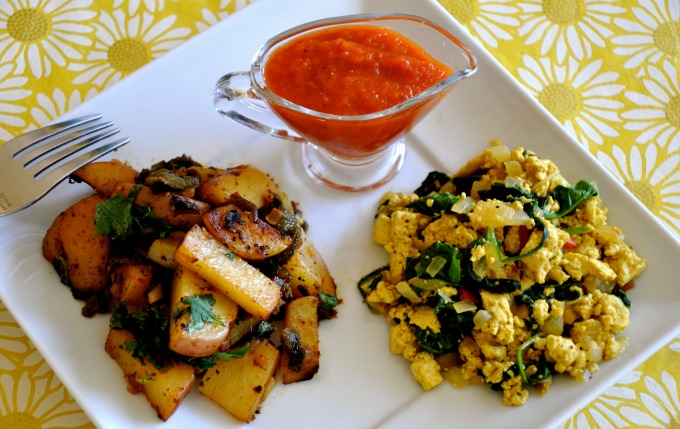 Happy Mother's Day everyone. I believe the best gift you can give your Mom for Mother's Day is an opportunity to enjoy a delicious plant-based meal like these yummy poblano home fries and tofu scramble with spicy bloody mary sauce.
Who knows?  One meal could be the catalyst for more healthy, vegan meals in your Mom's diet to help her live a long and robust life.
My Mom is no longer here, but I know she would love this meal, and she would be proud of me for taking care of my health.
I have been very fortunate to have so many formidable female role models in my life, and today I would like to thank my Mom, my Grandmother Esther, my Aunt Vera, my Godmother Winnie and my sister Susan. Without them I would never have the confidence and optimism that has glided me through life.
Today I am sending everyone lots of vegan love and compassion this Mother's Day. Hope you enjoy these poblano home fries and this tofu scramble as much as we did.
Thanks for joining me today and I hope you enjoy these yummy poblano home fries and tofu scramble.
Looking for more Mother's Day brunch ideas? I love serving Chia Seed Pudding with fruits and nuts alongside some avocado toast topped with fennel and radishes. Or how about some vegan egg yolks with toast for dipping? It doesn't matter what you make as long as the secret ingredient is always love.
If you try this recipe, please let me know!  Leave a comment, rate it, and don't forget to tag a photo #ordinaryvegan on Instagram.
Don't miss any of Ordinary Vegan's FREE recipes by signing up here.
If you want to learn more about plant-based nutrition and how to get started on a vegan diet, Ordinary Vegan has a podcast. You can listen here on this website or in iTunes.
Join our health and wellness community on Facebook. There are over 315,000 strong, vibrant community members waiting to embrace you.
Many people in the wellness world are turning to cannabidiol, commonly referred to as CBD oil, for its powerful anti-inflammatory and anti-anxiety effects. You can now purchase safe and effective vegan CBD Oil on Ordinary Vegan. Link here.
I believe CBD oil can improve symptoms for many people living with anxiety disorders or chronic pain and my mission is to provide you with the highest quality CBD oil from hemp on the market. Because my number one goal is to keep you as healthy and as happy as possible.
Learn more about how CBD Oil from Hemp can help you.
Poblano Home Fries, Tofu Spinach Scramble & Spicy Bloody Mary Sauce
Poblano Home Fries
Poblano peppers really give it the smokey quality that makes these home fries unique.
Ingredients
2 lbs potatoes, red or gold or both, chopped in bite size pieces
3 tablespoons of vegan butter
2-6 tablespoons vegetable broth (if needed)
2 poblano peppers, roasted, skin and seeds removed, chopped
1 small onion, chopped (I like sweet onions for this recipe)
2 garlic cloves, chopped
1 jalapeño, finely diced, seeds removed
1½ tablespoons ancho chile powder (or more to taste)
1 teaspoon sweet or smoked paprika
½ teaspoon salt
Zest of 1 lime
Fresh ground black pepper
handful of chopped fresh cilantro leaves
Instructions
Set the oven rack closest to the broiler. Preheat the broiler.
Place the poblano peppers on a baking sheet and broil the peppers for approximately 6-10 minutes, turning them as necessary until the skins are blackened on all sides.
Remove the peppers from the broiler and place in a closed paper or plastic bag. When cool enough to handle, remove skins and seeds and chop into bite size pieces.
Meanwhile, place the potatoes in a large saucepan and cover with cold water and a pinch of salt. Bring to a boil over high heat and cook until the potatoes are cooked but not falling apart. Check often. Depending on size, these could cook in 10 minutes or less. Drain well.
In a large non-stick saute pan, heat 3 tablespoons of the vegan butter. Add the onion and jalapeño and cook until soft. Add the garlic and cook for 1 minute more. If mixture is sticking, add a little veggie broth instead of more butter. Stir in the chili powder, paprika, salt and pepper.
Add the potatoes and chopped poblano peppers and combine well. Cook until the bottoms of the potatoes are golden brown and crusty. Turn over and cook other side.
Stir in the lime zest and cilantro and serve.
Tofu & Spinach Scramble
Add any vegetables you like to this scramble. I kept it simple because I was serving it with the poblano home fries and spicy bloody mary sauce.
Ingredients
1 14-ounce package of organic, non-GMO, extra firm tofu, drained and crumbled
3 cups of fresh spinach
¼ cup vegetable broth
½ large onion, chopped
1 red Fresno chili, chopped (or jalapeño)
1 garlic clove, chopped
¼ teaspoon salt (or more to taste)
¼ teaspoon pepper (or more to taste)
2 tablespoons nutritional yeast
1 teaspoon turmeric
¼ teaspoon curry powder
Instructions
In a large bowl crumble the tofu and add all the spices including nutritional yeast.
In a large sauté pan, heat the vegetable broth. Add the onion and fresno chili and cook until soft. Add the garlic and cook one minute more. Add a little more vegetable broth if sticking.
Add the tofu spice mixture and spinach. Cook for another 5 minutes or so. Taste for seasonings.
Garnishes could include a squeeze of citrus, cilantro, salsa, avocado and tortillas.
Spicy Bloody Mary Sauce
Everybody likes their bloody mary's different. Some like it with lemon, some with lime. Some like a lot of horseradish, some don't. You can easily make this sauce your own. Also, feel free to add some vodka but that is totally optional. It tastes great without it.
Ingredients
2 red peppers chopped, roasted, skin and seeds removed
1 cup tomato sauce
½ red fresno chili or jalapeño, chopped
1 small red onion, chopped or half of large one
1-2 teaspoons of horseradish from a jar (start with 1 teaspoon and add more if desired)
Zest of one lemon or lime
¼ teaspoon salt (or more to taste)
¼ teaspoon pepper (or more to taste)
⅛ cup of vodka (optional)
Instructions
Place the oven rack closest to the broiler. Preheat the broiler.
Place the peppers on a baking sheet on the oven rack. Broil the peppers until they are blackened on all sides, turning often. This usually only takes a couple of minutes on each turn so keep a careful watch.
When done, remove the peppers from the baking sheet and place in a closed plastic or paper bag to steam.
When cooled, remove the skins and seeds of peppers and chop.
Add the chopped peppers, onion, tomato sauce, horseradish, zest of lemon or lime, salt, pepper & vodka (if using) in a food processor. Process until smooth.
Taste for seasonings and serve warm or room temperature.