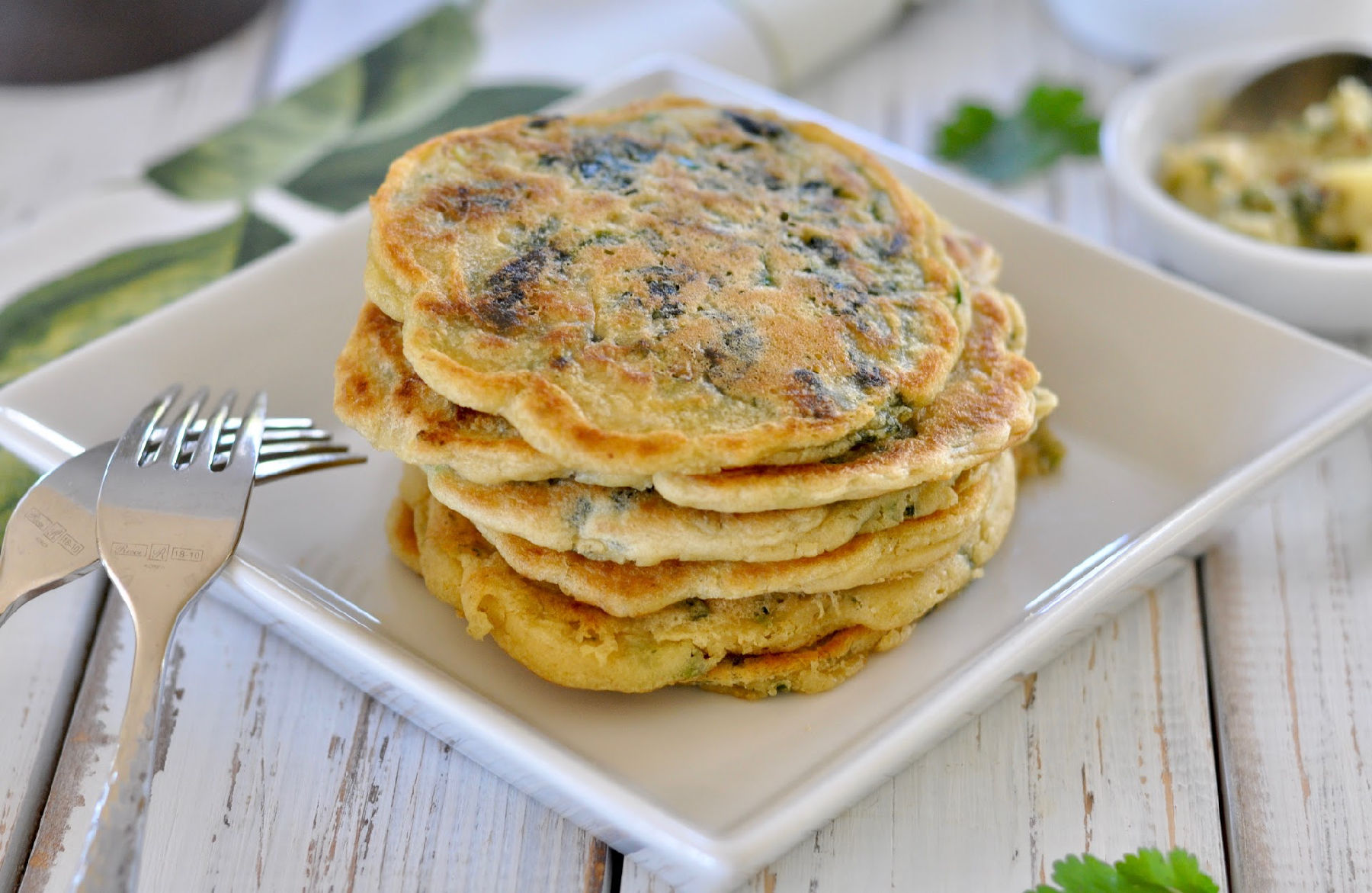 Getting your greens couldn't be any easier. These delicious, dairy-free, savory, vegan spinach pancakes aren't just for brunch. Serve them anytime topped with some lightly dressed arugula or microgreens.
This recipe was inspired by the green pancake recipe in Yotam Ottolenghi's book Plenty.
Plenty is one of my favorite vegetarian cookbooks because it is very easy to veganize his recipes. I also included a vegan version of his lime butter recipe, but it is totally optional.  They will taste delicious without.
Aquafaba (chickpea liquid) is the egg replacer, but you could use vegan flax eggs or your favorite egg replacer.  Don't worry about not whipping up some of the aquafaba liquid. Often in dishes like this, I like to to add soft peaks of aquafaba to add a lightness much like an egg white. But it will be fine without it.
This was my first time having vegan spinach pancakes, but I know it won't be my last. Hope you enjoy this recipe as much as we did.
If you make this recipe, please take a photo and hashtag me #ordinaryvegan on Instagram so I can see your masterpiece. 🙂
Don't forget to joint our health and wellness community on Facebook – over 310,000 strong, active members.
Furthermore, next month on April 22, we celebrate Earth Day. My plan is to celebrate the full month of April, plastic-free. The goal of the Earth Month Plastic Free Challenge is to increase awareness of and to avoid single-use products. Read all about it at EcoWatch.
Often we feel helpless about the future of the planet, but how we protect the environment begins with you. Hope you find time to listen to the Ordinary Vegan Podcast #53 – How To Protect The Environment to learn more. Available on iTunes, Spotify and on this website.
Last but not least, I now carry a line of  CBD oil from hemp. CBD is cannabidiol, a safe, natural, non-intoxicating cannabinoid found in the flowers of the hemp plant. Cannabinoids, like CBD  interact with receptors in the human body's endocannabinoid system.
The recently discovered Endocannabinoid System (ECS) is found in the body's central and peripheral nervous system. The Endocannabinoid System is responsible for maintaining homeostatic action in the body, like mood, memory, appetite, thermoregulation, sleep and more.
Hope my all natural, vegan, organic CBD can be your alternative for everyday issues. Don't hesitate to reach out to me with any questions at questions@23.235.200.4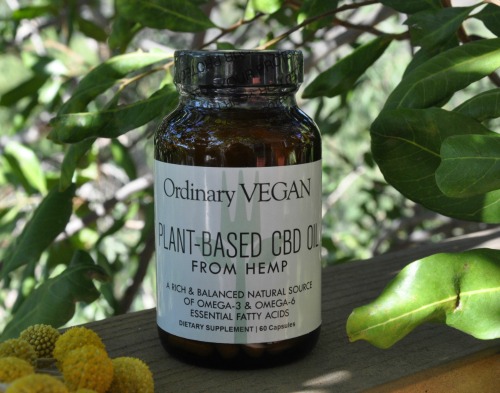 Savory Vegan Spinach Pancakes with Scallions, Green Chillies & Cilantro
Green Pancakes with Lime Butter
Adapted and veganized from the Plenty cookbook by Yotam Ottolenghi.
Ingredients
Green Pancakes
½ lb or 8 cups spinach, washed, wrung out
¾ cup flour (all purpose or garbanzo bean flour)
1 tablespoon baking powder
4 tablespoons aqufaba liquid (brine from cooked chickpeas) or flax eggs*
2 tablespoons vegan butter, melted
½ tsp salt
1 teaspoon ground cumin
⅔ cup of unsweetened, unflavored non-dairy milk (I like almond)
6 medium green onions, finely sliced
2 mild green chiles, thinly sliced
2 tablespoons chopped cilantro
olive oil for frying
Lime Butter (optional)
8 tbsp vegan butter softened at room temperature
grated zest of 1 lime
1½ tablespoons lime juice
¼ tsp salt
½ tsp ground black pepper
1 tablespoon of chopped cilantro
garlic clove, finely chopped
¼ teaspoon chili flakes
Instructions
Green Pancakes
Wilt the spinach in a pan with a splash of water or steam 2 minutes until wilted not cooked. Drain and when cool, squeeze hard with a clean dish cloth to remove as much moisture as possible. Roughly chop and set aside.
Place the flour, baking powder, cumin, 3 tablespoons of aquafaba liquid (or flax eggs) melted butter, and non-dairy milk in a large mixing bowl and whisk until smooth.
Add the green onions, chiles, chopped cilantro and spinach and mix with a fork.
In a separate bowl whisk the remaining tablespoon of aquafaba to soft peaks and gently fold it into the batter.
Pour a small amount of olive oil into a heavy frying pan and place on medium-high heat. For each pancake, ladle 2 tablespoons of batter into the pan. You should get smallish pancakes, about 3 inches in diameter. Cook for about 2 minutes on each side, or until you get a deep golden-green color. Transfer to paper towels and keep warm. Continue making pancakes, adding oil to the pan as needed until the batter is used up.
To serve pile up three warm pancakes per person and place a slice of flavored butter on top if using. Or serve some mixed greens lightly dressed on top.
Flax eggs
*If you are using flax eggs as an egg replacer - Omit the extra tablespoon that has been whisked.
and make one ground flax egg by whisking together 1 tablespoon ground flax with 3 tablespoons of water. Place in refrigerator for 10 minutes to thicken.
Lime butter
Put the butter in a medium bowl and mix with a wooden spoon until it turns soft and creamy. Stir in the rest of the ingredients. Chill until firm. *You can use the left over butter on baked sweet potatoes or freeze and use another time.
*FYI – As an Amazon Associate I earn from qualifying purchases.