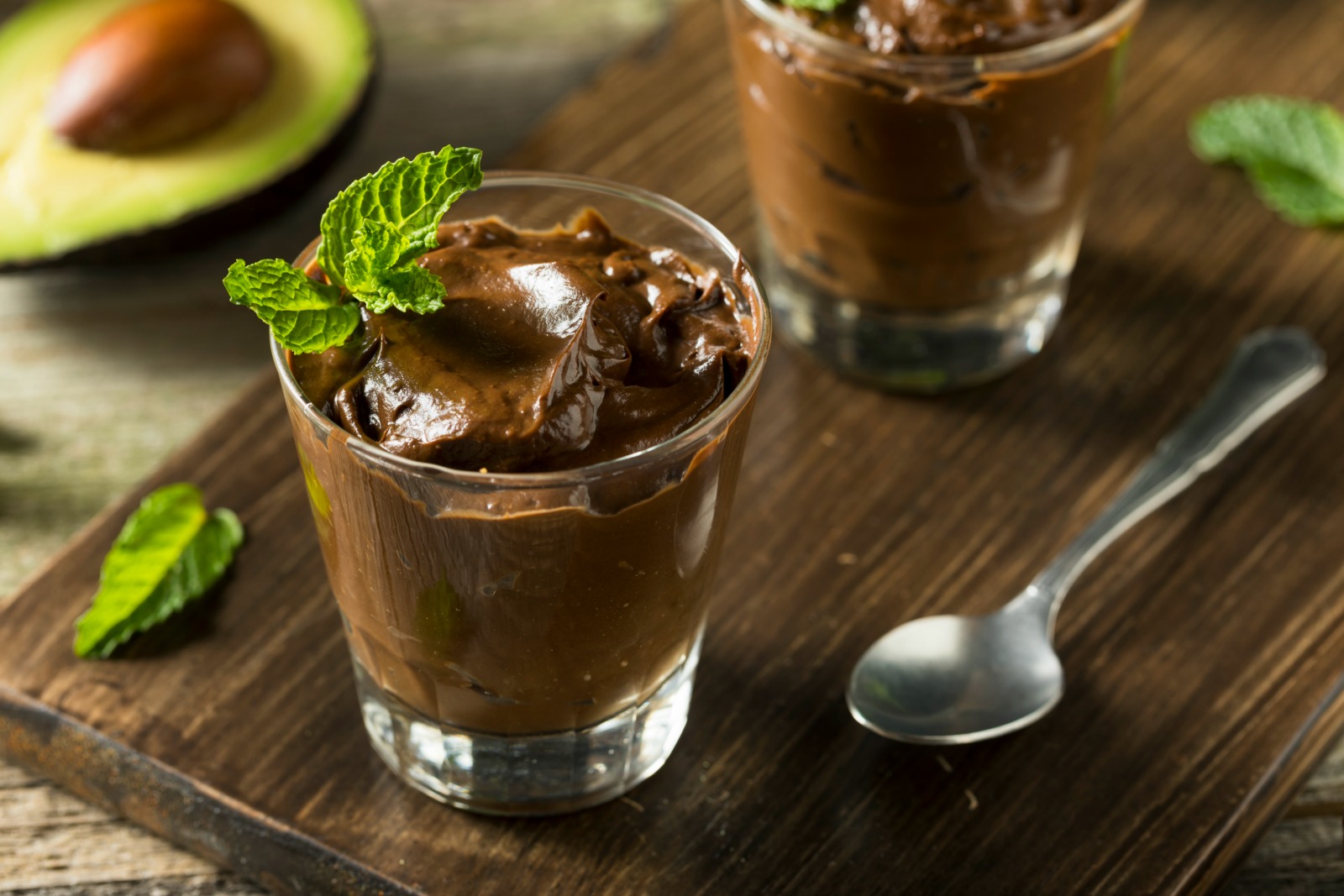 If you, like me, are frequently tempted by sweets, this healthy vegan chocolate avocado pudding is especially for you.
Created with only four ingredients, this pudding couldn't be easier to prepare or more healthy.
Let's begin with the avocado. With twice as much potassium as a banana, four grams of protein and loaded with nutrients, it is a nutrition all-star.
Above all, I not only love avocados for their delicious flavor and creaminess, but they are also super versatile.
For example, nothing tastes better on a  of boring piece of toast than a sliced avocado, a squeeze of lemon and a pinch of salt. Not only that, in the summer, I like to grill my avocado and make some avocado sushi.
From savory dips to sweet avocado pudding, avocados are a culinary chameleon.
Therefore if you love avocados as much as I do, you will probably enjoy these roasted carrots and avocado with cilantro dressing, avocado and chickpea hummus, and white bean salad with tomatoes, avocado and basil. 
Finally, I hope you enjoy this vegan chocolate avocado pudding as much as we did.
Join our list to receive all of  Ordinary Vegan's FREE recipes by signing up here.
Just getting started on a plant-based diet? Here is a free downloadable list of delicious vegan protein and don't miss my #1 podcast – "Getting Started On A Vegan Diet."
To discover more delicious plant-based recipes and learn more about plant-based nutrition, listen to the Ordinary Vegan podcasts here on this website or in iTunes.
Hope you have a wonderful, compassionate day!
Avocado Pudding
Chocolate Avocado Pudding With Four Vegan Ingredients
This healthy vegan chocolate avocado pudding is dairy-free, gluten-free, refined- sugar free, super easy to prepare and ready in 5 minutes!
Ingredients
3 avocados, flesh and seeds removed
¼ cup organic maple syrup
6 tablespoons unsweetened cocoa powder
1 teaspoon of vanilla extract
Instructions
Puree avocados, maple syrup, cocoa powder and vanilla in a food processor until smooth.
Garnish with fresh mint and a sprinkle of sea salt. (optional)