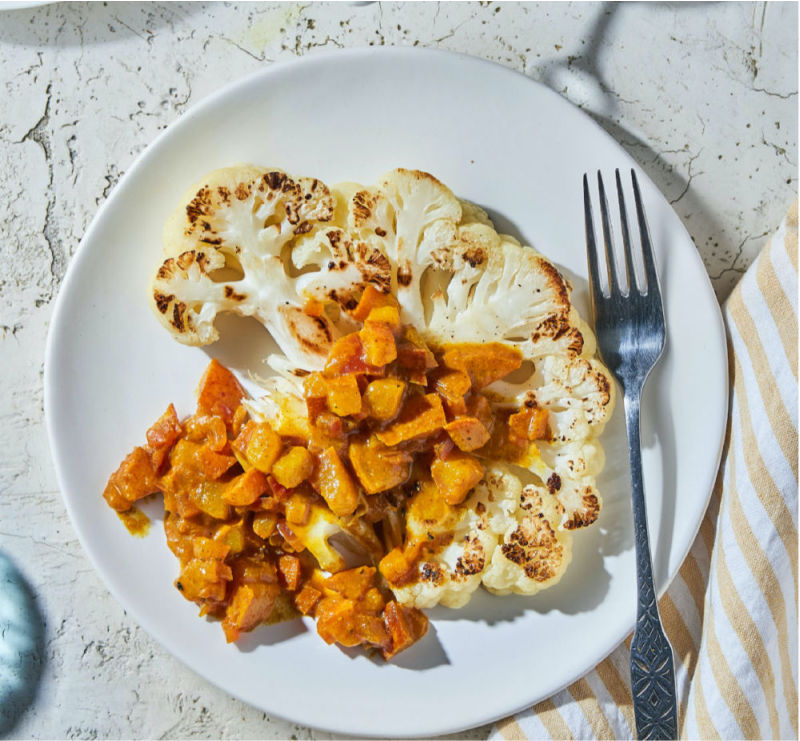 Cauliflower steaks are a quick, healthy dinner that can be served with any traditional sides. Personally, I love to serve them over quinoa with a side of leafy greens.
The pear chutney is a chunky, sweet, savory condiment with a delicate taste of curry. It pairs perfectly with the cauliflower steaks.
Cauliflower has definitely gone mainstream, and consumers are turning to this humble ingredient because of its mild flavor and versatility. Not only that, it can replace so many ingredients including meat, potatoes, flour, and white rice.
One of my favorite cauliflower recipes is a simple Cauliflower Fried Rice with peas, carrots, and corn. Grated, it takes on a rice-like quality and only takes a few minutes to cook.
Or how about some low-carb cauliflower mashed potatoes?
This cruciferous vegetable is also inexpensive and can replace meat in any recipe like this Chickpea Curry with Roasted Cauliflower and Spinach  or  Spicy Cauliflower Buffalo Wings.
Cauliflower Steaks can be paired with lemon juice for brightness or a brush of maple syrup for sweetness. Anything goes.
Not only that, the health benefits are outstanding. Cruciferous vegetables are not only low in calories, they are also full of vitamins, minerals, potassium, fiber, and folic acid. Additionally, they contain a sulfur compound that protects your health and prevents disease.
I think you are getting the picture. Cauliflower is one of the most distinctive, versatile, healthy, delicious vegetables on the planet. Hope you enjoy these cauliflower steaks as much as we did. You can find more simple and healthy recipes in my cookbook, The Easy 5-Ingredient Vegan Cookbook.
Please sign up so you don't miss any of Ordinary Vegan's recipes.
Did you make this recipe?
Tag and follow @ordinaryvegan on Instagram or Facebook and hashtag it #ordinaryvegan so we can see all the deliciousness.
Thanks to Thomas J Story @Calisto Media for the beautiful photograph of my recipe.

Cauliflower Steaks with Pear Curry Chutney
From The Easy 5-Ingredient Vegan Cookbook
Ingredients
2 tablespoons curry powder
2 medium pears, cored and chopped
1 tablespoon extra-virgin olive oil, divided
½ cup diced red onion
1 large cauliflower head, cut into four ¾ inch to 1-inch steaks
3 tablespoons sherry vinegar
¼ teaspoon salt
Fresh ground black pepper
Instructions
In a dry saucepan over medium heat, toast the curry powder for about 30 seconds or until it is fragrant. Add the pears, ½ tablespoon of the oil, and the onion. Cook, stirring the mixture occasionally, until tender, about 5 minutes. Stir in the vinegar, salt, and pepper, then remove from the heat and set aside.
Bring a large pot of lightly salted water to a boil, Carefully, lower the 4 (or more) cauliflower steaks into the water, one by one, using a pair of tongs. Lower the heat to a simmer and cook until just tender, about 8 minutes, being careful not to overcook. The cauliflower should still have bite. If a paring knife can pierce through the center fairly easily, the steaks should be done.
Carefully remove the steaks with a large slotted spoon or skimmer and transfer to a rack to cool. When the steaks are cool, season each with a pinch of salt and pepper.
Heat a large nonstick skillet over high heat. Add the remaining ½ tablespoon of oil. Carefully sear each cauliflower steak over high heat, until browned evenly, about 2 minutes on each side. Season with a little salt and pepper.
Place each cauliflower steak on a plate and spoon the chutney over. Serve immediately.
Notes
You can also bake the cauliflower steaks by placing them on a baking sheet. Lightly coat them with olive oil, sat, pepper and a light sprinkle of crushed red pepper flakes or add your favorite seasonings. Roast at 400 degrees F for 30 minutes, turning over halfway through, until tender and golden.
Nutrition Information
Calories:
181
Fat:
8 grams
Saturated fat:
1 gram
Carbohydrates:
28 grams
Sugar:
14 grams
Protein:
5 grams