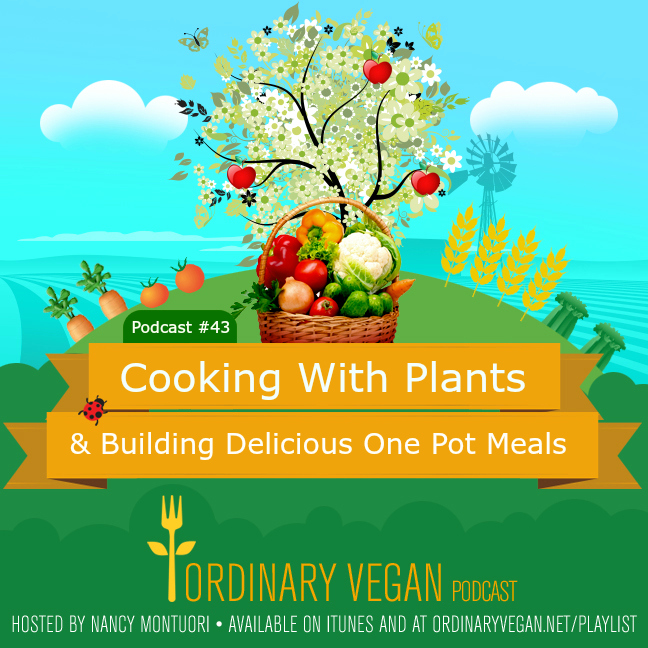 Cooking with plants is a lifestyle that can be enjoyed full or part-time. Even adding two or three plant-based meals to your diet every week can have significant health benefits.
A recent study published in the Journal of The American Heart Association revealed that swapping one or two servings of animal protein for plant protein could lead to a reduction in three main cholesterol markers for cardiovascular disease.
Another study suggests that eating only one cup of leafy greens a day could slow the rate of memory decline in older adults.
Today's podcast is devoted to getting back to the basics of cooking with plants. It doesn't have to be complicated. The methods of cooking that we discuss today provide maximum nutrition and satiate without a lot of time or energy. The kind of food that makes you want to run up a mountain and not take a nap.
So please join me today and learn how to create delicious, nutritious one-pot meals and easy steps to building a vegan burger.
Today's recipe's, One Pot Vegan Chickpea, Cauliflower & Sweet Potato Stew is available here. The recipe for the Vegan Black Bean Burger is below. If you like the idea of one-pot recipes, this One-Pot Tomato Basil & Spinach Pasta is one of Ordinary Vegan's most popular recipes.
I hope you enjoyed today's podcast. My number one goal is to keep you as healthy as possible.
Many people in the wellness world are turning to cannabidiol, commonly referred to as CBD oil from Hemp. You can now purchase safe and effective vegan CBD Oil on Ordinary Vegan.
Learn more here.
If you have any questions about CBD Oil or any feedback, you can email me at questions@23.235.200.4.
Join our health and wellness community on Facebook. There are over 315,000 strong, vibrant community members waiting to embrace you.
Also, if you get a chance, please write us a review on Spotify or  iTunes. Every review helps us spread the plant-based message.
Thanks and have a wonderful day!
Cooking With Plants Podcast Black Bean Burger Recipe
Vegan Black Bean Burger
You can saute or bake these black bean burgers. Sauteing will make them crispier.
Ingredients
2 14-ounce cans of rinsed, drained, cooked black beans
3 tablespoons vegan mayonnaise (or aquafaba liquid )
⅓ cup of bread crumbs (use Panko for gluten-free)
1½ teaspoons ground cumin
1 teaspoon dried oregano
⅛-1/4 teaspoon cayenne pepper (optional - adds heat)
½ teaspoon salt
Fresh ground black pepper
¼ cup cilantro, chopped (you can substitute parsley)
Instructions
Pre-heat the oven to 400 degrees if baking
Add one 14-ounce can of rinsed, drained, cooked black beans into a food processor, Add the mayonnaise, bread crumbs, cumin, oregano, cayenne (if using) salt and ground black pepper. Pulse together until a coarse puree forms. Transfer to a bowl.
Add another 14-ounce can of cooked, rinsed, drained black beans and the cilantro. Stir together.
Form the mixture into 4 patties and bake in a 400 degree oven for 20 minutes turning once or until the center feels firm.
Or heat a non-stick pan and cook burgers until the outsides are crips and lightly browned. About 8 minutes total, turning once.