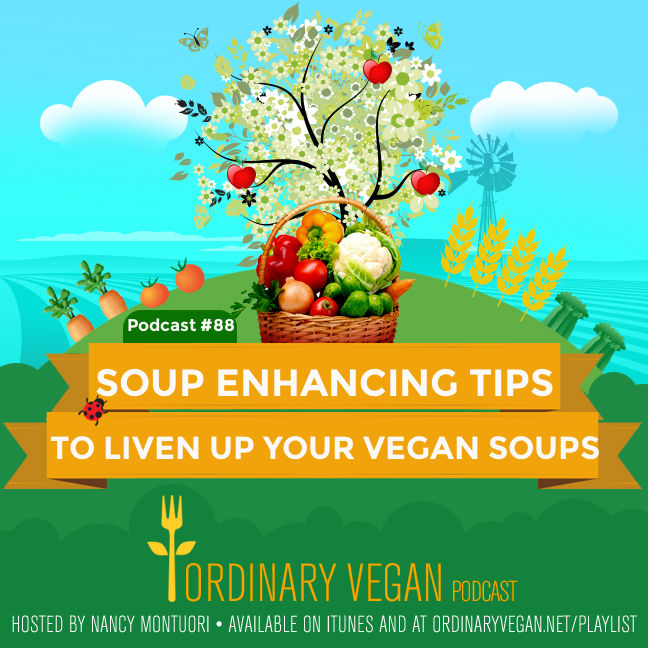 Several studies that have tested the effects of consuming soup on a regular basis found that routinely eating soup can reduce energy intake, enhance satiety, and promote weight loss. Vegan soups are especially satiating because high fiber vegetables are high volume foods. This is called energy density. Energy density is the number of calories in a particular weight of food. It means you can have satisfying portions of low-energy-dense foods with a relatively low-calorie content.
Such high fiber foods like broccoli, squash, peas, cabbage, spinach and sweet potatoes are high volume foods. They add bulk to your meals and fill up your stomach without a lot of calories. They also keep you full longer.
And vegan soups don't have to be boring. There are a lot of ways to liven them up, so today's podcast is dedicated to vegan soup enhancing tips along with:
Using aromatics to add depth and flavor
Why soup is only good as your broth
Using seeds to add flavor
Whole grains to elevate heartiness
Umami flavors
Crunch and brightness
Soup and immunity
Garlic Broth recipe (below)
Thank you for joining me today.
For recipes and inspiration, follow me on Instagram and Facebook.
Additionally, you can find my new book "The Easy 5 Ingredient Vegan Cookbook" HERE and all my vegan CBD products from hemp on my website.
You can purchase my vegan, organic line of CBD products on my website.  CBD Oil from hemp  has shown substantial promise in helping people build an immune system that is fortress strong. Hope it can help you.
Thank you to Osea Malibu for sponsoring this podcast. Head over to Oseamalibu.com/ordinaryvegan10 to receive 10% off your purchase of $50.00 or more. Good until December 21, 2020. 
Also, please share this podcast so our community can grow. And if you have time, please leave a review on Apple Podcasts or Spotify. The more reviews we receive, the better chance of spreading the compassion one plant-based meal at a time.
Please stay strong and stay well!

Garlic Broth
Garlic broth is great for immunity and can be a base for any vegetables.
Ingredients
2 heads of garlic
⅓ cup vegetable broth for sautéing
8 cups water
Handful of chopped fresh hearty herbs like sage, rosemary or thyme
Instructions
Slice 1 head of garlic in half crosswise. Separate cloves from one head and peel and crush them slightly.
Heat the vegetable broth over medium heat. Add the crushed garlic cloves and cook, tossing occasionally until softened and golden brown.
Add 8 cups of water and bring to a boil. Add herbs and halved head of garlic. Reduce the heat to a simmer and cook until the garlic is tender and the broth is reduced by half. About 30 minutes. Strain.