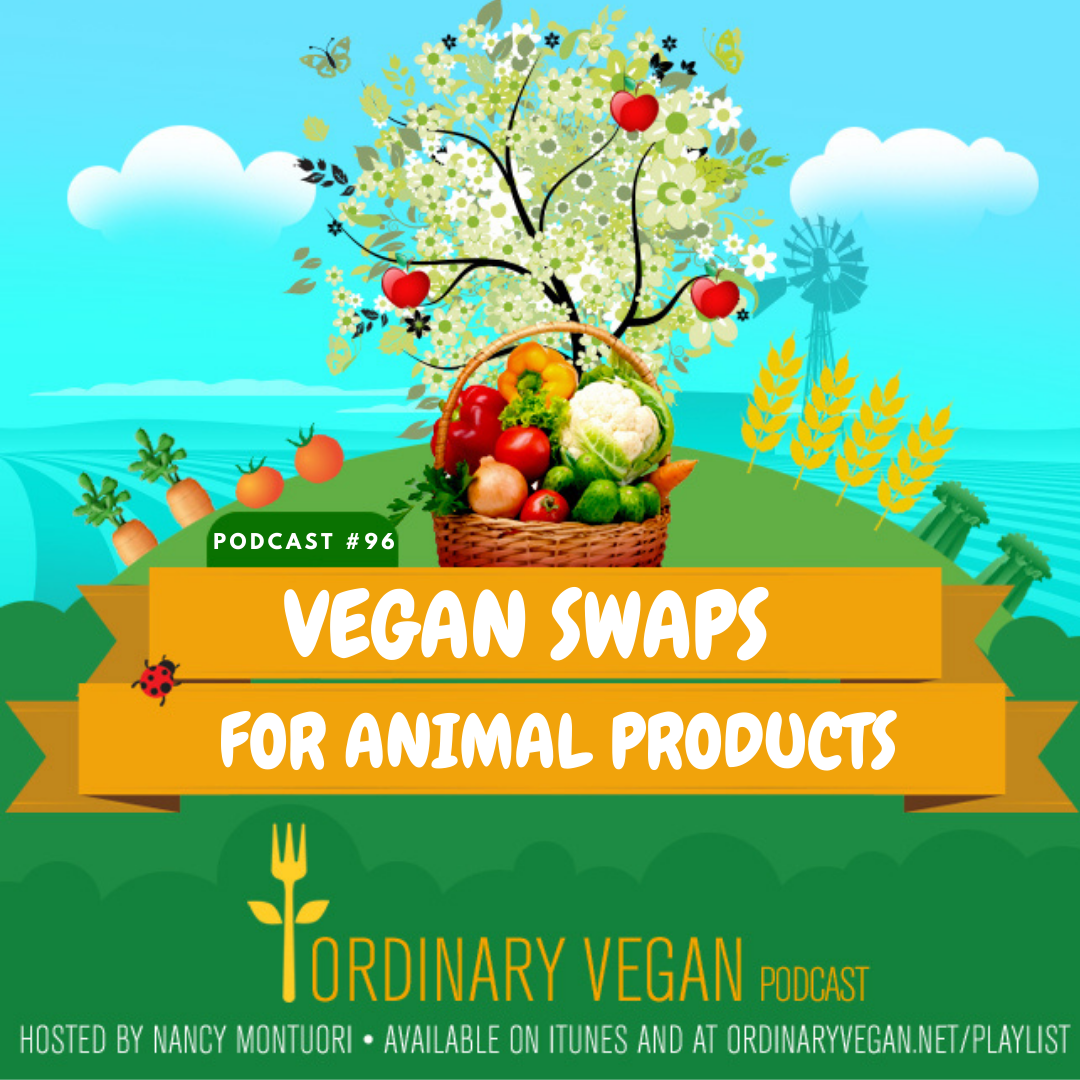 Are you thinking of adding more plants to your diet in 2021?  Today's podcast shares some easy vegan swaps to ease the transition.
Finding substitutions for animal products is perhaps the most difficult part of vegan cooking. But it can also be the healthiest thing you can do. For example, when you switch one tablespoon of aquafaba for one egg, you cut out 5 grams of fat and 75 calories.  So if you are looking for equally delicious and healthy vegan swaps, look no further.
Podcast #96 will introduce you to many vegan swaps and recipes along with:
Healthy Eating Checklist
Oil Substitutes
Whipped Cream and Meringue
Egg Replacements
Quick Black Bean Veggie Burgers (recipe below)
The Best Vegan Binding Agents
Cream and Sauce Substitutes
Sunflower Pasta Alfredo Sauce (recipe below)
Gelatin Precautions
I hope today's simple vegan swaps helps your transition to a plant-based diet.
For recipes and inspiration, please follow me on Instagram and Facebook.
You can purchase my vegan, organic line of CBD products from hemp on my website.
The National Institutes of Health released a study that "revealed very high rates of clinically significant insomnia along with more stress, anxiety, and depression
since the Covid-19 pandemic." All-natural CBD from hemp can enhance the serotonin receptors. Low serotonin levels are commonly associated with people who have depression and anxiety. Anxiety is a key factor behind insomnia. I hope my CBD can help you get a good night's sleep.
Additionally, you can find my cookbook "The Easy 5 Ingredient Vegan Cookbook" HERE.
I would also like to thank Forager for sponsoring this podcast. Don't forget to go to Foragerproject.com/cultivatehealth  for your FREE cup of yogurt.
Please stay safe and stay well.

Easy Vegan Black Bean Burger with Avocado
Ingredients
1 15-ounce can cooked black beans, rinsed and lightly dried
6 tablespoons rolled oats
1 chipotle in adobo sauce, chopped (add a little sauce if you want it spicier but a little goes a long way)
¼ cup mashed ripe avocado
¼ teaspoon salt
¼ teaspoon pepper
¼ teaspoon cumin
2 tablespoons chopped fresh cilantro (optional)
Instructions
Put all the ingredients in a food processor and process until the mixture comes together.
Shape into 3 patties. Fry them in a skillet for 3-4 minutes on each side until browned.
Garnish with left over avocado, lettuce, and red onion for crunch.
Vegan Pasta Alfredo Sauce with Sunflower Seeds
Ingredients
1 cup of sunflower seeds, soaked overnight and rinsed
1½ cups water
¼ cup nutritional yeast
Juice of 1 lemon
1 garlic clove, chopped
¼ teaspoon salt (or more to taste)
¼ teaspoon ground black pepper
Instructions
Add all the ingredients to a food processor. Blend until smooth adding more water if needed.
Serve over pasta.