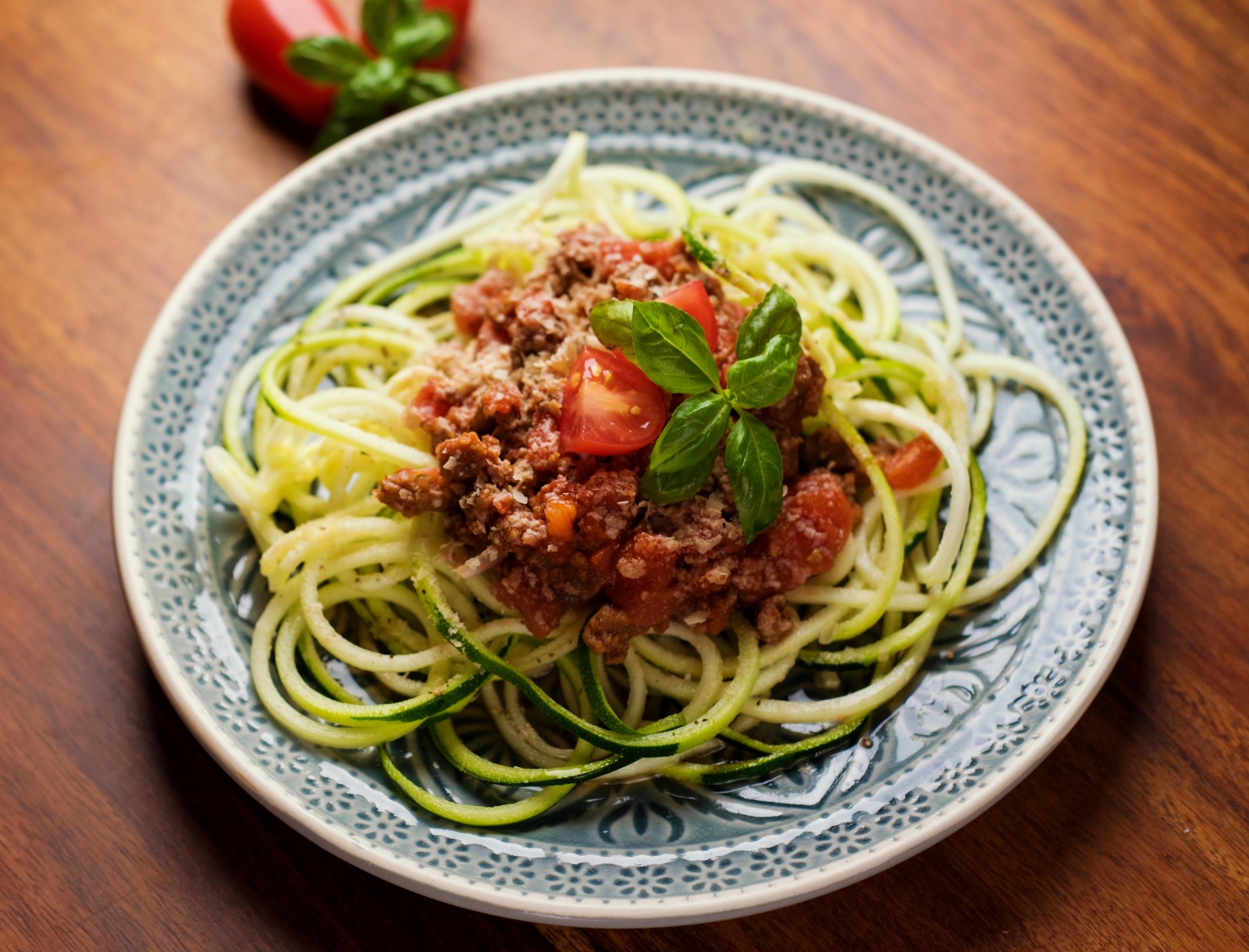 This vegan bolognese sauce captures the robust, hearty flavor of the classic preparation, except I replaced the meat with mushrooms, eggplant, and an aromatic carrot sofrito.
Now I know this may seem time-consuming, but the long, slow braise of each vegetable produces a rich, hearty flavor. I promise your family will love it and appreciate the work that went into it.
Also, these zucchini noodles are a fun pasta replacement.
If you follow my podcasts, you may remember podcast #5 " How you can eat more food on a vegan diet and lose weight." That podcast was about calorie density and that applies to these noodles. For example, one cup of zucchini noodles only have 20 calories, and one cup of pasta has over 200. So you could eat 10 cups of zucchini noodles and still not eat all the calories in one cup of pasta.
Another reason, I love this vegan bolognese is that it is very satiating. A new study on satiety published in 2017 in the journal Appetite, indicates that eating a mushroom-rich meal can be as satiating as eating meat.
Today's recipe also has an unusual umami ingredient that adds yet another level of depth and flavor, and it is called white miso paste.
If you have never used white miso before, it is a Japanese fermented soybean paste and it has a gentle, sweet flavor and can add umami to any dish.
I know you might be thinking it will be a waste of money to buy this ingredient, but take it from me, there are many ways to use it. Like this oil-free miso mint salad dressing, or make a quick, simple miso soup by whisking in 2 tablespoons of miso to 2 cups of boiling water. Lower the heat and add your favorite vegetables and noodles. Cook for 5 minutes and you will have a delicious, nutritious white miso soup.
Hope you enjoy this vegan bolognese with mushrooms and eggplant as much as we did.
Are you a mushroom lover like me?  Then you may enjoy "The Best Vegan Mushroom Gravy You Will Ever Taste, " my "Vegan's Shepherd's Pie with Lentils and Mushrooms, " and my "Grilled Portobello Mushroom over Cauliflower Mash."
If you try this recipe, please let me know!  Leave a comment, rate it, and don't forget to tag a photo #ordinaryvegan on Instagram so I can see your masterpiece.
Don't miss any of Ordinary Vegan's recipes by signing up here.
As mentioned above, I have a podcast on plant-based nutrition. You can listen here on this website or in iTunes. This podcast is dedicated to helping people like you live a long and healthy life.
You can also join our health and wellness community on Facebook. There are over 317,000 healthy, vibrant community members waiting to embrace you.
In 2018, after two years of research, I launched my first product – Ordinary Vegan plant-based CBD Oil from Hemp. My fact-finding, research and testimonials from our vegan community proved to me that this natural food supplement could help people.
You can learn more about vegan CBD oil from hemp here. Please don't hesitate to reach out to me with any questions you may have at questions@23.235.200.4.
Thanks for stopping by and hope you have a peaceful and compassionate day.
Vegan Bolognese Sauce with Mushrooms & Eggplant
Vegan Bolognese Sauce with Mushrooms & Eggplant
This was adapted from a recipe by Kay Chun
Ingredients
½ cup to 1 cup of vegetable broth for sautéing
16-ounces of mushrooms cut into 1//4 inch dice (use any you like - I like a combination of Portobello, Cremini & White - if you use a dried mushroom, make sure you soak them in hot water until soft about 30 minutes and don't throw away the water, add it to the sauce)
1 small onion, cut into ¼ inch dice
2 medium carrots, peeled and cut into ¼ inch dice
3 garlic cloves, minced
1 small eggplant (8 ounce) peeled and cut into ¼ inch dice
½ teaspoon salt
Fresh ground black pepper
1 teaspoon dried thyme
1 teaspoon dried basil
2 tablespoons tomato paste
1 tablespoon white miso paste
1 28-ounce can crushed tomatoes
½ teaspoon sugar
Chopped fresh basil for topping (optional)
12 ounces Zucchini noodles *recipe below or pasta noodles
Instructions
In a large soup pot, heat ½ cup of vegetable broth. Lightly season with a pinch of salt and ground black pepper.
Add the onion and carrots and cook over moderate low heat until softened and golden, about 7 minutes.
Add the eggplant and a little more vegetable broth and cook, stirring occasionally, until softened about 7 minutes.
Stir in the mushrooms, and a little more vegetable broth, cook, stirring occasionally until the mushrooms are golden, about 7 to 9 minutes.
Stir in the garlic, tomato paste and miso paste. Whisk until combined and cook for another 2 minutes.
Add the crushed tomatoes, sugar, dried basil, dried thyme, ½ teaspoon of salt and fresh ground black pepper.
Cover lightly and cook over low heat, stirring occasionally, until the sauce is very thick, about 60-90 minutes.
*If cooking pasta, cook until al dente, drain and reserve ¼ cup of the pasta water and add to the sauce.*
Taste and season with more salt and ground black pepper if needed.
Serve over pasta with a light sprinkle of nutritional yeast and chopped basil.
Zucchini Noodles
Make sure you don't overcook the noodles or they will wilt and look lifeless. You really want a spunky al dente noodle. I recommend cooking about 3 minutes - taste and cook another minute if needed.
Ingredients
2 large zucchini (about 1½ pounds)
pinch of salt
Instructions
Cut lengthwise slices from the zucchini using a vegetable peeler, stopping when the seeds are reached.
Turn the zucchini over and continue "peeling" until all the zucchini are in long strips. Discard the seeds. Slice the zucchini into thinner strips resembling spaghetti.
Heal a medium pot with water and bring to a boil. Add a small pinch of salt. Gently add the zucchini spaghetti. Cook for approximately three minutes or until al dente. Being careful not to overcook.