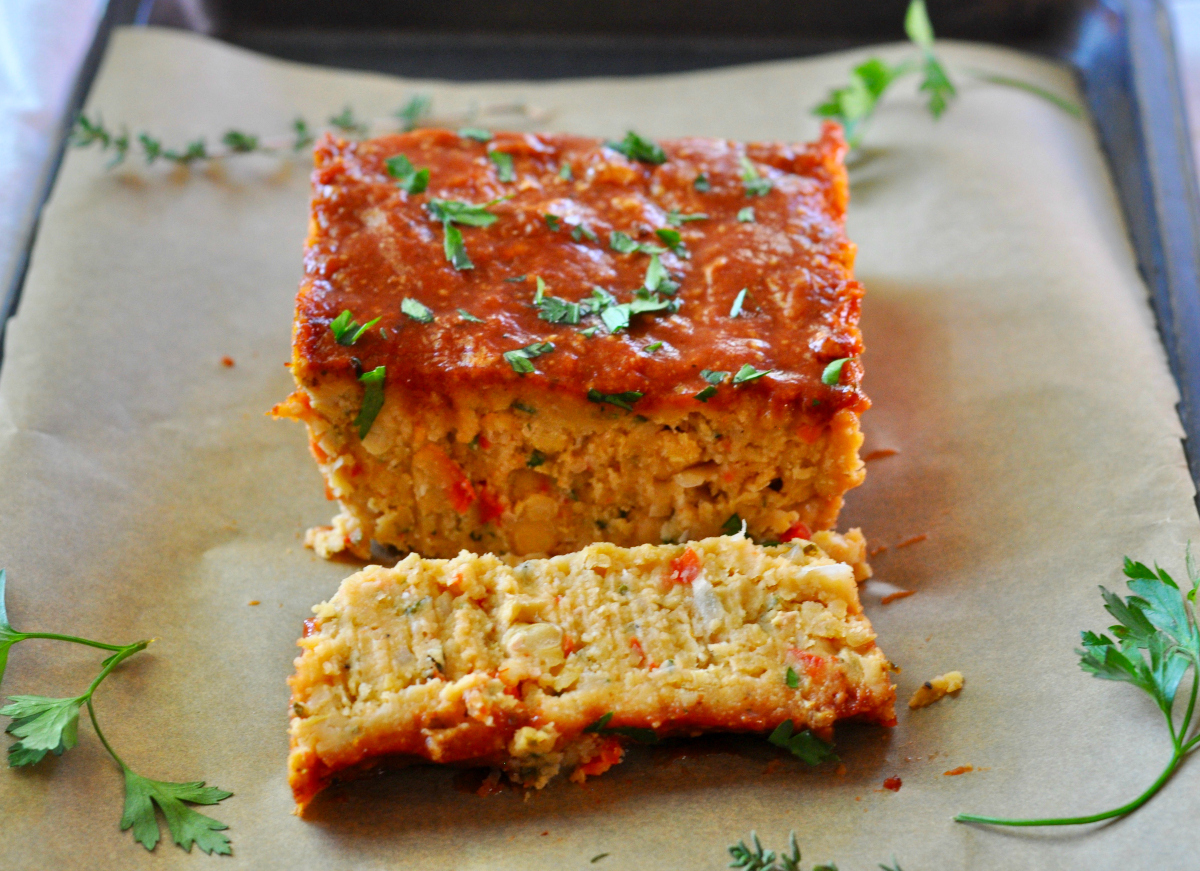 It all started with a yearning for a maple glaze that I used to use on various loafs made with animal protein. I just had to have those flavors.
So today, I decided to create a vegan meatloaf with all the same tastes.
Chickpeas were a natural choice for the protein.
Garbanzo beans have an added advantage over other legumes as a meat substitute because they are delicious hot or cold. They can be substituted for meat using a general ratio of 1/2 cup of beans for every ounce of animal protein in a recipe.
Not only that, the health benefits are extraordinary. Just one cup serving of chickpeas has 12 grams of fiber, 14 grams of protein, 84% manganese, 71% folate, 17% zinc, and 26% iron.
Chickpeas also boost digestion and keep blood sugar levels stable.
So there are many reasons chickpeas should be a pantry staple. They are lifesavers when you need something substantial and healthy like this vegan meatloaf.
The main components of this vegan meatloaf besides chickpeas are onion, garlic, red pepper, fresh thyme and fresh parsley. Then, of course, there is the flavor bomb glaze that goes on top.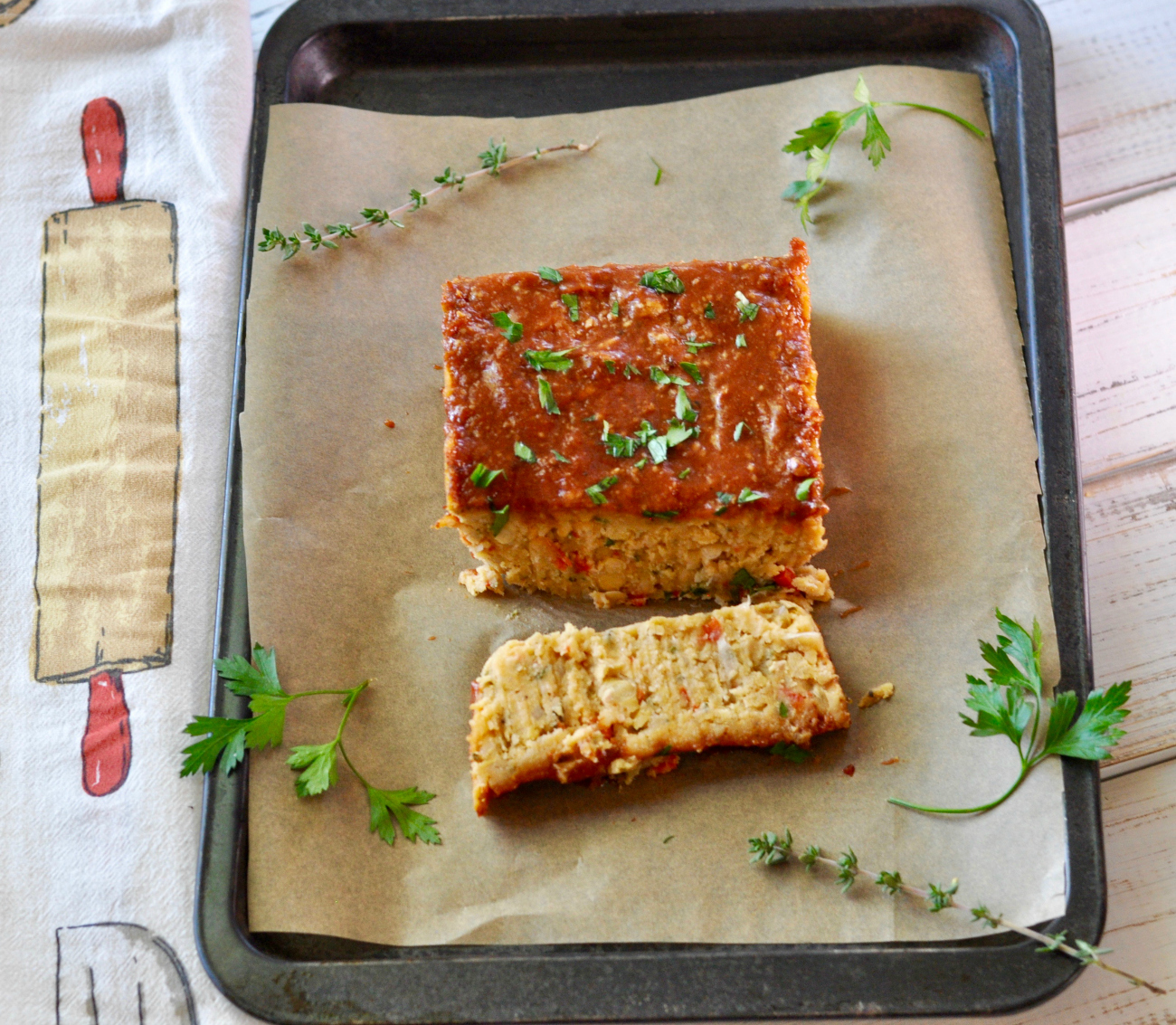 Vegan Meatloaf with Chickpeas and Maple Glaze
I recommend making a little extra glaze and serving it on the side. This vegan meatloaf also tastes delicious as a sandwich smeared with the maple glaze.
Any way you look at it, you won't miss the meat because this vegan meatloaf has all the flavors you need.
If you love chickpeas as much as I do, check out one of my favorite chickpea sandwiches and of course the Moroccan Vegan Stew with chickpeas, spinach, sweet potatoes and raisins which is turning into one of Ordinary Vegan's most popular recipes.
Hope you enjoy this vegan meatloaf as much as we did. Please sign up here, so you don't miss any of Ordinary Vegan's free recipes.
To learn more about plant-based nutrition, listen to Ordinary Vegan's podcasts in iTunes or here on this website.
If you are a newbie just getting started, you can download a free vegan protein list here. And visit my homepage for all the vegan essentials you need to get started.
Thanks for joining us today. My number one goal is to keep you as healthy as possible!

Vegan Meatloaf with Maple Glaze
Ingredients
loaf
2 15-ounce cartons of cooked chickpeas
1 small onion chopped (3/4 cup)
3 cloves garlic, chopped
½ cup red bell pepper, chopped
¾ cup bread crumbs
1 tablespoon fresh thyme
¼ cup fresh chopped parsley
½ teaspoon salt
Fresh ground black pepper
¼ cup aquafaba liquid from carton of chickpeas
Glaze
⅓ cup ketchup
1 tablespoons maple syrup
1 tablespoon grainy mustard
Instructions
Preheat the oven to 350 degrees F
Grease a 9 x 5 inch loaf pan.
Put all the loaf ingredients into a food processor and process until combined but still a little chunky being careful not to puree.
Gently press the mixture into the greased loaf pan.
In a small bowl, whisk together the ketchup, maple syrup and mustard.
Brush the mixture over the entire loaf.
Half way through cooking, spoon a little extra ketchup glaze on top
Bake for approximately 30 minutes. Let rest 10 minutes before slicing.
I like to serve it with a little extra glaze on the side.