To my dismay, I had a few vegan lentil loaf flops before I made this one. But I am happy to say; this loaf has the cozy, robust, holiday flavors I was searching for all week.
This vegan lentil loaf recipe isn't difficult to prepare, but it does take some time doing all that chopping because it has a lot of ingredients. Which is why I always recommend practicing mise en place.  Mise en place is a French culinary phrase, which means "putting everything in place." For example, dice your vegetables, measure spices, have everything prepped before you begin cooking.  I learned mise en place in plant-based cooking school, and this simple technique made cooking so much less stressful.
Above all, you will never forget an ingredient.
This vegan lentil loaf is chock full of aromatics and seasonings. Onions, carrots, celery, butternut squash, rosemary, thyme, and oregano are the flavor base.
Along with gluten-free oats, lentils, and millet. Millet is a gluten-free grain made from highly variable small-seeded grasses. Although millet is the main ingredient in bird seed, it is not just "for the birds."
Interest in this grain has been growing, especially in gluten-free diets. Millet has a slightly nutty flavor and is also very nutritious. Like many grains it provides fiber, iron, and B vitamins. It is also highly alkaline, making it easily digestible and soothing to the stomach.
In addition, don't forget to top this recipe with my delicious, gluten-free vegan mushroom gravy.
Looking for more vegan holiday ideas, check out my plant-based Thanksgiving recipes from 2014.
Don't miss any of Ordinary Vegan's recipes by signing up here.
Please follow me on Instagram, and if you create any of my recipes, please hashtag #ordinaryvegan so I can share them.
Last but not least, Ordinary Vegan has a line of all natural CBD oil products made from American grown organic hemp.
Many people are turning to cannabidiol, commonly referred to as CBD oil, for its powerful anti-inflammatory and anti-anxiety effects. I believe this powerful plant can be a natural remedy for many conditions.
And my goal is to provide you with the safest and most reliable vegan CBD oil available.
No matter what your particular ailment may be, start the day with help from Ordinary Vegan's CBD Oil made from hemp.
If you have any questions about CBD Oil, don't hesitate to reach out to me at questions@23.235.200.4. Or visit our FAQ page.
Thanks for stopping by and I hope you enjoy this vegan lentil loaf as much as we did.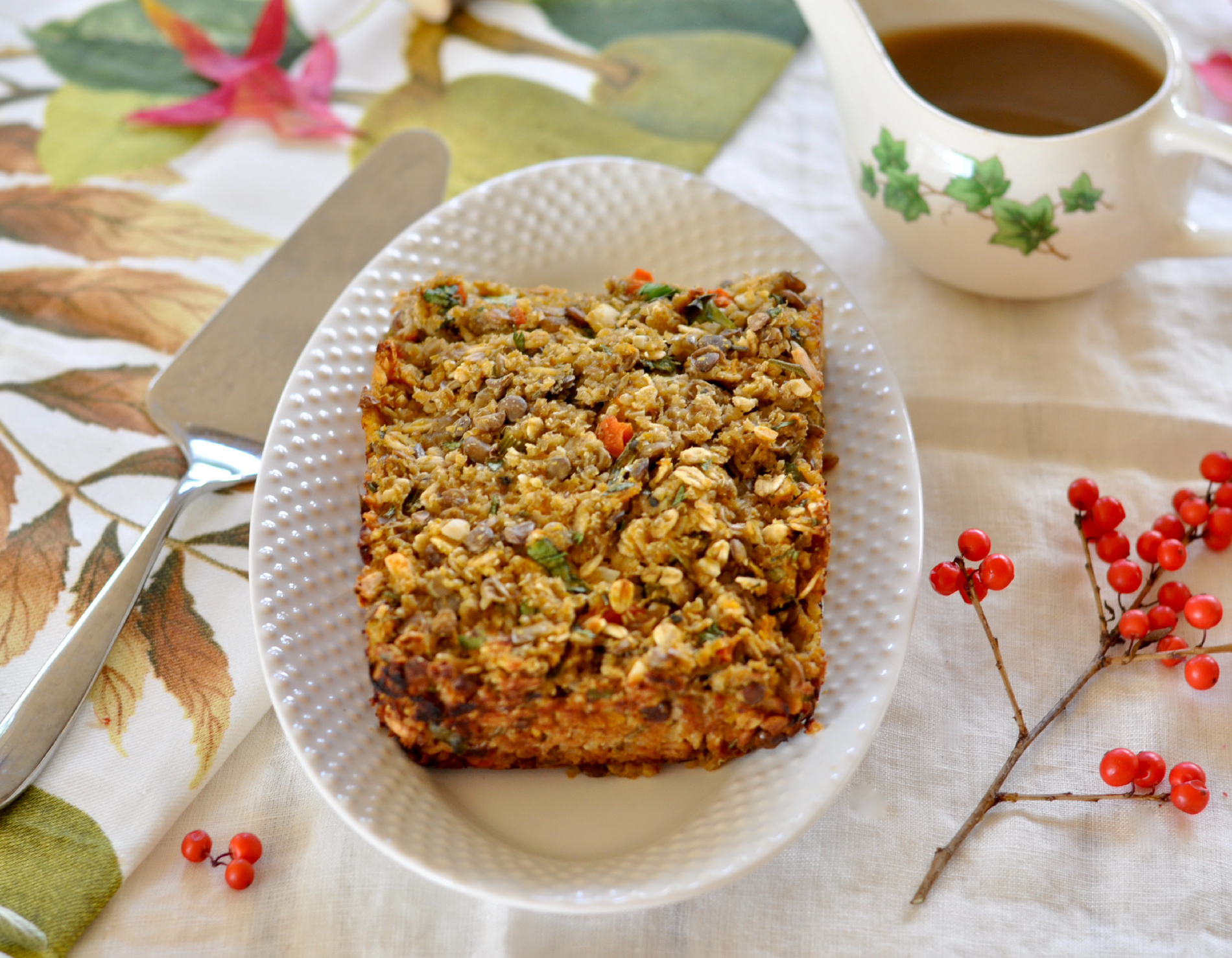 Vegan Lentil Loaf Recipe
Vegan Lentil Loaf for A Gluten-Free Holiday Dinner
Double the recipe for family portions or large holiday dinners.
Ingredients
⅓ cup vegetable broth for sautéing (or 2 teaspoons olive-oil)
2 ground flax eggs - see note
1 1-pound butternut squash, peeled, seeded and cut into 2 inch chunks
½ cup dried green lentils
½ cup millet
2½ cups of water
½ cup onion, chopped
2 garlic cloves, chopped
1 celery stalk, chopped
1 small carrot, chopped
¼ cup almonds, finely chopped
2 tablespoons fresh rosemary, minced
1 tablespoon fresh thyme, minced
1 teaspoon salt (or more to taste)
Fresh ground black pepper
½ cup fresh parsley, chopped
1 teaspoon fresh oregano, minced
¾ cup gluten-free rolled oats
2 tablespoons white miso whisked with 1 tablespoon water
Instructions
Pre-heat the oven to 375 degrees F. Line a baking sheet with parchment paper. Add the squash chunks in a single layer. Season with a little salt and fresh ground black pepper. Cook for approximately 50 minutes or until soft and tender. Transfer to a food processor and process until smooth. Set aside.
Meanwhile, bring 2½ cups of water to a boil. Add the lentils and cook for 5 minutes. Add the millet to the lentils, lower the heat and simmer covered for another 20 to 30 minutes or until tender and the liquid is absorbed.
Heat the vegetable broth or oil in a large sauté pan. Add the onions, celery, carrots, rosemary, thyme, oregano and one teaspoon of salt and cook until tender but still crisp. About 8 minutes. Add the garlic and cook for another minute.
In a very large bowl, combine the cooked lentils and millet, oats, ground flax eggs, parsley, sautéed vegetables, almonds, miso, and some fresh ground black pepper. Add the pureed squash and combine well. Taste for seasoning.
Gently press the lentil mixture into a greased loaf pan.
Bake until the loaf is golden brown around the edges about 45 minutes at 375 degrees F.
Allow it to cool slightly before slicing and serving, as this will help the lentil loaf to firm up.
Serve with mashed potatoes smothered in gravy.
Note: whisk together two tablespoons ground flax with 5½ tablespoons of water - place in refrigerator 20 minutes to thicken or use your favorite egg replacer