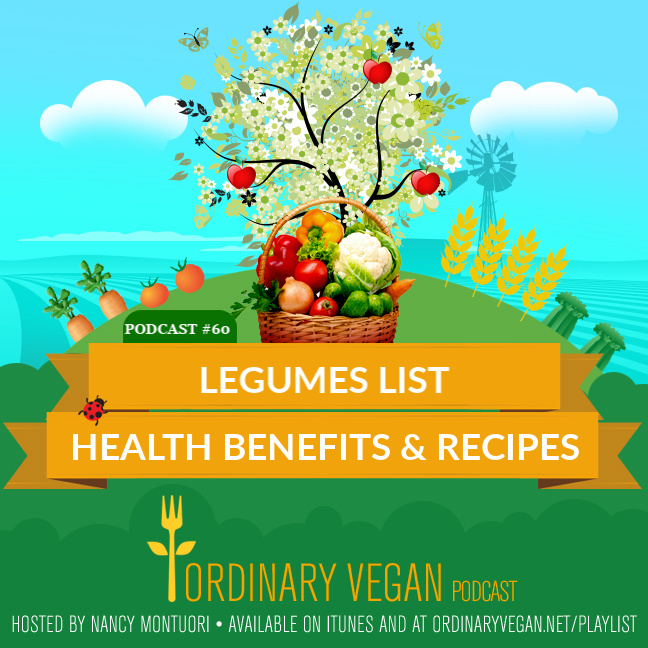 On today's podcast we focus on the healthiest beans you can eat from my legumes list.
Legumes provide a magnitude of essential nutrients that can help you live a longer and healthier life. And science proves that beans contribute to longevity because they cool down systemic inflammation.
Inflammation contributes to many long-term diseases including cardiovascular disease and cancer.
Chances are legumes, such as beans and lentils are not part of your regular diet.
This legumes list provides you with my favorite legumes, and some easy ways to make them part of your regular diet.
Legumes List includes:
Chickpeas – Also known as garbanzo beans are low in calories, rich in protein, and contain 71% of the RDI for folate. Folate is one of the B-vitamins that is needed to make red and white blood cells. Folate also converts carbohydrates into energy (metabolism) and maintains the genetic building blocks of the body.
Chickpeas are an excellent base for sandwiches like this Vegan Chickpea Sandwich with Sun-Dried Tomatoes.
Lentils – Lentils are low calorie, high fiber, high protein and contain 90% of the RDI for folate.
They can be used to create almost anything from veggie burgers to soups, stews, and salads. My favorite is my east meets west Black Lentil Salad with Apples & Toasted Coconut.
Black Beans – Are three times less expensive than beef and chicken and are much more nutritionally dense. They can be the base for any veggie burger or as the perfect taco filler.
Cannellini Beans -Make a great salad. Drain some cooked beans, add some chopped sun-dried tomatoes arugula. Top with some fresh lemon juice.
Or you can make one of my all-time favorite recipes, Hemp Seeds, Cannellini Beans and Spinach.
Longevity Three Bean Soup Recipe
Longevity Three Bean Soup
Ingredients
1 onion, chopped
1 red pepper, chopped
4 garlic cloves, minced
1 15½ ounce can of cooked kidney beans, rinsed and drained
1 15½ ounce can of cooked black beans, rinsed and drained
1 15½ ounce can of vegan refried beans (or pinto beans rinsed and drained)
1 15½ ounce can of stewed or chopped tomatoes
2 cups of vegetable broth (or more if needed) plus ⅓ cup for sautéing
2 teaspoons of chili powder
¼ teaspoon of ground cumin
salt & ground black pepper to taste
Instructions
In a large sauce pan, sauté the onion and red pepper in ⅓ cup of vegetable broth until soft. Add the garlic and sauté for another minute. Add the remaining ingredients. Bring to a boil. Reduce heat and simmer for 10 to 15 minutes.
Hope this legumes list inspires you to add more beans to your diet! Thanks for stopping by.
Please join our health community on Facebook. We are over 310,000 strong. You can also find me on Instagram.
I am committed to helping you live a long, healthy, pain-free, anxiety-free life. CBD Oil from hemp is helping many. You can find all my CBD products from hemp here. I have made it my mission to provide the safest, highest quality CBD available.